3M Foodservice Water Filter Buying Guide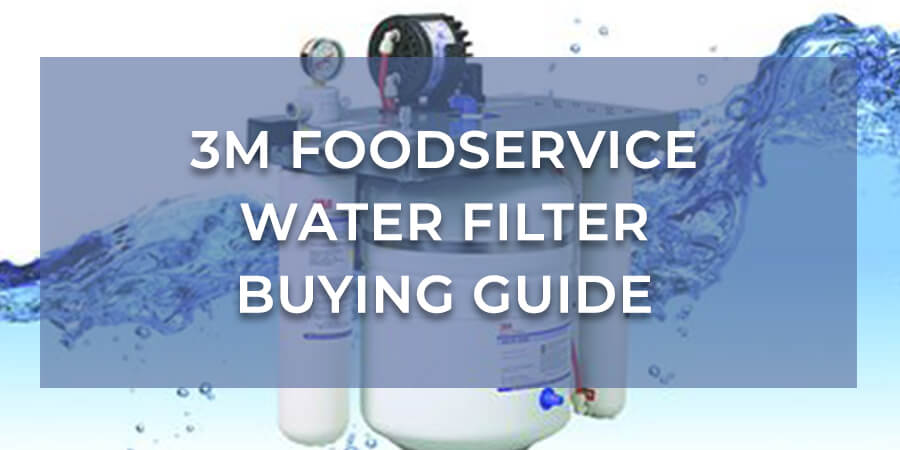 3M Water Filters - formerly sold under the CUNO brand - have long been recognized as the industry standard. Experienced foodservice professionals all over the world have relied on them for years as the best way to improve the taste, clarity, and safety of the water used in their products and served to their customers. If you're opening a commercial foodservice operation for the first time - or merely looking to upgrade your existing water filtration system - you can't go wrong with one of 3M's wide variety of exceptional commercial water filter systems. The only real choice you have to make is the model that will best suit the needs of your business.
1. The 3M Water Filter Difference
Eliminates unpleasant tastes
Industry-leading flow rates
Removes odors
Incredibly efficient
Crystal clear water
Can be used with coffee and espresso machines
To begin with, let's establish just what it is about 3M brand water filtration systems that have made them so trusted among industry experts. As with any other brand, 3M commercial water filter models eliminate unpleasant tastes, odor, and cloudiness from the water passed through them by removing chloramines, sediment, lead, and other contaminants. What sets 3M filter system products apart from others in the industry is the efficiency with which they do so. Designed to accommodate the needs of high-volume businesses, all filters sold under the 3M brand boast flow rates that allow for quick access to clean water even under the busiest conditions. What's more, 3M filtration systems do so while removing up to 99.99% of common water-borne bacteria, meaning that you won't ever have to sacrifice safety for speed.
3M water filtration also outclasses its competition in the sheer flexibility of its foodservice water filters. Far from simply offering models for hot or cold water, 3M also produces commercial water filter products specifically designed for ice and espresso machines. The FDA considers ice to be as much of a food as any other product your company may produce, and as such, it's of the utmost importance that your ice is as free from contaminants as possible. A 3M filter system can ensure that you're serving your clients clean, refreshing ice while keeping your ice machine clean of contaminants that can spread to all of its components. Espresso industry experts, meanwhile, know that quality water is just as important to a perfect cup as the coffee itself. Pairing a 3M filter to your espresso machine will allow your customers to savor the flavor of perfectly-roasted beans as opposed to frowning at the sourness of contaminated water.
Finally, the 3M brand is committed to providing its customers with water filters that are as dependable as they are efficient and flexible. This belief was the inspiration behind the I.M.P.A.C.T. technology 3M makes use of in many of its filters. By utilizing a proprietary dual-zone media cartridge construction complete with premium activated carbon, these models are designed to provide exceptional output while extending cartridge life. Put simply, buying a 3M model not only means buying the best water filter on the market; it means reduced cartridge replacement costs that'll save you money in the long run.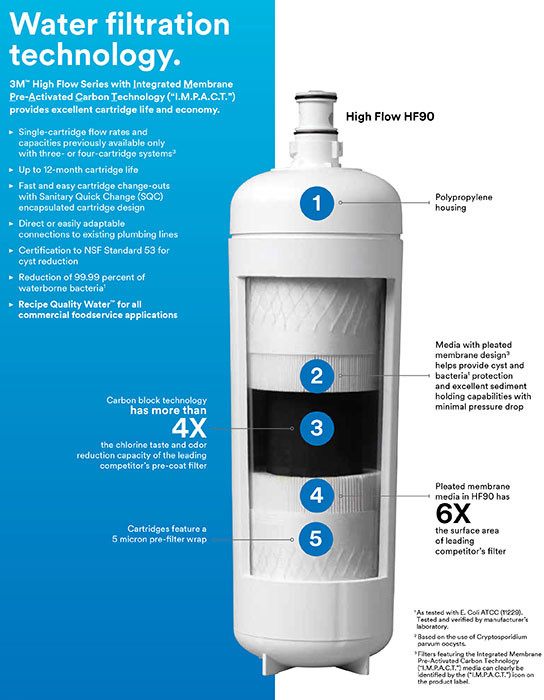 2. Which 3M Water Filter System To Buy
In order to determine which 3M commercial water filter system your foodservice operation needs, you first need to answer some questions:
Am I using this system for a specific purpose such as for coffee or espresso?
What volume of output makes sense for my business?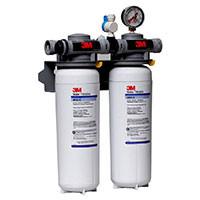 As mentioned, the 3M brand offers a wide variety of models meant to suit businesses of all stripes. That being the case, it may not be immediately apparent which water filter is best for you. Let's start with the obvious; if you need a specialized water filter (as in, one for an espresso or ice machine), you'll need a model designed to work specifically with that machinery. From there, your decision will likely be determined by the volume of your business. A smaller operation, for example, can make excellent use of the 3M ICE120-S, an economical model whose small size belies its incredible capabilities. Businesses on a larger scale, meanwhile, may be better served by the 3M ICE265-S. Its astonishing flow rate of 6.68 GPM and its ability to filter 70,000 gallons of water before cartridge replacement makes it a dedicated and reliable addition to your operation.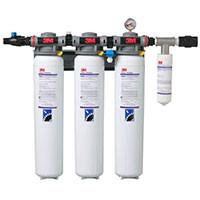 The 3M model you choose for more general filtering needs will also likely be dictated by the volume of your business. For other brands, buying an economical model means compromising quality for cost; not so with 3M filtration products. The BEV160, for example, can produce 35,000 gallons of clean and refreshing water on one cartridge, making it an entry-level water filter whose features outshine many of the competition's much more expensive models. As impressive as those numbers are, however, they pale in comparison to the models 3M offers for hotels and other large-scale operations; one need only look at the unbelievable features of the DP390 for proof of that. Its cartridges can process a whopping 162,000 gallons at an unbeatable flow rate of 15 GPM, which makes it the standard-bearer for any owner looking for the ultimate in quality, affordable water filtration.
3. 3M Water Filter Sizing
4. Maintaining Your 3M Cuno Water Filter System
The best filtering technology in the world, however, won't be of any use if it's not well-maintained. Though the model you purchase will come with cleaning and maintenance instructions specific to that filter, there are a few guidelines you should keep in mind no matter which variety you choose.
Be sure to keep replacement cartridges for your filter in cool, dry, well-ventilated areas; doing so will maintain their quality throughout extended storage
Keep a detailed log of when your filter's cartridge was last replaced and create a reminder for the responsible party when the next replacement is due (usually every six months, depending on the model and its usage)
Perform regular checks on the filtration system to ensure that it's working properly between scheduled cartridge replacements; the need for repair or replacement can be determined by measuring incoming water pressure. Ideally, that pressure should be between 60 and 70 psi; if it's fallen below 35, check for clogs and other water flow impairments
Make an examination of the entire system part of those regular checks; check for leaks, water discoloration, corrosion, residue, and scale buildup
Remember that GoFoodservice provides replacement 3M water filters for every filter we sell; contact one of our helpful customer service representatives to learn about discounts for volume purchases.
5. 3M or Cuno? What's The Difference?
Are 3M and Cuno The Same Brand?
Additional 3M Water Filter Tips!
When Should I Change My 3M Water Filter?
Does Reverse Osmosis Prevent Viruses and Bacteria?
How Do You Know When Water Needs to Be Filtered?
What Is The Difference Between A Water Filter System And A Water Filter Cartridge?
How Long Do 3M Water Filters Last?
How to Install a 3M Water Filter System?
How Much Does a 3M Commercial Water Filter Cost?
How Do You Change a 3M Water Filter?
What Do 3M Commercial Water Filters Remove From Water?
What Kind of Appliances Use 3M Commercial Water Filters?
Can a 3M Water Filter Increase The Life of Your Restaurant Equipment?
What Kind of Business Can Benefit From a Commercial Water Filter?
What Size Water Filter System Cartridge Do I Need?
Share This!