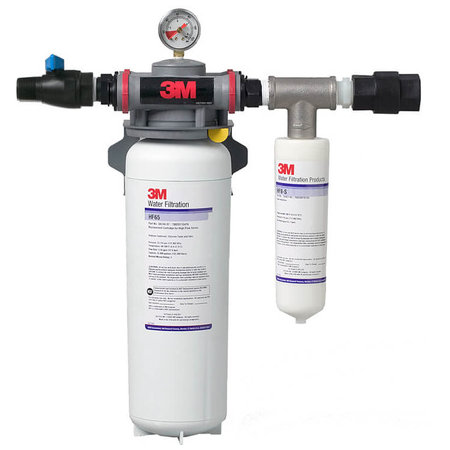 3M Water Filtration SF165, Steamer or Combination Oven Water Filter System w/ Scale Inhibitor
3M Water Filtration SF165 Overview
Steamer / Combi Oven Water Filter System Details:
In your place of work, you've got a job to do that will conclude with you giving the best results to your paying customers. Part of creating the best means that you need to work with the best, and this filtration system, the 3M Water Filtration SF165, is for your commercial steamer and other cooking devices such as a commercial combi oven and is going to help you get the best water possible.
This 3M Water Filtration SF165 has been designed deliberately for cooking so that you can get the right chlorine reduction and sediment reduction that you're going to be looking for in your systems. The cooking options that you're using will still work perfectly with its high rate of 3.34 GPM so that you won't be giving up anything in order to make use of this commercial steam & water filter that you'll have in place.
There's nothing standing in your way to getting the best water for the job, so go on out there and do what you need to do in order to make sure that your customers get the best that they deserve, with this perfectly made 3M Water Filtration SF165 steam water filter.
Also, the 3M Water Filtration SF165 helps provide consistent Recipe Quality Water™ with reduced sediment and chlorine taste and odor. Operating cost savings from the controlled and metered addition of scale-inhibitors reduces the ability of calcium and magnesium to precipitate as hard scale in both high and low-temperature applications, including ice machines, coffee, tea, espresso brewers, and steamers*.
Features:
ScaleGARD HT, SF165 combines chlorine taste and odor reduction with sediment reductions and helps protect against the effects of scale formation at flow rates to 3.34 gpm (12.6 lpm) for 35,000 gallons (132,000 liters).
Advanced Integrated Membrane Pre-Activated Carbon Technology ("IMPACT") filtration media combines a membrane in series with premium activated carbon to provide superior throughput and cartridge life.
Reduced sediment and chlorine taste and odor for equipment protection and great tasting hot and cold beverages and ice.
A forced-feed orifice carefully controls and meters the addition of a proprietary scale inhibitor to reduce scale build-up on heating coils.
Superior scale reduction performance in equipment from ice machines to equipment heating water to temperatures over 200°F (93°C).
Sanitary Quick Change (SQC) HF65 encapsulated cartridge design allows for fast and easy change-outs with a 1/4 turn while minimizing the possibility of leakage and contamination.
3/4" FNPT inlet and outlet ports allow direct or easily adaptable connections to existing plumbing lines.
FDA CFR-21 and/or NSF compliant materials.
System includes a pressure gauge, inlet shut-off valve, and outlet check valve for simple installation and operation.
Product Brand
Certifications

SF165 Resources
3M Water Filtration SF165 Specifications
OEM
OEM Numbers
SF165, 5624601, 70020228113, Cuno SF165
Details
Category
Filter Systems
Filter Type
Sediment
Filter Type
Chlorine
Filter Type
Taste
Filter Type
Scale
Flow Rate
3.34 GPM
Includes
(1) SF165 Cartpak (HF65 & HF8-S Cartridge)
Micron Rating
3
NSF Listed
Yes
Style
Sanitary Quick Change
Water Capacity
35,000 Gallons
Water Filter Application
Steam Equipment
Water Filter Application
Espresso, Coffee, & Tea Brewers
Water Filter Application
Ice Machines
Weight
10.8 Pounds
Product Condition
New
Frequently bought together
Customer Reviews
Be the first to review this item!