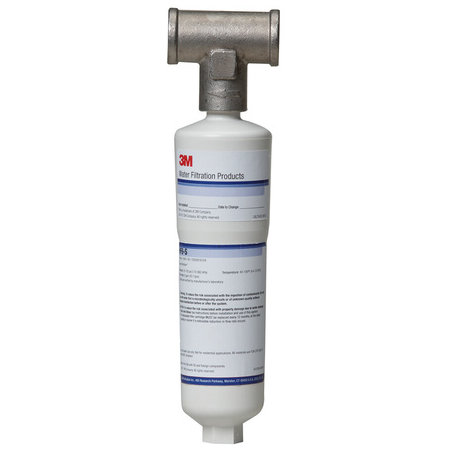 3M Water Filtration SF18-S, Steam Table In-Line Scale Inhibition Water Filter System
Recommended for this item
3M Water Filtration SF18-S Overview
Steam Table Water Filter System Details:
When you're working in high demand, you'll notice that things are going to break down faster simply because they being used more than they should be. You have to make sure, therefore, that you get the right kind of filter that is going to help keep your machines working at the best pace that they should be.
This 3M Water Filtration SF18-S filter, for example, will work seamlessly with your coffee makers and espresso machines so that you'll be able to rely on the idea that you're going to keep them running at their top capacity much longer and better than before. The filtration system will make sure that there isn't as much scale build up and all of the nasty sediment particles will be kept out of the water just like you wanted in the first place. That's quality, and you'll be able to get used to it when you trust the right leaders to help you out the most.
The 3M Water Filtration SF18-S inhibits scale build-up and corrosion in high-temperature foodservice equipment, including coffee brewers, broiler-based steamers, proofers, warewashers and hot tea brewers. A proportioning forced-feedorifice delivers a carefully metered amount of a unique high-temperature scale inhibitor, sequestering the hardness minerals that form on boiler walls, sensors, brewer spray heads and heating coils. The media does not break down at temperatures at or above 200°F (93.3°C). The Sanitary Quick Change (SQC) replacement HF8-S cartridge makes change-outs fast and easy.
Features:
A forced-feed orifice carefully controls and meters the addition of a proprietary scale inhibitor to reduce scale formation in high-temperature foodservice applications.
Consistent performance at application temperatures over 200°F (93.3°C).
NSF and/or FDA CFR-21 compliant materials.
Stainless-steel head.
3/4" NPT female inlet and outlet ports allow direct or easily adaptable connections to existing plumbing lines.
Sanitary Quick Change (SQC) replacement cartridge is fast and easy to change.
Product Brand
Certifications

SF18-S Resources
3M Water Filtration SF18-S Specifications
OEM
OEM Numbers
SF18-S, 5607708, 5607703, 70020319110, Cuno SF18-S
Details
Category
Filter Systems
Filter Type
Scale
Flow Rate
6 GPM
Includes
(1) HF8-S Cartridge
NSF Listed
Yes
Style
Sanitary Quick Change
Water Filter Application
Espresso, Coffee, & Tea Brewers
Water Filter Application
Dishmachines
Water Filter Application
Steam Equipment
Product Condition
New
Frequently bought together
Customer Reviews
Be the first to review this item!