3M Water Filtration TFS450 RO System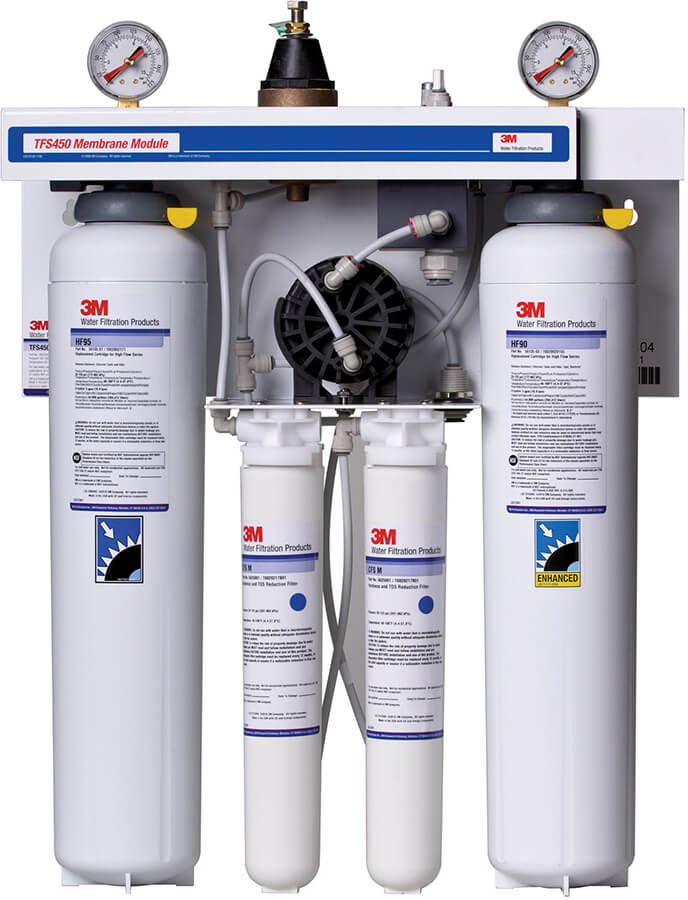 3M Water Filtration TFS450 RO System, Hot Beverage Reverse Osmosis Water Filter System
Free Shipping
3M Water Filtration TFS450 RO System Overview
Reverse Osmosis Water Filtration System Details:
As in most commercial places, you've got a lot of things going on, right? You're hoping to make sure that you put your dedication into the concept of keeping everything operating smoothly especially in terms of your different hot beverage machines, but it can be easier said than done with the 3M Water Filtration TFS450 RO System.
Here to help you get it all done and better than before, this 3M Water Filtration TFS450 RO System water filtration system is ready for your different needs, especially in terms of the things that water damages. Water build-up, scale and lime, bacteria, grit, it all creates problems especially in your steamer and hot beverage makers. This will give you the comfort and quality results that you're going to be looking for and all in the best possible way. Create the right introduction to a better quality of life with this fantastic filtration system. Your whole establishment will benefit even if that seems far-fetched right now.
The 3M Water Filtration TFS450 RO System reverse osmosis water filtration system helps produce consistent recipe quality water™ for hot beverages and steamers while maintaining efficient equipment operations in water conditions with high total dissolved solids (TDS) and/or hardness. This unique design allows for filtered water to be blended with RO water for adjustment of beverage quality and production volumes to about 600 gal/day
Features:
Precision lockable, metering valve provides Recipe Quality Water™ with adjustable Total Dissolved Solids (TDS) for coffee and espresso brewing.
Includes three modules for maximum flexibility.
Reduced equipment maintenance and replacement costs from reduced minerals that cause limescale.
The central Membrane Module is supported by an alternative Pumping Module to boost inlet water pressure when required and a choice of two product water storage tanks.
Daily production from 300 gallons/day (1,136 liters/day) with no blending to about 600 gallons/day (2,271 liters/day) with blending.
Conversion of inlet water to product water (water utilization efficiency) is at least 50%; higher with blending.
Lower product-water recovery times with the included permeate pump.
A hydraulic (non-electrical) bypass valve maintains the water flow in high-demand situations.
All product water (including blending and bypass) is pre-filtered and post-filtered with NSF-listed carbon and sediment filters, if desired, for cyst reduction and great taste.
Optional Pumping Module runs on voltages from 100 - 240 and 50 or 60 Hz for ease of installation.
System includes built-in pressure gauges and an in-line product-water TDS meter for monitoring.
On-line TDS monitoring and pressure gauges are included.
Note: Don't forget to add the TSF450 RO System Installation Kit to your system to make installing your system much easier!
3M Water Filtration Warranty:
2 year limited warranty
Product Brand
Certifications

TFS450 RO System Resources
3M Water Filtration TFS450 RO System Specifications
OEM
OEM Numbers
TFS450 RO System, 5623901, 70020217751, Cuno TFS450 RO System
Details
Weight
31 Pounds
Includes
(1) Cuno HF95, (1) Cuno HF90, (2) Cuno CFS M
Water Capacity
300 Gallons
Flow Rate
1.67 GPM
Water Filter Application
Steam Equipment
Water Filter Application
Espresso, Coffee, & Tea Brewers
Flow Rate
300-600 GPD
NSF Listed
Yes
Category
Reverse Osmosis Systems
Style
Sanitary Quick Change
Product Condition
New
Warranty
Manufacturer Warranty
2 year limited warranty
Customer Q&A
Where can I order a tank for the TFS450 RO unit?
Consumers commonly choose not to use a storage tank with the 3M Water Filtration TFS450 RO System due to its flow rate of 1.67 GPM. However, we know that certain situations call for the need to store the RO water; and in that case, 6 tanks are available from 3M: 2.5 gallon, 5 gallon metal tank, 10 gallon, 20 gallon, 20 gallon metal tank, and 40 gallon. Just let us know what capacity you would need and we can quote you pricing and availability (link)
– GoFoodservice
Customer Reviews
Be the first to review this item!
Product Guides