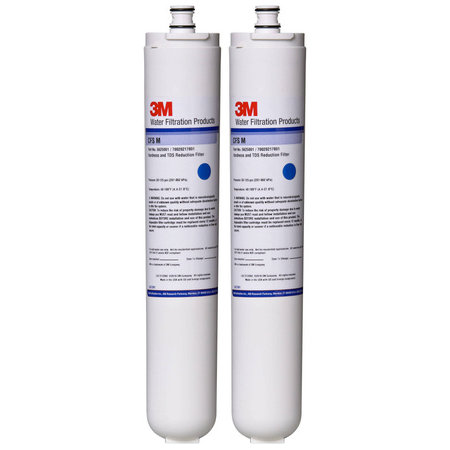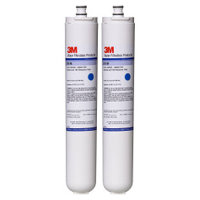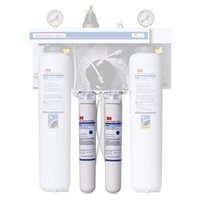 3M Water Filtration Cartpak 5624803, Replacement RO Module Cartridge for Reverse Osmosis Systems (2/pk)
3M Water Filtration Cartpak 5624803 Overview
Reverse Osmosis Water Filter Cartridge Pack Details:

The 3M Water Filtration Cartpak 5624803 replacement cartridge pack for the TFS450 reverse osmosis systems will offer you the superior protection that you're looking for in a package that you can trust and rely on. When you're in a commercial spot, getting the right kind of reliable products is much easier said than done, but this is going to ensure that you are getting the best results when it comes to your water quality in food and drink as well as the longevity of your appliances. You won't need to settle for anything less than the best when you've got this available in your spot of choice. This kit includes (2) RO modules only, and reduces TDS and works in TSF450-RO and SGLP200 systems.
Ready to help you ensure that you're doing your part to guarantee protection without going out on a limb with a risky option, this 3M Water Filtration Cartpak 5624803 reverse osmosis replacement filter cartridges is ready to inspire you to see great things that will help you to understand the difference between quality and not quality. If you don't think it makes a difference, you will if you make the wrong choice in your filter. Get the you won't think twice about what it will give you.
Features:
Precision lockable, metering valve provides Recipe Quality Water™ with adjustable total Dissolved Solids (TDS)1 for coffee and espresso brewing.
Reduced equipment maintenance and replacement costs from reduced minerals that cause lime scale.
Daily production from 300 gallons/day (1,136 liters/day) with no blending to about 600 gallons/day (2,271 liters/day) with blending.
Conversion of inlet water to product water (water utilization effi ciency) is at least 50%; higher with blending.
Lower product-water recovery times with the included permeate pump.
A hydraulic (non-electrical) bypass valve maintains the water fl ow in high demand situations.
All product water (including blending and bypass) is pre- and post-fi ltered with NSF listed carbon and sediment filters, if desired, for cyst reduction and great taste.
Optional Pumping Module runs on voltages from 100 - 240 and 50 or 60 Hz for ease of installation.
System includes built-in pressure gauges and an in-line product-water TDS meter for monitoring.
Includes two (2) RO modules
Product Brand
Certifications

Cartpak 5624803 Resources
3M Water Filtration Cartpak 5624803 Specifications
OEM
OEM Numbers
Cartpak 5624803, 5624803, 5624802, 70020322759, 3M TFS450 Cartpak 5624803 Cuno TFS450 Cartpak 5624803, CFS M MODULE, SGLP200-CL Cartpak 5624803
Details
Category
Filter Cartridges
Flow Rate
300-600 GPD
NSF Listed
Yes
Style
Sanitary Quick Change
Water Filter Application
Steam Equipment
Water Filter Application
Espresso, Coffee, & Tea Brewers
Water Filter Application
Reverse Osmosis
Weight
5 Pounds
Product Condition
New
Frequently bought together
Customer Reviews
Be the first to review this item!