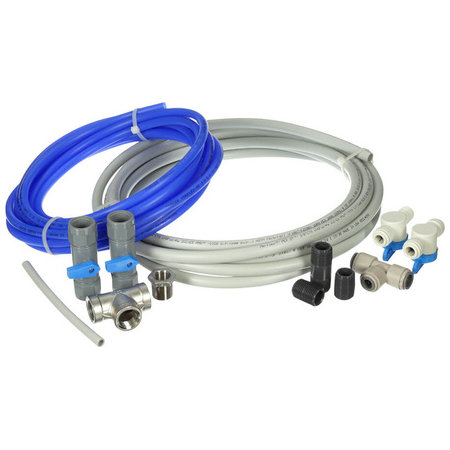 3M Water Filtration TFS450 Install Kit, Installation Kit for TFS450 Hot Beverage Reverse Osmosis Water Filter System
3M Water Filtration TFS450 Install Kit Overview
Reverse Osmosis Water Filtration Installation Kit Details:
You're going to be able to create the right kind of professional workings when you've got the right filtration system to help you out. That's why you need to ensure you are using this 3M Water Filtration TFS450 Install Kit install kit for the TFS450 Hot Beverage Reverse Osmosis Water Filter System w/ TDS Blending Valve . It has all of the things that you're going to need, helping you our when the time comes for you to make sure that you enjoy your life in terms of having everything working as it should.
Also, one of the best things that you're going to be able to do when it comes to making sure that you have the right reverse osmosis filtering system, is making sure that you actually install it correctly. This 3M Water Filtration TFS450 Install Kit will do all of the hard work for you and you'll be able to get the results in no time at all.
Including all you need, this is going to be as easy as you need it to be and it will help you each step of the way to getting everything up and running better than before.
Features:
Save money by not paying extra from a local supplier for the kit (If the kit is not purchased, these components must be provided by the installer)
Makes installation of system a much smoother process
Includes -

Inlet water and outlet water shut-off valves
Two sample flush valve kits (one for the product water to downstream equipment and the second for installation on the tank line)


15 Ft (4.6 m) of 1/2" (OD) tubing to connect the membrane module to the external storage tank
Product Brand
TFS450 Install Kit Resources
3M Water Filtration TFS450 Install Kit Specifications
OEM
OEM Numbers
TFS450 Install Kit, 50-91301, 70020230754, Cuno TFS450 Install Kit
Details
Category
Installation Kits
Water Filter Application
Steam Equipment
Water Filter Application
Espresso, Coffee, & Tea Brewers
Water Filter Application
Reverse Osmosis
Weight
5 Pounds
Product Condition
New
Customer Reviews
Be the first to review this item!