The Top 7 Principles of Successful Restaurant Kitchen Design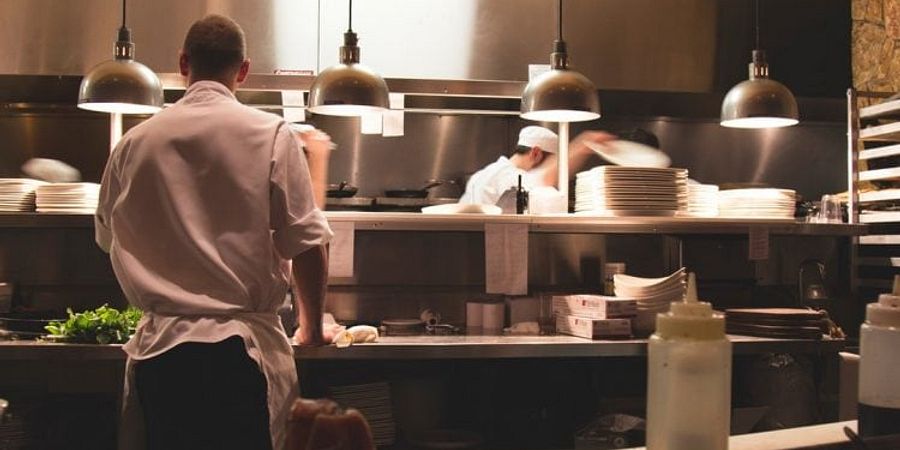 What is the most important thing to consider when opening a new restaurant?
You might say that it's customer satisfaction. Or finding the perfect chef. Or even keeping costs down to maximize profits. All these things are important to long-term success. But none are as important as creating the right kitchen layout. A poorly designed kitchen could be your ultimate downfall.
Without a functional and appealing workspace for your kitchen staff, serving times suffer. Frustration among cooks runs high when space is limited. And these issues lead to low customer satisfaction. And if the customers aren't happy, nobody's happy!
We're here to help you create the right commercial kitchen. Check out this article for our top 7 principles of successful restaurant kitchen design.
Consider Your Menu
The menu rules all your decisions when it comes to creating your kitchen. You want your menu to reflect the style and taste of your restaurant. And you want to create delicious dishes with the greatest profit margins possible.
When creating your restaurant menu, consider food costs first. Also, get in the "know" with your competition. You want your prices to provide the profit margin you need and keep up with your competition.
Once you have your menu set, you'll know what type of equipment you need to make it work. You'll also know how many and what types of food stations your cooks need.
For example, if your menu is made up of pizza and burgers, you'll need a pizza station to prepare the pies. You'll need a grilling station to make burgers. And you'll need a frying station to make side dishes like french fries and appetizers.
Consult Your Chef
Always include your head chef in the decision-making process. That goes for the menu decisions too. The chef is the one who'll manage the workflow in the kitchen.
Talk to your chef about how they work best. There are three main types of restaurant kitchen layout: assembly line, island, and zone. We'll talk more about these in a minute.
Your chef has a preference for what they prefer. And you should abide by what your chef wants as much as you can.
Think About Equipment
Now that you know your menu, order equipment that's suitable for your needs. The primary pieces of equipment you'll need are:
Refrigerators & freezers (walk-in and prep)
Grills & cooktops
Ventilation hoods
Fryers
Ovens & warming trays
Prep tables
Of course, your kitchen may need additional items specific to the menu. In our earlier example, you'd need several pizza ovens to get the job done. Make your equipment list and have it handy when you plan your layout.
Energy Efficiency Counts
You want your kitchen to be as energy-efficient as possible. This saves you money in the long-run. And it's better for the environment.
One example of this would be placing your cookers all in one area. Then you only have to run one or two hoods for ventilation. Which saves a ton of electricity.
Size Matters
The size of the kitchen matters for your design. If you're working with a building that already has a kitchen, you're limited in what you can do. It might be too small for an island so you'll use one of the other layout options.
If you're starting from scratch and building the kitchen, make it any size you want. Remember that the kitchen size is proportionate to the number of guests you plan to serve. A general rule of thumb is to make your kitchen 1/3 of your total space and the dining room 2/3.
Concentrate on Movement
The whole point of your kitchen design is to facilitate free movement by your kitchen employees. Keep this in mind when planning your design.
Create enough space in walkways so that people won't run into each other. This helps prevent food spills and makes food processing time faster. Plus, it makes the cook staff happier when they aren't all over each other.
As we mentioned earlier, there are three basic types of kitchen configuration.
Zone Style. With a zone layout, divide the kitchen into work zones. Employees work in their allotted zone and stay out of each other's way. There's no centralized area, but work tables in each zone.
Assembly Line. This layout is common when you make a lot of the same food. The food stations form a line based on the timing of the cooking and assembly process.
Remember Flexibility
Although you want your kitchen to have a solid layout, you also want some flexibility. Customer preferences change. And as time goes on, you'll need to tweak the menu for changing market demand.
Plan for this when you first arrange your kitchen. Leave extra space open to make change easier in the future. And consider adding more storage space for kitchen equipment you may need to add later.
Restaurant Kitchen Design: Make It Your Own
Ultimately, the best restaurant kitchen design is the one that fits your needs. You want your kitchen to be a place of flexibility and movement. And you want it to fit your style and the style of your restaurant.
Start by planning your menu. And get your head chef to put in their $0.02 about what they prefer for a kitchen layout. Plan your equipment list and consider energy efficiency when ordering equipment.
Create a kitchen space that's an appropriate size for your dining room. Choose one of the three types of kitchen layouts for efficient movement. And remember that change is a part of business and flexibility matters.
For more ideas on how to create the perfect restaurant kitchen, check out our buying guides. Choosing the right products means you're better set up for success.
Share This!