Hoshizaki Ice Machines, Refrigerators, and Freezers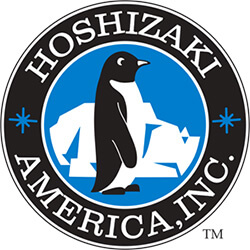 Hoshizaki ice machines are found in restaurants and commercial kitchens across the globe. Hoshizaki America is an industry-leading supplier of commercial ice machines, refrigerators, and related foodservice equipment, but they are best known for their ice makers. Hoshizaki is one of the most trusted brands in the world, used in a variety of commercial kitchens, restaurants, and hotels. Their selection of ice machines (undercounter and stand-alone units), preparation tables, refrigerators, and related equipment are all a testament to their mission of excellence. Expand your restaurant kitchen's capabilities with Hoshizaki Ice & Refrigeration equipment!
Hoshizaki Ice Machines
Hoshizaki makes many different types of ice machines, to provide ice-making product solutions for any need. Hoshizaki's line of air-cooled commercial ice makers are capable of making a wide range of ice types, including flaked, crushed, cubed, and crescent. Hoshizaki has even developed a splash-proof ice cube, perfect for bars looking to reduce spilled liquor from hasty bartenders.
Using state-of-the-art technology and advanced design, Hoshizaki America has dominated the ice machine industry, leading the advancement of ice machine technology. Hoshizaki products are made to be consistent, reliable, and high-quality. With patented technology such as HoshiGuard®, an antimicrobial agent, and CycleSaver®, Hoshizaki ensures you are getting top-of-the-line equipment. Each product in their catalog illustrates just how Hoshizaki America has revolutionized the ice machine industry.
Hoshizaki Product Types
These are just some of the many ice machine types available from Hoshizaki:
Cube Ice Machines
Flaker Ice Machines
Cubelet / Nugget Ice Machines
Ice Baggers
Ice Dispensers
Remote Ice Cube Machines
Hotel Ice Machines and Dispensers
Many, many more.
Hoshizaki Products by Category
To browse our Hoshizaki brand ice machine and other Hoshizaki equipment or accessories, simply choose a category on the right to narrow down our selection of Hoshizaki products.
Hoshizaki Product Advantages
As a leader in the ice machine and food service equipment industry, Hoshizaki ice machines incorporate countless innovations and patented technologies into each product they make. Here are just a few of the modern features you'll benefit from as an owner of a Hoshizaki product:
HoshiGuard® Antimicrobial Agent
Hoshizaki's CycleSaver® and Energy Start®
Hoshizaki's Stainless Steel Evaporator Plates
Many, many more.
Impact on Energy and Environment
Hoshizaki ice machine and other foodservice equipment are built with the environment in mind. You can view PDF files of Hoshizaki's EMS Scope and EHS Policy on their website.
Other Products
In addition to ice machines, Hoshizaki manufactures top-of-the-line solid door refrigerators to ensure your food, beverages, and ingredients stay at the proper temperature. Tested and refined in one of the most advanced production facilities in the industry, Hoshizaki America has honed its expertise in commercial refrigeration. The seamless design doesn't reduce quality, but features solid insulation, state-of-the-art cooling processes, and "stay open" doors. Placed in a Hoshizaki solid door refrigerator, foods will stay at a constant safe temperature without worry or repeated appliance maintenance, thanks to the removable gasket that can be cleaned quickly.
More About Hoshizaki
Hoshizaki has long been a respected manufacturer of a variety of foodservice equipment, but in the 1980s they unveiled the Hoshizaki America subsidiary, created to manufacture and distribute premium commercial-grade ice machines and related refrigeration equipment. Hoshizaki America is now known as the premier manufacturer of ice machines in the world and has provided the industry with countless trend-setting innovations that are often emulated but never improved upon by the competition.
Best Sellers By Hoshizaki

Single Replacement Cartridge for Hoshizaki H9320-51, H9320-52, and H9320-53 Water Filter Systems
Drain Pump w/ Assembly Kit for Ice Machine

Single Cartridge Water Filter System uses Replacement Cartridge 4HC-H

6 Pack Replacement Cartridge for Hoshizaki H930-51, H9320-52, and H9320-53 Water Filter Systems

Water Pump Motor Assembly for Ice Machine

Replacement Glass Sliding Door for Sushi Display Case, HNC-180 Series (172mm x 363mm)

Replacement Glass Sliding Door for Sushi Display Case, HNC-150 Series (172mm x 288mm)

Control Board for Ice Machine
Hoshizaki Categories