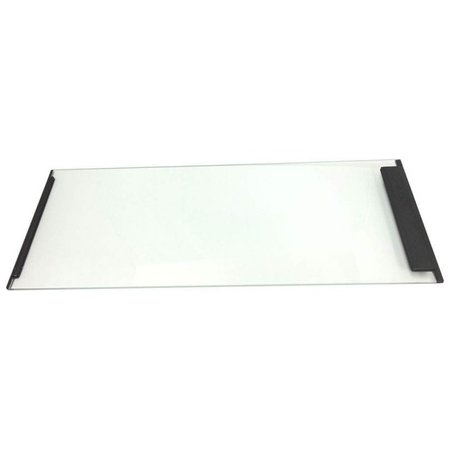 Hoshizaki 3R5019G08, Replacement Glass Sliding Door for Sushi Display Case, HNC-180 Series (172mm x 363mm)
Recommended for this item
Hoshizaki 3R5019G08 Overview
The Hoshizaki 3R5019G08 Glass Door
The Hoshizaki 3R5019G08 slide glass is an OEM replacement door for Hoshizaki sushi cases. This model of sliding glass doors is compatible with HNC-180AA-R, HNC-180AA-L, HNC-180BA-L-S, and HNC-180BA-R-S Hoshizaki sushi cases. This is a Hoshizaki approved part intended for its original use only.
The back of your sushi display case is crucial for protecting food as this is the side that faces the kitchen and employee areas. Without a proper replacement door, your sushi is potentially exposed to harmful environmental factors that can affect the food, not to mention the temperature deregulation that would happen. If you have a Hoshizaki sushi case, it's important you only get Hoshizaki OEM parts. Off-brand and unapproved replacement doors aren't made with the same quality and precision that Hoshizaki prides itself on as well as the satisfaction from its benefits.
Have a sushi display case model number that isn't compatible with this replacement door? Browse our other Hoshizaki parts to find the part you're looking for.
Please see specs section for equipment and/or serial numbers Hoshizaki 3R5019G08 works with.
Product Brand
Hoshizaki 3R5019G08 Specifications
OEM
OEM Numbers
3R5019G08, 3R5019G04
Details
Weight
2 Pounds
Product Condition
New
Compatible Products
Models numbers shown are for reference only, may not be listed, may vary by serial number and subject to change without notice. Please contact us to confirm the proper item to be used with your model.
HNC-180AA-L
HNC-180AA-R
HNC-180BA-L-S
HNC-180BA-R-S
Frequently bought together
Customer Reviews
Be the first to review this item!