Commercial Refrigeration Buying Guide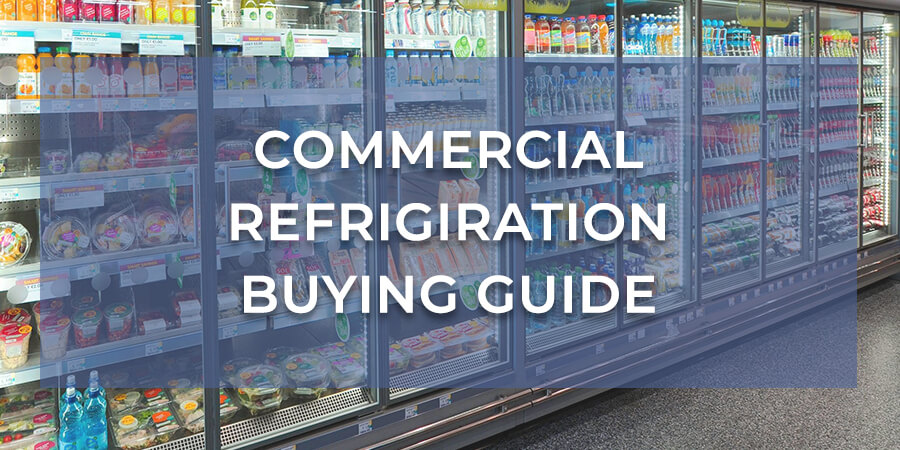 Below is provided the definition, location, and usage of the main types of refrigeration in order to better aid businesses in making profitable refrigerated storage decisions. After each type has been listed, a quick guide is available to help "begin selection." When this guide uses the word "refrigeration," it applies to both refrigerators and freezers.
1. Reach-In Refrigerators
Definition: A reach-in refrigerator/freezer is a way to keep your items cool; and accessible at arm's length while standing. In other words, It is the most common type of commercial refrigerator available today. They range in size from approx. 26" wide to 87" wide. They also come with enough accessories to make them able to store and cool most any foodservice product you could think of
Location: Back of the store or in the kitchen. Reach-in's are not designed to showcase food. There is a glass door option for the reach-in type, although it is meant for staff to monitor food product. They are meant to reliably and efficiently help you store and cool food product
Usage: Food product storage that is accessed by staff. When selecting this type of refrigeration, the end user may decide to follow the refrigeration route to a sub-variety of reach-in style refrigeration and find a specific sub-type that caters to a specific need.
Dual Temperature Refrigerators
Dual Temperature Refrigerators share the same properties as a reach-in type; however, it can provide two temperature zones for two different types of product (most commonly refrigeration vs freezing).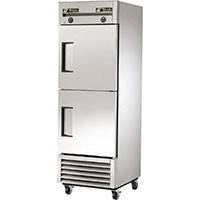 Location and Usage: Dual temperature refrigeration is intended to be used in back-house operations, and in kitchens that need to store or access two types of food product in the same area
Pass Through Refrigerators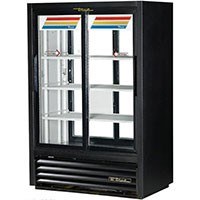 Pass through refrigerators share the same properties as reach-in refrigerators; however they can be accessed by either of two sides.
Location and Usage: Pass through refrigerators belong in back-house operations, and in areas that have more limited in space, require the refrigeration to be accessed by each of two sides, or in areas that require faster access.
2. Merchandiser Refrigerators
Definition: Merchandiser refrigerators store product in the same way as reach-in style; though its purpose is to do so in the public view and can likewise be safely accessed by the public. They also are great at enabling the product such as bottles and jugs to be stable while still being accessible.
Location: Merchandiser refrigeration is located in a restaurant or store front, or directly behind a front counter operation. Air curtain merchandisers are usually situated directly beside or in front of a front counter.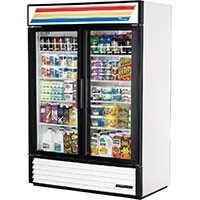 Usage: Merchandisers are used more commonly by the customer than the staff; allowing the customer to decide purchases by immediate view and availability.
3. Undercounter Refrigerators
Definition: Undercounter refrigeration share's the same purpose as reach-in refrigeration; however its purpose is to do so in smaller areas while holding a smaller quantity of food product. They are not meant to showcase food product.
Location: Undercounter refrigeration has an added portability in that, not only will it store product in tight spots around the kitchen, it is easily accessible under the front counter for staff to access quickly.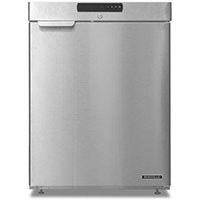 Usage: Undercounter refrigerators allow quick and reliable access to product in either smaller areas or in areas in need of quick/frequent storage. With the proper planning, undercounter refrigeration can add productivity to a "front of house" operation.
4. Worktops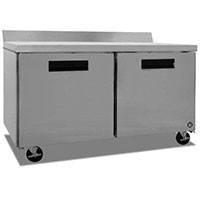 Definition: Worktop refrigerators allow you to prep and work on food products to be completed while also storing the necessary ingredients for the product. They come in a variety of forms making them versatile while remaining at a comfortable working height. They can include the option of pans, cutting boards, and storage hoods and the option of drawers and swing doors for bottom storage. Worktop refrigeration usually comes in the form of refrigerated prep tables and pizza prep tables.
Location: Worktop refrigeration is generally located in either mid kitchen or near/on the front counter operation; due to its versatile nature in either preparing pre-cooked, non-cooked, or to-be-cooked food product. This type of refrigeration is more often found in line operations.
Usage: Worktop refrigeration is a necessity for line prep and line cooking. Worktop refrigeration is generally located in areas where cooked product needs to be prepared to leave the kitchen, pizza is prepared to be cooked, or at a sandwich or salad station.
5. Walk-In Refrigerators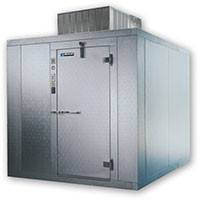 Definition: Walk-in refrigeration, available in both freezer and refrigeration type, is a way to store large quantities of food product on directly accessible shelving while being able to freely move inside the refrigeration.
Location and Usage: Walk-in refrigerators are intended to be accessed only directly by staff. They are either located in back-house operations, store-backs, and in mass storage facilities.
6. Bar Refrigeration
Definition(s): Bar refrigeration is available in three types: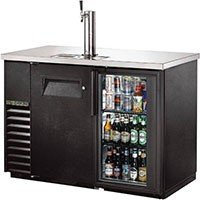 Cooler – Bar coolers are manufactured with both solid and glass doors. Glass doors allow the beer to be displayed while solid doors may be used for excess storage or keg storage.
Direct Draw – Direct Draw bar refrigeration allows the staff to both store and dispense/tap beer kegs in the same location; saving time and creating efficiency. Less common is a glass door type, but allows the staff to showcase the keg in use.
Hybrid – Hybrid bar refrigeration is less common but available. They can store glass bottled beer on one side, and on the other side they can store/tap keg beer.
Location: Solid door and direct draw types are used under the counter for storage and staff access, also making back-house areas a common position for solid door coolers. Glass door coolers are intended to be used directly behind the counter for public display.
Usage: Beer coolers are necessary for storing alcohol. They will ensure that it is kept at the proper temperature; which will directly affect the quality and taste of what is being stored. Improper refrigeration for storage can not only harm the taste of the product, but also destroy it.
7. Display Cases
Definition: Refrigerated display cases are intended to create product displays that require refrigeration to maintain its appeal. They are intended for display purposes only. They do not guarantee shelf-life and cannot be used to store food that will be served. See below for a few different types of display cases:
Location and Usage: Display cases belong in a store or restaurant front where it can aid the public in making a purchasing decision while also keeping the stored product inaccessible to anyone but staff.
Sushi Display Cases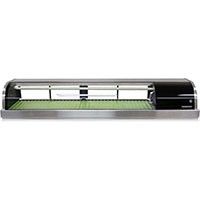 Used in many Japanese restaurants to display either appetizers or sushi. (not rated to store sushi over night)
Vertical & Horizontal Open Display Refrigerators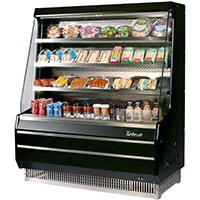 Vertical open display cases, and horizontal open display cases enable products which do not require as much physical stability to remain refrigerated. Typically used in a deli and/or air ports.
Bakery Display Cases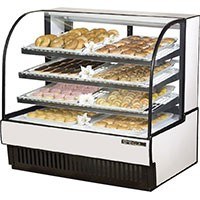 Comes in 2 types, either refrigerated or dry. Designed to allow you to elegantly display your bakery products. Typically seen in super markets and bakery shops.
Deli Display Cases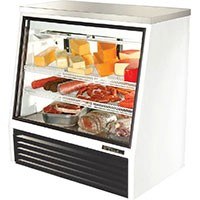 The standard type of deli cases comes refrigerated, not dry. There are different heights that can be chosen, ether high or low profile. Mainly seen in supermarkets and of course delis.
The Professional's Tips:
Warranty: A lot can be told by a manufacturer's warranty statement… such as "how long they believe the product will last." In other words, longer warranty means a greater faith a manufacturer has behind their equipment.

Placing: Most equipment sellers will have an "outside dimensions" spec available with their equipment listings; plan for those dimensions plus extra room for the compressor to breathe. If the compressor is on the bottom back, give it room in the rear. Rule of thumb: allow 2 – 4 inches of room around the unit to allow air flow.

8. Quick Guide
A decent but quick selection of the refrigeration equipment you need for your operation is possible. Try and judge by two questions: What will be stored? Where will it be stored?
Efficiency in the kitchen or out of public view
In the front or in a small space
Undercounter Refrigeration
Back-house operations
Reach-In Refrigeration (consider pass thru's and dual temp types for added efficiency)
Mass quantities of product
Walk-In Refrigeration
Line refrigeration
Worktop
Salad bar refrigeration
Worktop
Beer storage
Bar Cooler
Efficiency in the public's eye
Accessible to the public
Merchandiser
Displayed but not for sale
Display Case
Showcasing beer
Glass Door Bar Cooler
9. Refrigerator Sizing Guide
Owning the right size commercial refrigerator/freezer is a crucial element to a properly functioning kitchen/store. It's easy to think in terms of "big vs small" and "expensive vs frugal." Unfortunately, much more goes into the process of sizing the correct equipment. The inside dimensions will directly affect the product stored, while the outside dimensions will tell you where/how to place the equipment in your facility.
Note: The inside cubic ft. of a unit may be affected by the location of the compressor. A refrigeration unit may have a longer width but only because the compressor is mounted on the side.
Size by Metrics
They are generally sized by five different ways:
Outside Dimensions
When constrained by space, this is sometimes the only way to size your equipment.
Width (Inches)
Sizing by width may be important for judging your refrigerator on where it will fit in the space provided.

Certain widths are concurrent with the inside cubic foot. For example: 27" Reach-In's usually equal 20-25 cu. ft. inside
Cubic Feet
Measuring by cubic feet is a direct way to measure the equipment you are sizing. It will give a direct representation as to how much product can be stored.
Number of Doors
Like width, sizing by number of doors can give you an idea of the inside dimension. For example: Single Door Reach-In's usually measure around 27", and can equal 20-25 cu. ft.

Doors may also come half size. This means that what is normally a 2 door, can have 1 full door on one side, and two half doors on the other side. This is an excellent way to size when thinking about accessibility and organization.

Bar Coolers may have slide top doors (frat tops). These doors are judged the same as side doors when sizing the cooler.
Sections
A section can be the same as a door, 1 door = 1 section. It is a way to size the equipment by immediately thinking about how the product is stored. Having multiple sections can benefit the user by allowing them to organize product per section.
Size by Product
The following is a list of the standard dimensions of common refrigeration types:
Reach-In/Merchandiser
- 1 Door = approx. 27" wide = approx. 20-25 cu. ft.

- 2 Door -or- 3 Section = approx. 40"-57" wide = approx. 35-45 cu. ft.

- 3 Door -or- more than 3 Sections = approx. 78"-83" wide = approx. 72-79 cu. ft.
Walk-In
Walk-In refrigeration varies greatly. They can come in ready to assemble/pre-determined sizes, or can be 100% custom. Talk with your preferred dealer for sizing.
Display Cases
These come in various odd sizes and are best sized by the space they will be fitting in since they are mainly to show off product.
Worktop / Prep / Undercounter
- 1 Door = approx. 27" wide = approx. = approx. 6.5-7.5 cu. ft.

- 2 Door = approx. 36"-46" wide = approx. = approx. 8.5-9.5 cu. ft.

- 3 Door = approx. 72"-93" wide = approx. = approx. 18-22 cu. ft.
Bar Cooler
(bar coolers which also tap the product, aka direct draw, will be slightly small inside the refrigeration cabinet)
Width will not necessarily explain the inside dimensions. Use width for sizing per space, then look at the "product capacity" (i.e. ½ keg or 30 six packs)

- 1 Door = approx. 24"-36" (side mount compressor size can create much larger width)

- 2 Door = approx. 36"- 60"- (side mount compressor size can create much larger width)

- 3 Door = approx. 72"-95" (side mount compressor size can create much larger width)
This can be an incredibly difficult way to size your equipment, but the product you need to have stored/served will be the best judge of your equipment. Depending on the refrigeration you select, it can be bursting at the seams with product, or almost empty; so before you start filling up the fridge… if you know your serving demographics, use them to your advantage. If you have gathered the answers to the following questions, you can make an incredibly accurate purchasing decision.
How much product you will have to access
Size of the product
How many customers will be served
Knowing how you want your product stored and organized will help you select the right equipment. A 3 section unit will come in only a handful of sizes (making it easy to size), and create a great way of accessing the unit.
The Professional's Tips
Placing: Most equipment sellers will have an "outside dimensions" spec available with their equipment listings; plan for those dimensions plus extra room for the compressor to breathe. If the compressor is on the bottom back, give it room in the rear. Rule of thumb: allow 2 – 4 inches of room around the unit to allow air flow.
Check everything out: Use one of the common ways that refrigeration is sized, then after narrowing down a group look at all other dimensions and specifications. Two pieces of equipment may have the same outside size, but different inside cubic feet; and vice versa
Share This!