Designing Your Restaurant Seating Layout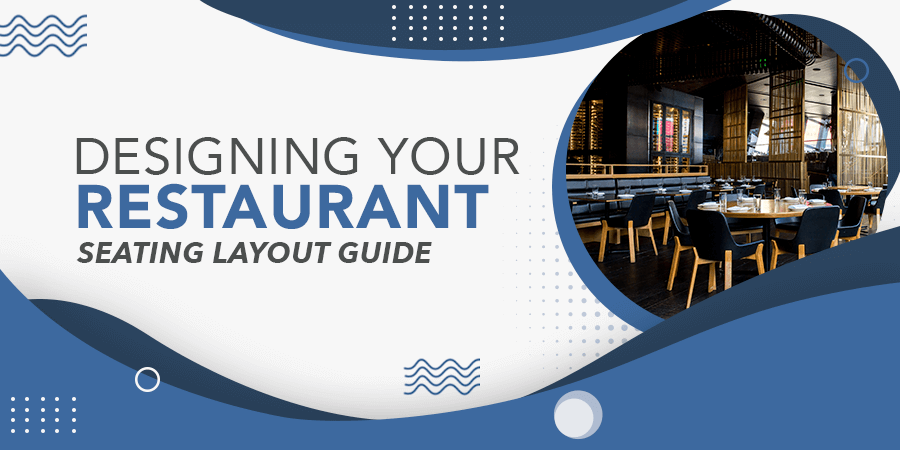 Opening a restaurant is no easy feat. There's the stress of planning out the perfect menu that will give you countless 5-star ratings, there's hiring a restaurant staff full of friendly faces, and then there's how you set up your restaurant seating.
The restaurant seating layout you choose is more than just providing privacy to your diners and having proper server flow. It sets the ambiance and can separate a subpar restaurant experience, from a great one. Having a thoughtful approach with your restaurant seating, and how you lay it out in your restaurant, can have a huge impact.
Here's what to know before you make any restaurant seating purchases:
Initial consideration for designing your restaurant seating layout
As you are analyzing your restaurant floorplan, you'll first need to decide whether you are using one, or two, rooms and then ensure all the space available is allocated.
Know the regulations
Every state has varying regulations but no matter where your business is, you'll need to ensure that your restaurant seating meets ADA regulations. As you are going through your restaurant's floorplan, reference this ADA Regulations Guide to confirm you're meeting every requirement.
When it comes to spacing, safety regulations come into play and you'll want to connect with your local fire department or government agency. These regulations will go beyond just the building and fire codes that you need to oblige by. These are often more specific regarding the square footage that is needed for each diner, as well as what the width of the aisle pathways should be. As a baseline, most safety regulations require on average, 18-20 square feet per person, and 18" for the passageway between tables and chairs (for ADA regulations, you'll need 36" wide aisles). It's always best to confirm these regulations since it varies based on the number (and sizes) of the exits at your establishment.
Ensure efficiency and profitability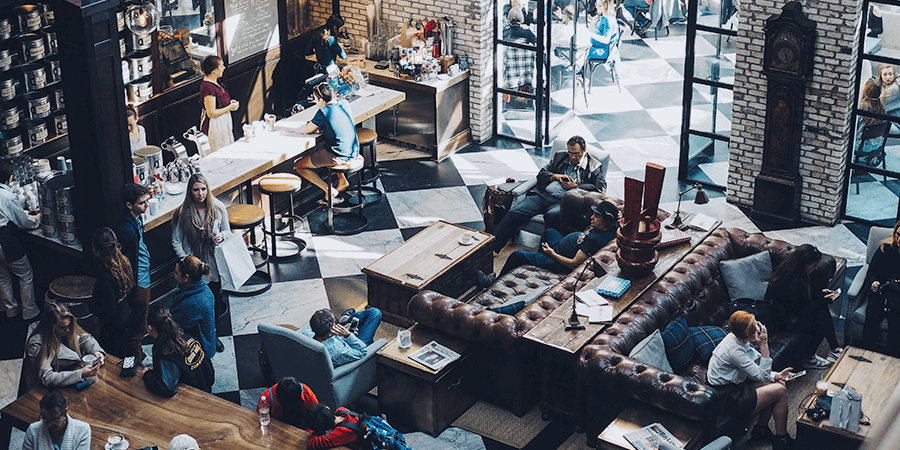 As you are planning, you'll want to create a restaurant seating layout that fits the greatest number of diners possible to remain profitable. You'll want a mix of tables that you can turn quickly to get new diners in the door, as well as tables that are conducive for social gatherings. For instance, round tables can be more efficient for space because without their lack of corners (like a rectangular table) you can fit more seating in the room. At the same time, diners don't like feeling like they are seated on top of other tables, so resist the urge to fit as many tables as possible!
Also, pathways will need to be considered for servers and inventory so they can move smoothly through the restaurant to ensure better efficiency. Restaurants have a lot going on. From food preparation to bringing diners their food, there are always workers moving about. You'll want the restaurant floor plan you choose to also optimize a variety of factors for restaurant seating including accommodating various party sizes, your restaurant's circulation patterns, and even how your waiting area is set up. All should have a level of comfort and privacy for each dining experience.
Finally, consider the type of restaurant you're opening for planning purposes – fine dining may need extra aisle room for meal carts or table service whereas family-style will need room for bussers to clean tables more frequently.
Choosing the right seating for your restaurant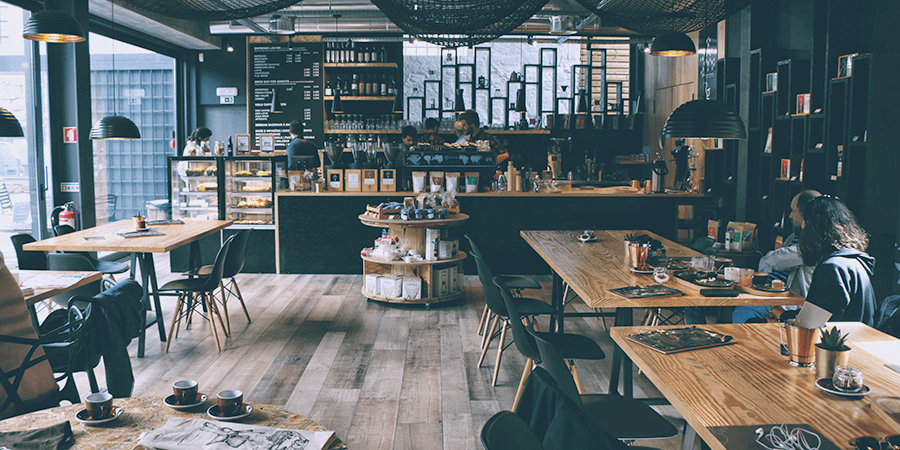 The four basic types of restaurants are either casual, fine-dining, fast-food/fast-casual, and sports bars – make sure what you choose meets these needs!
From there, you'll want to determine your room layout – whether that is multiple rooms or one, open room. Having multiple rooms is easier to anchor tables for consistent seating and it's easier to place tables and booths along the walls or window. This also allows for further customization with décor themes and makes each room feel like a private dining experience with volume control. You can even host private parties in a room! However, having multiple rooms can be more challenging for the waitstaff and hosts to keep track of and it'll be more difficult to accommodate larger parties. Additionally, having the walls will limit further renovations.
Open rooms are ideal for maximizing space with portable tables, while still having the option of anchored seating along walls and windows. An open room also allows for guests to enjoy the entire room's aesthetic at once, can accommodate larger parties due to the flexible floor plan, and if you need to break up a room you always have the option of temporary partitions! At the same time, this can become loud for your diners and they may have trouble engaging in conversation. Your theme may also get lost in the large room and having an increase in aisle traffic can be challenging for waitstaff.
Types of restaurant seating you can purchase
Different restaurant seating options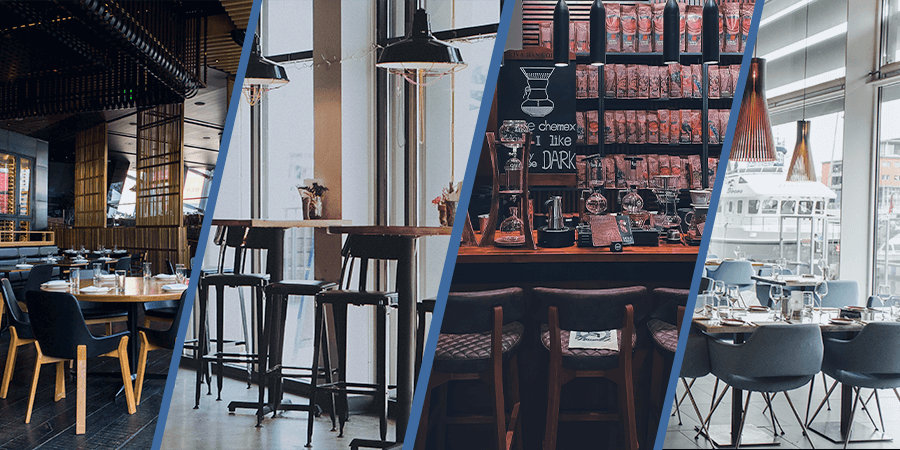 The furniture quality and type you choose can influence the restaurant experience of your diners. You want versatile and multi-functional pieces that are comfortable and inviting. Commercial-grade furniture can withstand heavy usage and the demands of the restaurant business. While the price may be higher, commercial-grade furniture is worth the investment!
Anchored booths are a great option because they give diners a more private dining experience, they are space-efficient, and they allow for the most legroom which is a draw for diners! On the other hand, since they are anchored, they cannot be moved easily, and they are harder for accommodating elderly guests.
Portable chairs allow for the accommodation of larger parties because you can move the chairs easily, can accommodate elderly guests, and unlike benches where guests may stay mingling, diners are less likely to mingle at a portable table, allowing you to turn tables faster. On the contrary, they are not as space-efficient, and the table base may limit legroom. They also tend to break and wobble easier.
Bar seating is a version of portable seating. The seats are often higher, so it limits who you can accommodate, but it's conducive to this casual environment making it a frequent selection for these establishments!
Next, look at materials. Plastic booths may be a good option if you are opening a family-friendly diner or casual restaurant, whereas chairs with elegant fabric may be better suited for fine dining. If you are family-friendly or a bar environment, you'll want fabric and materials that are easy to clean with spills. With fine dining, your diners will expect a fine dining experience not only with the food but with the service and décor. If you are buying fabric furniture just make sure it is stain-resistant!
Whatever you decide, just keep in mind that the ADA regulates that 5% of total seating (at a minimum) should be accessible to those in a wheelchair.
Executing your vision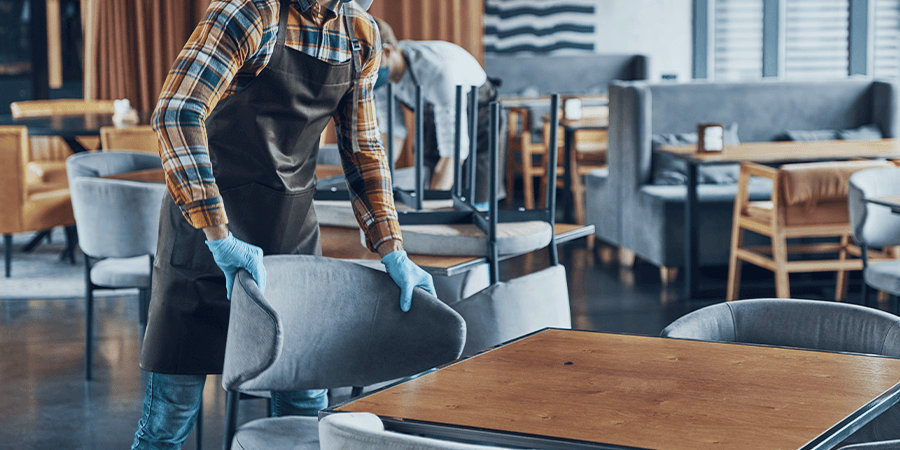 After you finish planning, now it time to make your restaurant seating purchases.
Know your budget
Furnishing your restaurant is no light expense and can quickly add up. As you are purchasing your restaurant seating you may go through much of your initial budget without even realizing it. Consider what style of dining chair you are purchasing and then see if there is a cheaper version. Or, look at used restaurant seating to save money! If you do purchase new, know that it is meant to last many years which is why the price is higher – just be sure to keep your warranty!
Restaurant seating help
If you're not sure where to begin, talk to people in the industry! You'll find out in these conversations what has worked for them and will learn from their triumphs and errors! Or try one of many restaurant layout software out there like RoomSketcher, CAD Pro, FloorPlanner.com, ConceptDraw, and Dreamplan Restaurant Design Software.
Or, reach out to our talented team at Go!Foodservice and we can help answer any questions you have!
Now, what?
Once you purchase your restaurant seating, now you'll need to lay it out.
Here are some examples of common, simple, layouts below but know that all have both booths and portable tables so you can get the best of both worlds!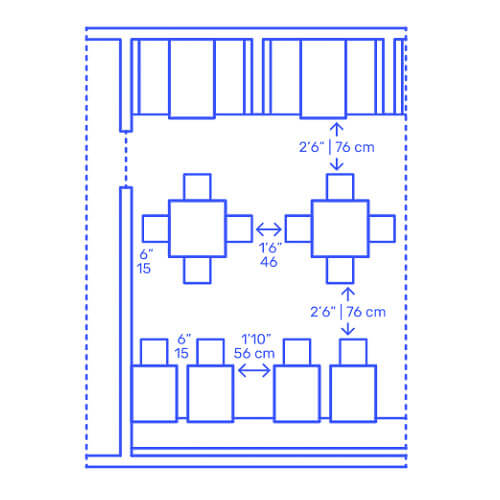 Now that you have purchased all your restaurant seating and have your restaurant floorplan set up, sit in every seat, and consider customer complaints and the different views each patron would have! This will ensure you are ready for your restaurant's opening night!
Share This!