Commercial Ice Cream Machines
Browse Our Selection of Commercial Ice Cream Makers & Frozen Yogurt Machines
Helpful Resources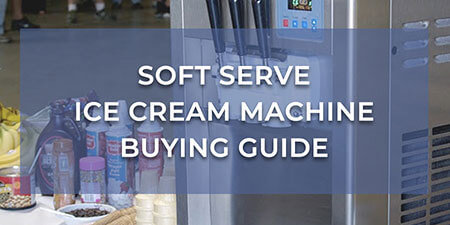 Soft Serve Ice Cream Machine Buying Guide
Nearly nothing evokes childlike glee quicker than ice cream. A delicious treat on a warm summer's day or heading a craving in the dead of winter, soft serve ice cream, in particular, has a certain nostalgic quality – especially when served in a retro glass dish.
Delight your patrons by serving them soft serve ice cream or frozen yogurt made with our soft-serve ice cream machines and frozen yogurt equipment!
About Our Soft Serve Ice Cream Machines
These soft serve ice cream machines will bring joy to all! Restaurants, hotels, hospitals, banquet halls, caterers, cafés, and cafeterias all can benefit from the addition of soft serve makers. Our soft-serve ice cream machines don't just bring ice cream; they also add happiness anywhere they are found!
Shop Top Commercial Ice Cream Maker Brands
GoFoodservice is proud to bring you an incredible selection of soft serve makers that include both frozen yogurt machines and soft serve ice cream maker machines to delight customers everywhere with soft service machines from some favorite brands in the industry like Donper, Elmeco, Spaceman USA, and Waring. The only challenging part will be choosing the perfect frozen yogurt machines for your space.
Want Help Finding the Perfect Soft Serve Machine?
At GoFoodservice, we know that the collection of soft service machines we offer can be overwhelming. While we offer this selection so every shopper has access to the right soft serve machine for their needs, we also provide top-notch customer service to help you pick the perfect one.
We are confident that we can help you choose the best machines for your customers, your restaurant or commercial kitchen layout and space, and more. We look forward to helping you select the absolutely perfect soft serve ice cream machines, and can't wait to bring the ability to make these delicious treats to you.
Why Buy an Automatic Soft Serve Ice Cream Maker?
Why do kitchens need soft-serve ice cream machines? These types of automatic ice cream makers offer easy access to some of the most delicious and nostalgic desserts available: soft ice cream and frozen yogurt.
How do you decide which soft service machine to choose? Take a look at the available space for the machine first and consider your budget. From there, you'll be able to narrow down your options with capacity and fabulous features like air pumps, flavor twist capabilities, cone holders, and plenty of other niceties.
Shop Our Ice Cream Machines & Other Ice Cream Supplies
At GoFoodservice we can help you choose the perfect machine for your business needs, plus plenty of other ice cream supplies. Don't hesitate to reach out with questions about finding your perfect ice cream machine.