Concession Supplies Buying Guide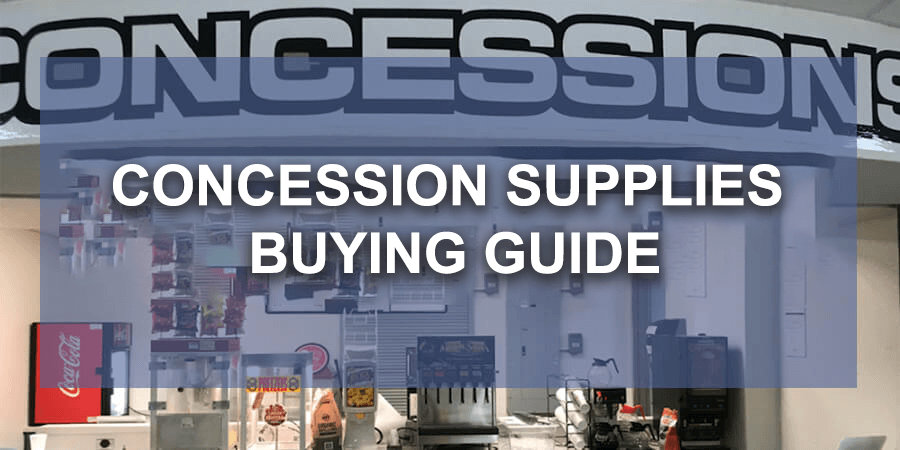 As someone running a movie theater, a fast food restaurant, a festival food booth, or any similar establishment, concession supplies are something you will definitely need. One would associate concession equipment with movie theaters – but in truth, theaters had little to do with it in the beginning. They only began using concession stand equipment starting with the Great Depression – as a means to increase the revenue when everything was stagnant.
What exactly are concession supplies? Concession stand equipment consists of vending carts, kiosks, or accessories that usually sell junk food such as candy, popcorn, hot dogs, nachos, slushies, or beverages. They are actually called "concessions" because the venue contracts out the right to sell food to third parties. These kinds of concession stand supplies make food fast – and sell it just as fast. The product is not even considered a "culinary superstar;" it just makes snacks that can keep you busy on a nostalgic day – or keep hunger at bay when you are walking around on a date or a festival day.
Having a concession arsenal is a great way to make some profit; but now that you've decided that you want to build it, where do you start? Well, this article will help you find out more about concession equipment so that you know exactly what to invest in for your business.
Popular Concession Equipment
When it comes to concession supplies, portability is likely the most important factor. As long as you have access to a power source, there should be no problems in using any type of concession equipment. Furthermore, these popcorn machines, hot dog rollers, juicers, or cotton candy machines can work in any kind of setting – regardless of whether it's indoor or outdoor.
If you are thinking about adding a couple of snacks to the menu, here are a few pieces of concession stand equipment that can help you do so.

Popcorn Machines
There are many contagious things, such as laughter or yawning (you are probably thinking about yawning now as well); however, nothing is more contagious than the yearning for popcorn. You just have to smell it, and you will immediately think "Ah, I need some popcorn in my life."
And let's face it; the familiar pop, the recognizable smell, the buttery or salty taste – we cannot deny that all of our senses are penetrated to the max. The snack is popular mostly for its versatility; you can make it sweet or salty, with peanut butter or caramel. The quality of the popcorn will depend on the quality of the popcorn machine used – which is why you will have to be very careful when making your investment.
When you are looking for a popcorn maker, you have to look for something that is durable. Ideally, you should opt for tempered glass panels as well as a sturdy cabinet where the fresh popcorn will be stored.
When people are continuously walking and enjoying attractions, they will eventually get hungry. So, if you have a hot dog stand, make sure that they will eventually stop by for a hot dog. Perhaps one of the most popular foods in America, hot dogs can be found at any outdoor event – but also at restaurants dealing with fast food.
When looking for a hot dog griller for your business, you might want to consider the size first. A high-volume concession unit, for instance, can produce up to 75 hot dogs in one go. Other units also have a low-profile design so that the customers can see the hot dogs – and therefore, making them cave into hunger.
Bear in mind that a roller grill is a convenient investment – and not only for hot dogs. These units can allow you to make sausages, egg rolls, taquitos, as well as other appetizers that use bread. They are a good piece of concession equipment to have around if you want to have a more diverse menu – but don't have the space necessary to allow that.
Last but not least, if you want hot dogs, but ones made on a roller grill, then you might want to look into broilers and steamers. This type of cooking might take a bit longer – but it will also lead to buns that remain fresh for a longer time. A broiler, on the other hand, will cook the hot dog on a rotating stick – therefore attracting the eyes of the hungry customer.
Pizza Ovens
Regardless of the situation, pizza is pretty much self-selling. You make the pizza, put it in the oven, and get it out once the pizza has been cooked. However, when it comes to concession equipment and attracting hungry customers, you need to make sure they see the pizza.
Look for products that allow the customers to see the pizza as well. In this case, you might want to ensure that the lighting is superior. Some manufacturers also provide temperature controls so that you can cook more than one pizza at a time – obviously, in controlled temperatures.
Nachos Units
If you are going to a sports game or a movie, it's likely you won't be able to go in without some nacho chip merchandisers and warmers. These treats are truly addictive and are also simple to make; you just have to heat the cheese, add the chips, and you are done. Plus, since they are quite salty, the chances are that the customers will also associate them with a beverage – so if you also have a juicer, then you are all set.
The advantage of nacho machines is that they are versatile as well – just like the hot dog roller grill. You may use them to cook peanuts, to pop popcorn, to keep the food warm – and many, many more. The investment would be quite fruitful.
Ice Shavers and Snow Cone Machines
While it may seem like snow cone machines and ice shavers are almost the same things, they are quite different. Snow cones are made by using crushed ice, to which you add syrup and put in a cone – similar to ice cream. Shaved ice, on the other hand, is made by shaving ice from an ice block – which you ultimately mix with syrup in a cup.
These treats are very easy to make with the right concession unit – and the profits are substantial, particularly during hot summer days. It's the perfect addition for every concession stand.
Commercial Electric Juicers
Commercial electric juicers are a good choice for restaurants and concession stands that work at a fast pace, with a high number of customers. These juicing machines will allow you to make fresh beverages such as lemonade, orange juices, smoothies, and veggie-based drinks.
These electric juicers were made to pulverize the ingredients and extract the juice without asking for too much effort from the operator. This way, they can go on handling various other tasks – such as getting the nachos ready for the same client. They are time-efficient – and therefore, will improve the productivity flow.
Commercial electric juicers are a good thing to have around because let's face it: everyone needs to accompany the food with a drink. Plus, these offer a healthy alternative to sugar-clad beverages – which people have recently started to avoid.
Manual Commercial Juicers
A manual juicer will offer you more control over the production of juice since you will know precisely how much pressure goes onto your ingredients. Plus, considering that they do not require any electrical outlets, they are a good option if your concession stand is outdoors – without any access to electricity.
These juicers can be found in different styles, depending on the ingredients that you are planning to juice. Furthermore, depending on the vibe that you wish to deliver, a juicer will make any concession stand or restaurant feel nostalgic and old-fashioned – which can attract various customers.
Choosing the Right Concession Equipment
Having an attractive food display is important to customers. Before purchasing any type of concession equipment, you should always know the restriction and space requirements that it needs. Depending on the commercial unit that you purchase, they can be rather large – so if you have any additional accessories, it might really cramp your style.
Make sure that the footprint of the chosen unit will fit in the space you have on the counter. Also, you should consider exactly how much access to power you have. If you have a limited number of outlets, then you might want to go for a mix of manual and electric equipment for your booth or restaurant.
Once the space issue has been resolved, think about the menu that you are planning to provide. One of the best parts concerning concession equipment is that most units are fairly versatile. For example, a commercial electric juicer can make anything from orange juice to avocado and banana smoothies.
Furthermore, you also have to consider the location. For instance, if your restaurant or concession stand is in a place where guests will be lingering for some time, then pizza ovens and hot dog units should be a very wise choice.
Popcorn, on the other hand, can be served pretty much everywhere – and can be a suitable choice even if you serve it in a showroom or a hotel lobby. It might be a good idea to include both sweet and salty snacks so that a wider variety of customers can be satisfied.
Last but not least, the accessories that come with the unit are also a matter of concern. Look for concession equipment that has dispensers and countertop organizers. This way, it will be easier for you to keep your tools organized for both sanitary and productivity reasons.
Final Thoughts on Finding the Right Concession Equipment
Concession equipment will always be a good thing to invest in – particularly since our society is packed with busy people that don't have the time to stay at a table for a full meal. Plus, considering that these machines use few ingredients, the snacks will be cheap to produce – and you will be making money.
Think about the concession stand that you are planning to equip and purchase the right equipment for that. No matter if you are going with the classic popcorn and cotton candy or want to make a fancier pizza and nacho stand, it's definitely going to be a hit – mainly because there will always be hungry people around.
Share This!