Soft Serve Ice Cream Machine Buying Guide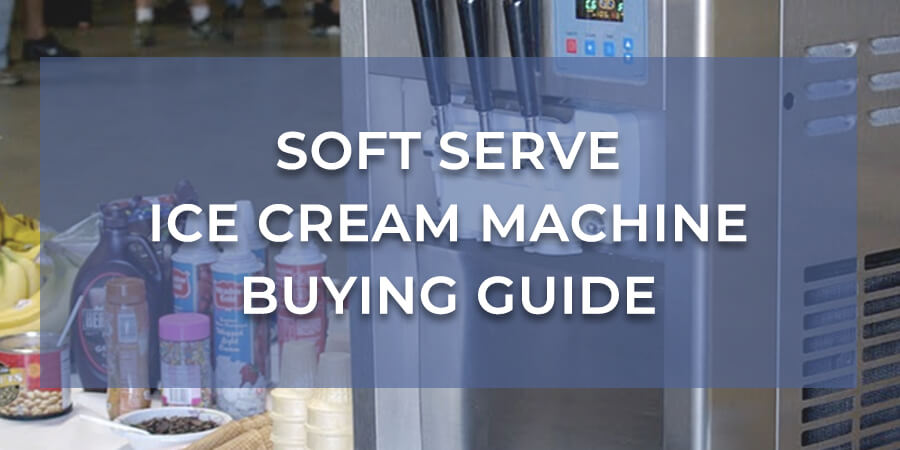 Ever since the 1930s, soft-serve ice cream has been seen as an appealing, enjoyable ice cream assortment. Any business that wants to serve soft-serve ice cream should, of course, consider investing in a top-quality soft serve machine that will do the job accordingly.
In comparison with typical ice cream, soft serve has to be kept at a significantly higher temperature. Simultaneously, in order to preserve its specific fluffy consistency, it must be stirred continually. Evidently, during the shopping process, there are several aspects that you should consider.
With that in mind, we will discuss the main factors worth noting when looking for a top soft serve machine. Let's proceed, shall we?
1. Types of Soft Serve Ice Cream Machines
The first thing you have to do is to pick from the types of units you can find on the market, of course. Essentially, you cannot do that unless you know the individual specifications of each soft serve machine.
Counter Top vs. Floor Model Soft Serve Ice Cream Machine
Deciding between a countertop and a floor model will be imminently influenced by the amount of space you have at your disposal. At the same time, you should determine the number of products you plan on selling. With that in mind, if you plan on producing soft serve ice cream in significant quantities, you should pick the machine accordingly.
As a rule of thumb, investing in a countertop soft serve machine makes sense if you want to keep the unit in a shop. More specifically, you anticipate selling relatively low volumes of ice cream.
Air Cooled vs. Water Cooled Machine
Moving on, another way in which we can classify soft serve machines is by dividing them into air-cooled and water-cooled units. The main benefit of air-cooled units is that they don't necessitate a water hook-up. Hence, if you don't have one in your proximity, then it might make sense to get such a machine.
On the other hand, water-cooled machines require attaching them to a specific water hook-up, as the name already implies. This might point out some limitations when it comes to positioning the machine. Nevertheless, it is capable of storing more energy. Thus, it cools the ice cream much faster than its counterpart.
Basically, we could say that an air-cooled machine is better suited for a room with air conditioning. Meanwhile, a water-cooled machine can be stored in any type of room and will perform excellently.
Gravity vs. Pressure-Fed Machine
Furthermore, another way in which we could distinguish between soft serve units is by categorizing them as gravity and pressure-fed machines. This has to do with the way in which they operate, of course.
First of all, a gravity machine depends on gravity to transfer the soft serve from the feed tubes to the freezing cylinder. On the other hand, a pressure-fed machine is equipped with a pump that moves the mix from the hopper to the freezing cylinder.
Typically, a pressurized machine is intended for high volume utilization. Thus, it facilitates a significant overrun. In the meantime, a gravity unit can regulate the overrun air in a more efficient manner.
2. Major Considerations
Obviously, the type of machine isn't the only thing you should factor in. There are other equally important elements worth noting when looking for a top soft serve machine. Let's see what they are.
Capacity
Similar to any other type of equipment, it is absolutely critical to pick the soft serve machine that will address your needs, in terms of capacity. As a rule of thumb, the capacity is assessed in volume – gallons per minute or servings per minute. 2-3 servings per minute are thought to be lower volume, whereas 4-5 servings per minute are acknowledged as medium and high volume is 7 individual servings.
| | | | |
| --- | --- | --- | --- |
| Style | Capacity | Serving Size | Serving Per Minute |
| Counter Top | 7-quart | 4oz serving | 2-3 servings |
| Counter Top | 20-quart | 4oz serving | 3-7 servings |
| Floor | 20-quart | 4oz serving | 7 servings |
Energy Conservation Characteristics
Moving on, it's always sensible to invest in units that are energy efficient. Happily, you can do the same with a soft-serve machine. More specifically, some units have a sleep mode. You can choose to activate the sleep mode when you're not using the machine, to conserve energy.
Typically, the temperature that a soft serve machine usually maintains is around 18 degrees Fahrenheit. Nonetheless, in sleep mode, the temperature reaches roughly 38 degrees Fahrenheit. Still, note that if the unit you buy comes with this characteristic, you have to turn it on thirty minutes before actually using it – at the very least.
Cleaning Features
Furthermore, many modern units come with state-of-the-art cleaning features. One example would be that of heat treatments – which significantly reduce the cleaning requirements.
On a different note, some units can be used for two weeks straight without requiring any cleaning. Considering the notable costs associated with the emptying and the disposing of the unused serve before the actual cleaning process, we could say that this characteristic is also cost-efficient.
Nonetheless, before acquiring such a unit, ensure that you consult with the local health codes that you need to respect.
Low-mix Shut-off and Alert
A soft-serve machine might also come with an indicator that lets you know when the level of serve mix is low. When it is lower than it should, this will make the soft serve to freeze solid. Essentially, this could damage the interior parts of the unit, leading to its malfunctioning, over the course of time.
This is where the lox mix alarms come in. This feature allows you to prevent this unwanted scenario and, this way, it will prolong the lifespan of your machine. In the meantime, other machines come with an automatic turn off characteristic that is activated in case there isn't sufficient mix inside the unit.
Flavor Options
Another consideration that is just as important when it comes to a soft serve machine is the one regarding the number of flavors you plan to use. Why is that? That's primarily because some units serve only one flavor of soft ice cream.
However, there are other types of units that allow you to opt for the twin twist. As a result, you can combine two individual flavors and dispense them in a twist serving. Nonetheless, if you intend on serving soft ice cream in a relatively low amount, then a single flavor machine will address your needs.
3. What Are the Costs of Having a Soft Serve Ice Cream Business?
Before establishing such a business, you should know for sure that it will generate the profits you expect. Of course, you already know that soft-serve ice cream is loved by both kids and adults. The good news is that such a business can be quite profitable, as the ice cream industry produces approximately 870 gallons of product every day.
As for the costs linked to such a business, the main aspects you should factor in are the maintenance costs, of course, the mixes, and the additional accessories you might need – if any.
4. Maintaining a Soft Serve Ice Cream Machine
It's worth mentioning that the maintenance of a soft-serve ice cream machine is of great importance. Considering that dairy products are prone to form bacteria, if you don't look after the machine as you should, the health implications could be hazardous.
With that in mind, you should know that most health departments require breaking down the soft serve machine on a daily basis, in order to clean and sanitize it accordingly. As a rule of thumb, before selecting a specific unit, you should be aware of the requirements in your area.
In essence, in order to ease the cleaning process, several methods have been adopted. One option would be utilizing a washout kit. In essence, such a kit comprises a faucet hookup designated for the top of the machine, which allows you to turn the water into the hopper.
However, some suppliers facilitate part trays in order to provide employees with an adequate molded space for cleaning and sanitizing the parts that might not be thoroughly cleaned. As we've already mentioned, some units come with really handy auto-cleaning features, which can definitely save a lot of time.
5. Final Thoughts
On a final note, owning a soft serve business can be a good option, considering that you have a suitable long-term plan. If you've been thinking about this alternative for a while, then feel free to use the tips we presented above as guidelines.
Still, bear in mind that your sales depend on a wide range of elements – including the quality of the product, the way in which you approach the customer, the promotion approach, the location, and, of course, the traffic amount.
It all starts with purchasing the perfect soft serve machine that will address your needs and will turn your dream into reality. As long as you consider the factors outlined in our brief guide, you'll be on the right path.
Share This!