How to Set up a Small Commercial Kitchen in 3 Easy Steps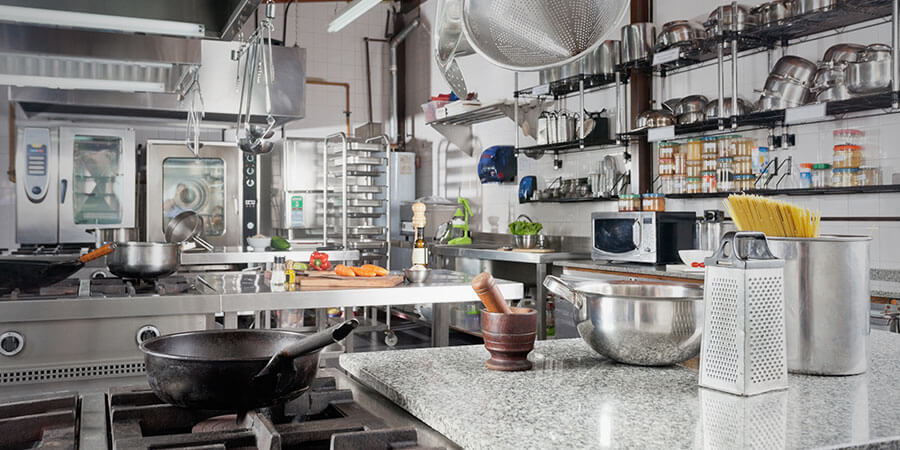 Freezers and fryers and fire suppression... oh my!
There are so many things to think about when you're starting a food service venture. And getting your kitchen set up properly is critical for success.
It doesn't have to be difficult to set up a commercial kitchen. In fact, it's as easy as 1... 2... 3!
Here's our guide for how to set up a small commercial kitchen in 3 easy steps.
Step 1: Develop a Menu That You Love
The menu dictates everything in your restaurant. Develop a menu that's made up of food that you love!
Start by creating a menu theme. You want your food to set you apart from the competition in your area. Jot down a few words that describe what you plan to achieve with this menu.
Bring in your head chef to help you with this process. They'll have ideas for kitchen set up based on prior experience.
Keep your list of menu options as short as possible. Too many menu items confuse customers. Restaurant goers like it when they can pick their meal in two minutes or less.
Also, consider pricing when you develop your menu. Prices dictate what ingredients you use and how you set up the kitchen to cook those ingredients.
Step 2: It's All About That Space
Yes, it would be nice if your kitchen was big and bright and full of useful square footage. But setting up a full-service commercial kitchen in a small space is definitely possible. You just have to use that space wisely.
There are three common design strategies for commercial kitchens. The design you choose depends on your preferences, the preferences of the cook, and your menu. Let's take a closer look at each.
Zone
A zone kitchen spreads the workflow across different zones. Each zone has its own specific function. And the crew working in the zones specialize in that area.
Most zone kitchens have an area with lots of counter space for food prep. This is where you'll measure ingredients, slice meat, cut up veggies, marinate, etc.
The cooking zone might be a simple set up with a grill and a fryer. Or it might be more complicated, with several different ovens, cooktops, and warming pans. It's all dependent on your menu.
Zone kitchens have places for cold storage, dry storage, and sanitation. And you might opt for a separate zone to plate the food once it's cooked.
Assembly Line
Assembly lines are great for kitchens that prepare lots of the same types of food. For example, sandwich shops, pizza parlors, and burger joints.
It's also a great option if you're providing fast service. There's less time between each step in the assembly so the food gets done faster.
Don't worry, your assembly line doesn't have to be in a "line". Many kitchens aren't big enough to have one, straight assembly. You can run your assembly in a circle when you're short on space.
Island
The island kitchen is a variation on both assembly and zone kitchens. It works around a center island hub. But also utilizes the perimeter as part of the workspace.
Set up your island as the main prep and cooking area. You want to concentrate most of your cooking equipment in this area. Use the perimeter for less important zones like storage and sanitation.
You can use the island design in an assembly line too. Create a workflow that starts on the island with prep and cooking. Then transfers over to the perimeter to finish off the dish.
Step 3: The Essential Equipment
Now that your menu's in place and you've decided on the best way to organize the kitchen, it's time to look at essential restaurant equipment and how having the right equipment on hand, plays such a crucial role in your restaurant's success. There are a few main categories that every kitchen needs.
Storage
You'll need both dry and cold storage. Commercial refrigerators and freezers come in walk-in, reach-in, and under-counter varieties. Most kitchens have more than one type of refrigerator.
A large, walk-in refrigerator works for bulk storage. Then you'll want a smaller, more accessible refrigerator in your kitchen. If space is limited, a work-top refrigerator kills two birds with one stone.
Dry storage equipment consists of cabinets and shelving. Again, opt for worktop storage when setting up a small space.
Cooking
The cooking equipment should be easily accessible to everyone in the kitchen.
Save space by purchasing a commercial oven with cooktops set into the top, like a gas range with built-in ovens below. Many of these machines come with added storage shelves above the cooktop.
Locate the frying station near the cooktop or grill. If you don't plan to fry much, a small, countertop fryer might be your best bet. And floor fryers are great if you're short on counter space.
Depending on your menu, your kitchen might need some specialty cooking equipment. This includes bread ovens, pizza deck ovens, toasters, sandwich grills, etc.
Also, invest in good warming equipment to keep the food warm before it's sent out to the customer.
Sanitation
Choose a commercial dishwasher that's large enough to handle whatever load of dishes you plan to throw at it. If you plan to serve food in disposable containers, you may not need a very large one. They come in racked, conveyor, and under-counter varieties.
You'll also need a sink. Most regulations require that restaurants have at least a 3-compartment sink. Choose one that has shelves on either end to allow for drying.
Safety
Floor mats are essential for kitchen safety. They provide a sturdy, non-slip surface. This keeps employees safe when they're buzzing around the kitchen during a busy lunch hour.
You'll also need a proper ventilation system to pull away smoke and grease from the kitchen air. Check your local regulations. Most areas require a commercial kitchen to have an exhaust hood over the cooking area.
Finally, you'll need a fire suppression system. Again, check your local regulations. Keep fire extinguishers near the cooking area in case of grease fires.
How to Set Up a Small Commercial Kitchen the Right Way
We hope you've learned how to set up a small commercial kitchen the right way. It's not a difficult task when you break it down into the three, easy steps we've mentioned here.
Start with your menu. Then work out which kitchen layout works best for you. And finally, plan your equipment list accordingly.
Looking for more tips to start your restaurant business? Check out these key considerations for first-time restaurant buyers.
Share This!