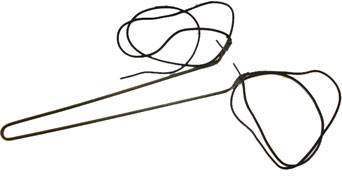 True 802399
Heating Element
Options and Accessories
Machine serial # verification (optional, but recommended)
Product Overview
Heater, Condensate 65W 115V Tubular 48" w/ Overtinned Leads.
16" x 1" x 4-1/2" H Two Pass with 47" leads, Retrofits the 802312 previously used.
NOTE: (STANDARD) THIS RETROFITS THE 90 WATT HEATER WE USED PRIOR TO 12/01. THIS HEATER IS A LOWER WATTAGE TO REDUCE THE HEAT IN THE PAN COVER AREA ON BACK OF CABINET.
Note: True Manufacturing electrical components are non-returnable once ordered.

Product Brand

View more from True
Specifications
Details
Weight
0.54 Pounds
Product Condition
New
Compatible Products
Models numbers shown are for reference only, may not be listed, may vary by serial number and subject to change without notice. Please contact us to confirm the proper item to be used with your model.
TA1DT-2HS
TA2DT-2S
TA2F-2G
TA2F-2S
TA2F-4HS
TA3F-3S
TA3F-6HS
TG1DT-2HS
TG2DT-2S
TG2DT-4HS
TG2F-2G
TG2F-2S
TG2F-4HS
TG3F-3S
TG3F-6HS
TM-24F
TM-24F-2
TM-52F
TM-52F-4
TM-74F
TM-74F-6
TR1DT-2HS
TR2DT-2S
TR2DT-4HS
TR2F-2G
TR2F-2S
TR2F-4HS
TR-31F
TR-31F-2
TR3F-3S
TR3F-6HS
TR-56F
TR-56F-4
TR-56F-PT
TR-85F
TR-85F-6
Customer Reviews