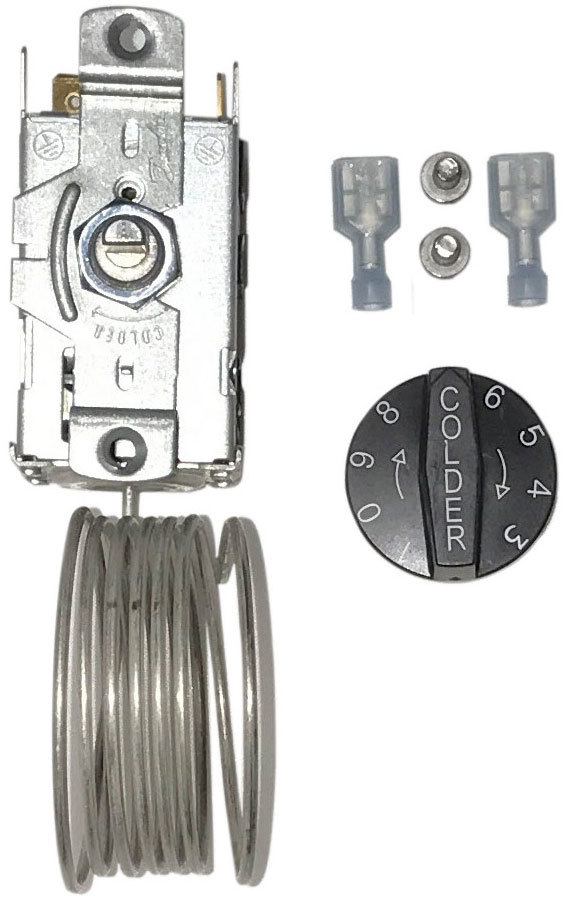 True 800366, Temperature Control Kit
True 800366 Overview
Temp Control, 077B6806 Kit #077B7172. Replace with retrofit kit 882636 if unit was not built with relay.
Includes:
Temperature Control 800366
(x2) 8021879 Blue Terminal Connectors
Knob
Screws
Note: Replaces old part # 963056 and 988282

Note: True Manufacturing electrical components are non-returnable once ordered.

Product Brand

View more from True
True 800366 Specifications
OEM
OEM Numbers
800366, 963056, 988282
Details
Weight
0.26 Pounds
Product Condition
New
Compatible Products
Models numbers shown are for reference only, may not be listed, may vary by serial number and subject to change without notice. Please contact us to confirm the proper item to be used with your model.
TBB-2
TBB-24-48
TBB-24-48G
TBB-24-48G-S
TBB-24-48G-SD
TBB-24-48G-SD-S
TBB-24-48-S
TBB-24-60
TBB-24-60G
TBB-24-60-S
TBB-24-72
TBB-24-72G
TBB-24-72G-SD
TBB-24-72G-SD-S
TBB-24-72-S
TBB-24GAL-48
TBB-24GAL-48G
TBB-24-GAL-48G-SD
TBB-24GAL-60
TBB-24GAL-60G
TBB-24GAL-60G-S
TBB-24GAL-72
TBB-24GAL-72G
TBB-2G
TBB-2G-S
TBB-2-S
TBB-3
TBB-3G
TBB-3G-S
TBB-3-S
TBB-4
TBB-4G
TBB-4G-S
TBB-4-S
TBB-GAL-3G
TD-24-07
TD-36-12
TD-36-12-S
TD-48-18
TD-50-18
TD-50-18-S
TD-65-24
TD-65-24-S
TD-80-30
TD-95-38
TD-95-38-S
TDB-24-48
TDB-24-48-1-G-1
TDB-24-48G
TDB-24-48-GAL-1-G-1
TDBD-48-2
TDBD-48-4
TDD-2
TDD-2CT
TDD-2CT-S
TDD-2-S
TDD-3
TDD-3CT
TDD-3CT-S
TDD-3G
TDD-3-S
TDD-4
TDD-4CT
TDD-4CT-G
TDD-4CT-S
TDD-4G
TDD-4-S
TDG-36-12
TDG-48-18
TDG-50-18
TDG-65-24
TDG-95-38
TDG-95-38-S
TM-48-13
TM-65-18
TM-95-28
TPBB48-24G
TPBB48-24G-S
TPBB48-GAL-24G
TPDB-1
TPDB-1G
TPDB48-24
TPDB48-24G
TPP-119
TPP-119D-2
TPP-119D-4
TPP-119D-6
TPP-119D-8
TRCB-110
TRCB-36
TRCB-48
TRCB-50
TRCB-52
TRCB-52-60
TRCB-72
TRCB-79
TRCB-79-86
TRCB-79-RC
TRCB-82
TRCB-82-84
TRCB-82-86
TSSU-36-08
TSSU-36-12M
TSSU-36-12M-B
TSSU-36-15MB
TSSU-48-12M
TSSU-48-12M-B
TSSU-48-12MB-LP
TSSU-48-15M
TSSU-48-15M-B
TSSU-48-15MB-LP
TSSU-48-18M
TSSU-48-18M-B
TSSU-48-18MB-D4
TSSU-48-18MB-LP
TSSU-60-12M-B
TSSU-60-15M-B
TSSU-60-18M-B
TSSU-60-21M
TSSU-60-24M
TSSU-60-24M-B
TSSU-60-24MB-DS
TSSU-60-24MB-DS-LP
TSSU-60-24M-B-DS-ST
TSSU-60-24MB-LP
TSSU-60-24M-B-ST
TSSU-60-24M-DS
TSSU-72-12M-B
TSSU-72-15M-B
TSSU-72-18M-B
TSSU-72-24M-B-ST
TSSU-72-30M
TSSU-72-30MB
TSSU-72-30M-B-D-2
TSSU-72-30MB-DS
TSSU-72-30M-B-DS-ST
TSSU-72-30M-B-ST
TSSU-72-30MB-ST-D2
TUC-24
TUC-36
TUC-36-34
TUC-36-LP
TUC-48
TUC-48D-2
TUC-48D-2-LP
TUC-48D-4
TUC-48D-4-LP
TUC-48G
TUC-48G-LP
TUC-48-LP
TUC-60-32
TUC-60-32D-2
TUC-60-32HD
TUC-GAL-48
TUC-GAL-48-2
TWT-36
TWT-48
TWT-48D-2
TWT-48D-4
TWT-48D-4-LP
TWT-48G
TWT-48-LP
TWT-60-32
TWT-60-32D-2
TWT-60-32HD
Customer Q&A
Customer Reviews