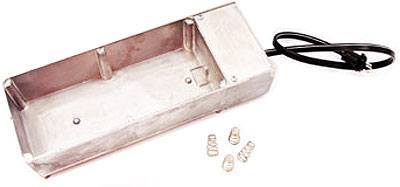 True 801879
Heating Element & Condensate Pan
Product Overview
12 1/2" x 4 3/4" x 2 3/4"D
Heater, Condensate/Evap 220V T-12-0372-10CB

One Piece Heater and Pan with Circuit Breaker in Power Cord. 225 Watt.

Required 801740 Power Cord Adapter.
Note: True Manufacturing electrical components are non-returnable once ordered.

Product Brand

View more from True
Specifications
Details
Weight
2.77 Pounds
Product Condition
New
Compatible Products
Models numbers shown are for reference only, may not be listed, may vary by serial number and subject to change without notice. Please contact us to confirm the proper item to be used with your model.
G4SM-23
G4SM-23-RGS
G4SM-23FC
G4SM-23PT
G4SM-23RL
G4SM-23RL-SI
GDIM-26
GDIM-26NT
GDIM-49
GDIM-49NT
GDIM-60
GDIM-72NT
GDM-10
GDM-10-52
GDM-10LE
GDM-10PT
GDM-10RF
GDM-12
GDM-12F
GDM-12LE
GDM-12PT
GDM-15
GDM-19
GDM-22
GDM-22F
GDM-23
GDM-23-2
GDM-23F
GDM-23F-2
GDM-23F-RF
GDM-23FC
GDM-23FC-RF
GDM-23HL
GDM-23PT
GDM-23RF
GDM-23RL
GDM-23W
GDM-23W-RF
GDM-26
GDM-26F
GDM-26F FAMILY DOLLAR
GDM-26F-2
GDM-26HL
GDM-26RF
GDM-26W
GDM-26W-RF
GDM-29-SO
GDM-33
GDM-33C
GDM-33CPT
GDM-33CPT-48
GDM-33CPT-52
GDM-33CPT-54
GDM-33CPT-GASI
GDM-33SL
GDM-33SL-60
GDM-33SL-60LE
GDM-33SSL-54
GDM-35
GDM-35F
GDM-35RF
GDM-35SL-60
GDM-35W-RF
GDM-37
GDM-37HL
GDM-41
GDM-41C
GDM-41C-48
GDM-41CPT
GDM-41CPT-48
GDM-41SL
GDM-41SL-54
GDM-41SL-60
GDM-43
GDM-43F
GDM-45
GDM-45HL
GDM-47
GDM-47FC
GDM-47RL
GDM-49
GDM-49DT
GDM-49F
GDM-49FC
GDM-49PT
GDM-49RF
GDM-49RL
GDM-49W
GDM-49W-RF
GDM-57
GDM-60
GDM-61
GDM-61FC
GDM-69
GDM-69FC
GDM-69HL
GDM-69RL
GDM-72
GDM-72F
GDM-72FC
GEM-12
GEM-12FC
GEM-19
GEM-23
GEM-23FC
GEM-23RF
GEM-26
GEM-37
GEM-45
GEM-47
GEM-47FC
GEM-49
GEM-49FC
GEM-61FC
GEM-69
GEM-69FC
GEM-72
GEM-72FC
T-12
T-12F
T-12FG
T-12G
T-19
T-19E
T-19F
T-19FZ
T-19G
T-23
T-23-1-G-1
T-23-2
T-23DT
T-23DT-1-G-1
T-23DT-G
T-23F
T-23F-1-G-1
T-23F-2
T-23FG
T-23FG-2
T-23FZ
T-23G
T-23G-2
T-23G-PT
T-23G-RL
T-23PT
T-23RL
T-35
T-35F
T-35FZ
T-35G
T-49
T-49-2-G-2
T-49-4
T-49-4PT
T-49DT
T-49DT-G
T-49F
T-49F-2-G-2
T-49F-4
T-49FG
T-49FZ
T-49G
T-49G-4
T-49G-PT
T-49G-RL
T-49PT
T-49RL
T-72
T-72-3-G-3
T-72-6
T-72F
T-72F-6
T-72FG
T-72FZ
T-72G
T-72G-6
TC-23
TC-23F
TC-23G
TC-49
TC-49G
TC-72
TC-72G
TMC-34
TMC-34-DS
TMC-34-DS-SS
TMC-34-S-DS
TMC-34-S-DS-SS
TMC-49
TMC-49-DS
TMC-58
TMC-58-DS
TPP-44
TPP-44D-2
TPP-60
TPP-60D-2
TPP-67
TPP-67D-2
TPP-67D-4
TPP-93
TPP-93D-2
TPP-93D-4
TPP-93D-6
TRCB-110
TRCB-50
TRCB-52
TRCB-52-60
TRCB-79
TRCB-79-86
TS-19
TS-23
TS-23-1-G-1
TS-23-2
TS-23F
TS-23F-2
TS-23FG
TS-23G
TS-23G-2
TS-23G-PT
TS-23G-RL
TS-23PT
TS-28
TS-28-2-G-2PT
TS-28-2PT
TS-28G-2
TS-28G-2PT
TS-28G-PT
TS-28G-RL
TS-28PT
TS-35
TS-35F
TS-35G
TS-49
TS-49-1-G-3
TS-49-2-G-2
TS-49-4
TS-49DT-G
TS-49F
TS-49F-2-G-2
TS-49F-4
TS-49FG
TS-49G
TS-49G-4
TS-53-4-G-4PT
TS-53-4PT
TS-53G-RL
TS-72
TS-72-3-G-3
TS-72-6
TS-72F
TS-72F-6
TS-72FG
TS-72G
TS-72G-6
TSD-33
TSD-33G
TSD-47
TSD-47G
TSD-69
TSD-69G
TSID-48-2
TSID-48-2-L
TSID-48-4
TSID-48-4-L
TSID-72-2
TSID-72-2-L
TSID-72-3
TSID-72-3-L
TSID-72-4
TSID-72-4-L
TSID-72-6
TSID-72-6-L
TSID-96-3
TSID-96-6
TSSU-27-08
TSSU-27-08D-2
TSSU-27-08F
TSSU-27-12M
TSSU-27-12M-B
TSSU-27-12M-C
TSSU-27-12MC-D-2
TSSU-36-08
TSSU-36-08-LP
TSSU-36-12M
TSSU-36-12M-B
TSSU-36-12MB-LP
TSSU-36-15MB
TSSU-48-08
TSSU-48-10
TSSU-48-10-LP
TSSU-48-12
TSSU-48-12-LP
TSSU-48-12D-2
TSSU-48-12D-4
TSSU-48-12D-4-LP
TSSU-48-12M
TSSU-48-12M-B
TSSU-48-12MB-LP
TSSU-48-15M
TSSU-48-15M-B
TSSU-48-15MB-LP
TSSU-48-18M
TSSU-48-18M-B
TSSU-48-18MB-D2
TSSU-48-18MB-D4
TSSU-48-18MB-LP
TSSU-48-8-LP
TSSU-48-8M
TSSU-60-08
TSSU-60-08-LP
TSSU-60-08D-2
TSSU-60-10
TSSU-60-10-LP
TSSU-60-12
TSSU-60-12-LP
TSSU-60-12M-B
TSSU-60-14
TSSU-60-15M-B
TSSU-60-16
TSSU-60-16-DS
TSSU-60-16-DS-LP
TSSU-60-16-DS-ST
TSSU-60-16-LP
TSSU-60-16-ST
TSSU-60-16D-2
TSSU-60-16D-4
TSSU-60-16D-4-LP
TSSU-60-18M-B
TSSU-60-21M
TSSU-60-24M
TSSU-60-24M-B
TSSU-60-24M-B-DS-ST
TSSU-60-24M-B-ST
TSSU-60-24M-DS
TSSU-60-24MB-DS
TSSU-60-24MB-DS-LP
TSSU-60-24MB-LP
TSSU-72-08
TSSU-72-10
TSSU-72-12
TSSU-72-12D-4
TSSU-72-12M-B
TSSU-72-15M-B
TSSU-72-16
TSSU-72-18
TSSU-72-18-ST
TSSU-72-18D-2
TSSU-72-18D-4
TSSU-72-18M-B
TSSU-72-24M-B-ST
TSSU-72-30M
TSSU-72-30M-B-DS-ST
TSSU-72-30M-B-ST
TSSU-72-30MB
TSSU-72-30MB-DS
TSSU-72-30MB-ST-D2
TUC-27
TUC-27D-2
TUC-27F
TUC-27F-D-2
TUC-27FG
TUC-27G
TUC-36
TUC-36-LP
TUC-36F
TUC-44
TUC-44D-2
TUC-44F
TUC-44F-HD
TUC-44HD
TUC-48
TUC-48-LP
TUC-48D-2
TUC-48D-2-LP
TUC-48D-4
TUC-48D-4-LP
TUC-48F
TUC-48F-D
TUC-48F-D-4
TUC-48F-LP
TUC-48G
TUC-48G-LP
TUC-60
TUC-60-32
TUC-60-32D-2
TUC-60-32F
TUC-60-32F-HD
TUC-60-32HD
TUC-60-LP
TUC-60D-2
TUC-60D-2-LP
TUC-60D-4
TUC-60D-4-LP
TUC-60F
TUC-60F-LP
TUC-60G
TUC-60G-LP
TUC-67
TUC-67D-2
TUC-67D-4
TUC-67F
TUC-67F-HD
TUC-67HD
TUC-72
TUC-72F
TUC-93
TUC-93D-2
TUC-93D-4
TUC-93D-6
TUC-93F
TUC-93F-HD
TUC-93HD
TUC-GAL-48
TUC-GAL-48-2
TUC-GAL-48F
TUC-GAL-93
TVM-400
TWT-119
TWT-119D-2
TWT-119D-4
TWT-119D-6
TWT-119D-8
TWT-27
TWT-27D-2
TWT-27F
TWT-27F-D2
TWT-27FG
TWT-27G
TWT-36
TWT-36F
TWT-36LP
TWT-44
TWT-44D-2
TWT-44F
TWT-44F-HD
TWT-44HD
TWT-48
TWT-48-LP
TWT-48D-2
TWT-48D-4
TWT-48D-4-LP
TWT-48F
TWT-48F-D4
TWT-48G
TWT-60
TWT-60-32
TWT-60-32D-2
TWT-60-32F
TWT-60-32F-HD
TWT-60-32HD
TWT-60D-2
TWT-60D-2-LP
TWT-60D-4
TWT-60D-4-LP
TWT-60F
TWT-60G
TWT-60LP
TWT-67
TWT-67D-2
TWT-67D-4
TWT-67F
TWT-67F-HD
TWT-67HD
TWT-72
TWT-72F
TWT-93
TWT-93D-2
TWT-93D-4
TWT-93D-6
TWT-93F
TWT-93F-HD
TWT-93HD
Customer Reviews