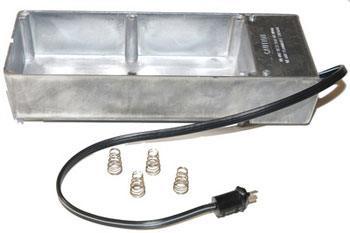 True 801814
Heating Element & Condensate Pan
Product Overview
12 1/2" x 4 3/4" x 2 3/4"
Heater, Condensate Evap 115V 2799-1262-2000

One Piece Heater and Pan with Circuit Breaker in Power Cord. 160 Watt.

Requires an 801740 Power Cord Adapter and a Metal Drain Pan with Hole for Heater to set in.
Note: True Manufacturing electrical components are non-returnable once ordered.

Product Brand

View more from True
Specifications
Details
Weight
2.97 Pounds
Product Condition
New
Compatible Products
Models numbers shown are for reference only, may not be listed, may vary by serial number and subject to change without notice. Please contact us to confirm the proper item to be used with your model.
G4SM-23
G4SM-23-RGS
G4SM-23FC
G4SM-23PT
G4SM-23RL
G4SM-23RL-SI
GDIM-26
GDIM-26NT
GDIM-49
GDIM-49NT
GDIM-60
GDIM-72NT
GDM-10
GDM-10-52
GDM-10F
GDM-10F-RL
GDM-10FZ
GDM-10LE
GDM-10PT
GDM-10PT-F
GDM-10PT-LE
GDM-10RF
GDM-10RF-LE
GDM-10RF-RB
GDM-10SSL
GDM-11
GDM-12
GDM-12F
GDM-12FC
GDM-12LE
GDM-12LE-RF
GDM-12PT
GDM-12PT-LE
GDM-12RF
GDM-14
GDM-14RF
GDM-14SL
GDM-15
GDM-15T
GDM-19
GDM-19F
GDM-19FC
GDM-19T
GDM-22
GDM-22F
GDM-23
GDM-23-2
GDM-23F
GDM-23F-2
GDM-23F-RF
GDM-23FC
GDM-23FC-RF
GDM-23HL
GDM-23PT
GDM-23RF
GDM-23RL
GDM-23W
GDM-23W-RF
GDM-26
GDM-26F
GDM-26F-2
GDM-26HL
GDM-26RF
GDM-26W
GDM-26W-RF
GDM-29-SO
GDM-33
GDM-33C
GDM-33CPT
GDM-33CPT-44
GDM-33CPT-48
GDM-33CPT-52
GDM-33CPT-54
GDM-33CPT-54-36
GDM-33CPT-GASI
GDM-33SL
GDM-33SL-60
GDM-33SL-60LE
GDM-33SSL-54
GDM-33SSL-54-24
GDM-35
GDM-35F
GDM-35RF
GDM-35SL-60
GDM-35SL-F
GDM-35SL-RF
GDM-35SW-60
GDM-35W-RF
GDM-37
GDM-37HL
GDM-41
GDM-41C
GDM-41C-48
GDM-41CPT
GDM-41CPT-48
GDM-41SL
GDM-41SL-54
GDM-41SL-60
GDM-43
GDM-43F
GDM-45
GDM-45HL
GDM-47
GDM-47FC
GDM-47RL
GDM-49
GDM-49DT
GDM-49F
GDM-49FC
GDM-49PT
GDM-49RF
GDM-49RL
GDM-49W
GDM-49W-RF
GDM-52TM
GDM-52TM-RL
GDM-57
GDM-60
GDM-61
GDM-61FC
GDM-69
GDM-69FC
GDM-69HL
GDM-69RL
GDM-72
GDM-72F
GDM-72FC
GDM-72RL
GEM-10
GEM-10FC
GEM-12
GEM-12FC
GEM-19
GEM-23
GEM-23FC
GEM-23RF
GEM-26
GEM-37
GEM-45
GEM-47
GEM-47FC
GEM-49
GEM-49FC
GEM-61FC
GEM-69
GEM-69FC
GEM-72
GEM-72FC
T-12
T-12F
T-12FG
T-12G
T-15G
T-17F-2
T-19
T-19-1-G-1
T-19E
T-19E-FZ
T-19F
T-19FZ
T-19G
T-23
T-23-1-G-1
T-23-2
T-23DT
T-23DT-1-G-1
T-23DT-G
T-23F
T-23F-1-G-1
T-23F-2
T-23FG
T-23FG-2
T-23FZ
T-23G
T-23G-2
T-23G-PT
T-23G-RL
T-23PT
T-23RL
T-28G-2
T-35
T-35F
T-35FG
T-35FZ
T-35G
T-43
T-49
T-49-2-G-2
T-49-4
T-49-4PT
T-49DT
T-49DT-1-G-1
T-49DT-4
T-49DT-G
T-49F
T-49F-2-G-2
T-49F-4
T-49FG
T-49FZ
T-49G
T-49G-4
T-49G-PT
T-49G-RL
T-49MHC
T-49PT
T-49RL
T-72
T-72-3-G-3
T-72-6
T-72F
T-72F-6
T-72FG
T-72FZ
T-72G
T-72G-6
TA1-FPT-1S-1S
TA1-FPT-2HS-2HS
TA1-RPT-2HS-2HS
TA1F-1G
TA1F-1S
TA1F-2HS
TA1FRI-1S
TA1R-1G
TA1R-1HG/1HS
TA1R-1S
TA1R-2HG
TA1R-2HS
TA1RPT-1G-1G
TA1RPT-1G-1S
TA1RPT-1HG/1HS-1G
TA1RPT-1HG/1HS-1S
TA1RPT-1S-1G
TA1RPT-1S-1S
TA1RPT-2HG-1G
TA1RPT-2HG-1S
TA1RPT-2HS-1G
TA1RPT-2HS-1S
TA1RPT-2HS-2HS
TA1RRI-1G
TA1RRI-1S
TA1RRI89-1S
TA1RRT-1G-1S
TA1RRT-1S-1S
TA1RRT89-1S-1S
TA2F-2G
TA2F-2S
TA2F-4HS
TA2FPT-2S-2S
TA2FRI-2S
TA2R-2G
TA2R-2HG/2HS
TA2R-2S
TA2R-4HG
TA2R-4HS
TA2RPT-2G-2G
TA2RPT-2G-2S
TA2RPT-2HG/2HS-2G
TA2RPT-2HG/2HS-2S
TA2RPT-2S-2G
TA2RPT-2S-2S
TA2RPT-4HG-2G
TA2RPT-4HG-2S
TA2RPT-4HG-4HG
TA2RPT-4HG-4HS
TA2RPT-4HS-2G
TA2RPT-4HS-2S
TA2RRI-2G
TA2RRI-2S
TA2RRI89-2S
TA2RRT-2G-2S
TA2RRT-2S-2S
TA2RRT89-2S-2S
TA3-RPT-3S-3S
TA3F-3S
TA3F-6HS
TA3R-3G
TA3R-3S
TA3R-6HS
TBB-2
TBB-24-48
TBB-24-48-S
TBB-24-48FR
TBB-24-48FR-S
TBB-24-48G
TBB-24-48G-S
TBB-24-48G-SD
TBB-24-48G-SD-S
TBB-24-60G-SD
TBB-24-72G-SD
TBB-24-72G-SD-S
TBB-24-GAL-48G-SD
TBB-24GAL-48
TBB-24GAL-48G
TBB-24GAL-60G
TBB-24GAL-60G-S
TBB-2G
TBB-3
TBB-3G
TBB-3G-S
TBB-4
TBB-4-S
TBB-4G
TBB-4G-S
TC-23
TC-23F
TC-23G
TC-49
TC-49G
TC-72
TC-72G
TCGDZ-50
TCGG-36
TCGG-48
TCGG-60
TCGG-72
TCGR-31
TCGR-36
TCGR-50
TCGR-50-CD
TCGR-59
TCGR-59-CD
TCM-78AC
TCM-78AC-GF
TCM-78AC-GF-SD
TCM-84
TCM-84AC
TCM-90
TCM-90AC
TD-36-12
TD-36-12-LT
TD-50-18
TD-50-18-S
TD-65-24
TD-65-24-S
TD-95-38
TD-95-38-S
TDBD-72-2
TDBD-72-4
TDBD-96-3
TDBD-96-6
TDC-27
TDC-47
TDC-47-CG
TDC-67
TDC-87
TDD-2
TDD-2CT
TDD-3CT
TDD-3G
TDD-4
TDD-4-S
TDD-4CT
TDD-4CT-G
TDD-4CT-S
TDD-4G
TFM-29FL
TFM-41FL
TFM-51FL
TG1-F-1HG/1HS
TG1-FPT-1S-1S
TG1-RPT-1G-2HS
TG1-RPT-2HG/1S
TG1F-1G
TG1F-1S
TG1F-2HG
TG1F-2HS
TG1FRI-1S
TG1R-1G
TG1R-1HG/1HS
TG1R-1S
TG1R-2HG
TG1R-2HS
TG1RPT-1G-1G
TG1RPT-1G-1S
TG1RPT-1HG/1HS-1G
TG1RPT-1HG/1HS-1S
TG1RPT-1S-1G
TG1RPT-1S-1S
TG1RPT-2HG-1G
TG1RPT-2HS-1G
TG1RPT-2HS-1S
TG1RRI-1G
TG1RRI-1S
TG1RRI89-1S
TG1RRT-1G-1S
TG1RRT-1S-1S
TG1RRT89-1S-1S
TG2-RPT-4HG-4HG
TG2-RPT-4HS4HS
TG2F-2G
TG2F-2S
TG2F-4HS
TG2FPT-2S-2S
TG2FRI-2S
TG2R-2G
TG2R-2HG/2HS
TG2R-2S
TG2R-4HG
TG2R-4HS
TG2RPT-2G-2G
TG2RPT-2G-2S
TG2RPT-2HG/2HS-2G
TG2RPT-2HG/2HS-2S
TG2RPT-2S-2G
TG2RPT-2S-2S
TG2RPT-4HG-2S
TG2RPT-4HS-2G
TG2RPT-4HS-2S
TG2RRI-2G
TG2RRI-2S
TG2RRI89-2S
TG2RRT-2G-2S
TG2RRT-2S-2S
TG2RRT89-2S-2S
TG3-RPT-3S-3S
TG3F-3S
TG3F-6HS
TG3R-3G
TG3R-3S
TG3R-6HS
TGU-1
TGU-1F
TGU-2
TGU-2F
TGU-3
TGU-3D-2
TGU-3F
TGU-4
TGW-1
TGW-1F
TGW-2
TGW-2F
TGW-3
TGW-3D-2
TGW-3F
TGW-4
THDC-02SF
THDC-04
THDC-04SF
THDC-06
THDC-08
THF-29FL
THF-41AL
THF-41FL
THF-51FL
TM-24
TM-24-2
TM-24G
TM-24G-2
TM-25
TM-48-13
TM-48-18
TM-52
TM-52-4
TM-52G
TM-52G-4
TM-54
TM-65-18
TM-74
TM-74-6
TM-74G
TM-85
TM-95-28
TMC-34
TMC-34-DS
TMC-34-DS-SS
TMC-34-S-DS
TMC-34-S-DS-SS
TMC-49
TMC-49-DS
TMC-58
TMC-58-DS
TMW-36F
TMW-36F-QT
TMW-36R-QT
TP-54-30R-FS
TPP-119
TPP-119D-2
TPP-119D-4
TPP-119D-6
TPP-119D-8
TPP-44
TPP-44D-2
TPP-60
TPP-60D-2
TPP-67
TPP-67D-2
TPP-67D-4
TPP-93
TPP-93D-2
TPP-93D-4
TPP-93D-6
TR-31
TR-31-1-G-1
TR-31-2
TR-31-2-G-2
TR-31DT
TR-31F
TR-31F-2
TR-31FG
TR-31G
TR-31G-2
TR-31PT
TR-37RI
TR-37RI-89
TR-37RI-F
TR-37RT
TR-37RT-89
TR-56
TR-56-2-G-2
TR-56-4
TR-56DT
TR-56F
TR-56F-4
TR-56F-PT
TR-56G
TR-56G-4
TR-56PT
TR-77F
TR-77RI
TR-77RI-89
TR-77RI-F
TR-77RT
TR-77RT-89
TR-85
TR-85-3-G-3
TR-85-6
TR-85F
TR-85F-6
TR-85FG
TR-85G
TR-85G-6
TR-85PT
TR1-F-2HG
TR1-FPT-1S-1S
TR1-RPT-1G-1HG/1HS
TR1-RPT-1G-2HG
TR1-RPT-1G-2HS
TR1-RPT-1HG/1HS-2HG
TR1-RPT-1HG/1HS-2HS
TR1-RPT-1HGLH/1HSLH-1HG/1HS
TR1-RPT-1S-1HG/1HS
TR1-RPT-1S-2HG
TR1-RPT-1S-2HS
TR1-RPT-2HG-1HG/1HS
TR1-RPT-2HG-2HG
TR1-RPT-2HS-1HG/1HS
TR1-RPT-2HS-2HG
TR1-RPT-2HS-2HS
TR1F-1G
TR1F-1S
TR1F-2HS
TR1FRI-1S
TR1R-1G
TR1R-1HG/1HS
TR1R-1S
TR1R-2HG
TR1R-2HS
TR1RPT-1G-1G
TR1RPT-1G-1S
TR1RPT-1HG/1HS-1G
TR1RPT-1HG/1HS-1S
TR1RPT-1S-1G
TR1RPT-1S-1S
TR1RPT-2HG-1G
TR1RPT-2HG-1S
TR1RPT-2HG-2HS
TR1RPT-2HS-1G
TR1RPT-2HS-1S
TR1RRI-1G
TR1RRI-1S
TR1RRI89-1S
TR1RRT-1G-1S
TR1RRT-1S-1S
TR1RRT89-1S-1S
TR2-FPT-4HS-4HS
TR2-RPT-1G/1S-1G/1S
TR2-RPT-1G/1S-1G/2HS
TR2-RPT-1G/1S-2G
TR2-RPT-1G/1S-2HG/1S
TR2-RPT-1G/1S-2HG/2HS
TR2-RPT-1G/1S-2S
TR2-RPT-1G/1S-4HG
TR2-RPT-1G/1S-4HS
TR2-RPT-1G/2HG-2HG/2HS
TR2-RPT-1G/2HS-1G/1S
TR2-RPT-1G/2HS-1G/2HS
TR2-RPT-1G/2HS-2HG/1S
TR2-RPT-1G/2HS-2S
TR2-RPT-1G/2HS-4HG
TR2-RPT-1G/2HS-4HS
TR2-RPT-2G-1G/1S
TR2-RPT-2G-1G/2HS
TR2-RPT-2G-2HG/1S
TR2-RPT-2G-2HG/2HS
TR2-RPT-2G-4HG
TR2-RPT-2G-4HS
TR2-RPT-2HG/1S-1G/1S
TR2-RPT-2HG/1S-1G/2HS
TR2-RPT-2HG/1S-2G
TR2-RPT-2HG/1S-2HG/1S
TR2-RPT-2HG/1S-2HG/2HS
TR2-RPT-2HG/1S-2S
TR2-RPT-2HG/1S-4HG
TR2-RPT-2HG/1S-4HS
TR2-RPT-2HG/2HS-1G/1S
TR2-RPT-2HG/2HS-1G/2HS
TR2-RPT-2HG/2HS-2HG/1S
TR2-RPT-2HG/2HS-2HG/2HS
TR2-RPT-2HG/2HS-4HG
TR2-RPT-2HG/2HS-4HS
TR2-RPT-2S-1G/1S
TR2-RPT-2S-1G/2HS
TR2-RPT-2S-2HG/1S
TR2-RPT-2S-2HG/2HS
TR2-RPT-2S-4HG
TR2-RPT-4HG-1G/1S
TR2-RPT-4HG-1G/2HS
TR2-RPT-4HG-2HG/1S
TR2-RPT-4HG-2HG/2HS
TR2-RPT-4HG-4HG
TR2-RPT-4HS-1G/1S
TR2-RPT-4HS-1G/2HS
TR2-RPT-4HS-2HG/1S
TR2-RPT-4HS-2HG/2HS
TR2F-2G
TR2F-2S
TR2F-4HS
TR2FPT-2S-2S
TR2FRI-2S
TR2R-2G
TR2R-2HG/2HS
TR2R-2S
TR2R-4HG
TR2R-4HS
TR2RPT-2G-2G
TR2RPT-2G-2S
TR2RPT-2HG/2HS-2G
TR2RPT-2HG/2HS-2S
TR2RPT-2S-2G
TR2RPT-2S-2S
TR2RPT-4HG-2G
TR2RPT-4HG-2S
TR2RPT-4HG-4HS
TR2RPT-4HS-2G
TR2RPT-4HS-2S
TR2RPT-4HS-4HG
TR2RPT-4HS-4HS
TR2RRI-2G
TR2RRI-2S
TR2RRI89-2S
TR2RRT-2G-2S
TR2RRT-2S-2S
TR2RRT89-2S-2S
TR3-R-4HS-1S
TR3-RPT-3S-3S
TR3F-3S
TR3F-6HS
TR3R-3G
TR3R-3S
TR3R-6HS
TRCB-110
TRCB-36
TRCB-48
TRCB-50
TRCB-52
TRCB-52-60
TRCB-72
TRCB-79
TRCB-79-86
TRCB-82
TRCB-82-84
TRCB-82-86
TRCB-96
TS-12
TS-12G
TS-19
TS-19FZ
TS-23
TS-23-1-G-1
TS-23-2
TS-23F
TS-23F-2
TS-23FG
TS-23G
TS-23G-2
TS-23G-PT
TS-23G-RL
TS-23PT
TS-28
TS-28-2
TS-28-2-G-2PT
TS-28-2PT
TS-28G-2
TS-28G-2PT
TS-28G-PT
TS-28G-RL
TS-28PT
TS-35
TS-35F
TS-35G
TS-49
TS-49-1-G-3
TS-49-2-G-2
TS-49-4
TS-49DT-G
TS-49F
TS-49F-2-G-2
TS-49F-4
TS-49FG
TS-49G
TS-49G-4
TS-53
TS-53-4
TS-53-4-G-4PT
TS-53-4PT
TS-53G-4
TS-53G-PT
TS-53G-PT-2G-2S
TS-53G-RL
TS-53PT
TS-72
TS-72-3-G-3
TS-72-6
TS-72F
TS-72F-6
TS-72FG
TS-72G
TS-72G-6
TSD-33
TSD-33G
TSD-47
TSD-47G
TSD-69
TSD-69G
TSID-36-2
TSID-36-4
TSID-48-2
TSID-48-2-L
TSID-48-4
TSID-48-4-L
TSID-72-2
TSID-72-2-L
TSID-72-3
TSID-72-3-L
TSID-72-4
TSID-72-4-L
TSID-72-6
TSID-72-6-L
TSID-96-3
TSID-96-6
TSSU-27-08
TSSU-27-08-LP
TSSU-27-08D-2
TSSU-27-08D-2-LP
TSSU-27-12M
TSSU-27-12M-B
TSSU-27-12M-C
TSSU-27-12MB-LP
TSSU-27-12MC-D-2
TSSU-27-12MC-LP
TSSU-36-08
TSSU-36-08-LP
TSSU-36-12M
TSSU-36-12M-B
TSSU-36-12MB-LP
TSSU-36-15MB
TSSU-48-08
TSSU-48-10
TSSU-48-10-LP
TSSU-48-12
TSSU-48-12-LP
TSSU-48-12D-2
TSSU-48-12D-4
TSSU-48-12D-4-LP
TSSU-48-12M
TSSU-48-12M-B
TSSU-48-12MB-LP
TSSU-48-15M
TSSU-48-15M-B
TSSU-48-15MB-LP
TSSU-48-18M
TSSU-48-18M-B
TSSU-48-18MB-D2
TSSU-48-18MB-D4
TSSU-48-18MB-LP
TSSU-48-8-LP
TSSU-48-8M
TSSU-60-08
TSSU-60-08-LP
TSSU-60-08D-2
TSSU-60-10
TSSU-60-10-LP
TSSU-60-12
TSSU-60-12-LP
TSSU-60-12M-B
TSSU-60-14
TSSU-60-15M-B
TSSU-60-16
TSSU-60-16-DS
TSSU-60-16-DS-LP
TSSU-60-16-DS-ST
TSSU-60-16-LP
TSSU-60-16-ST
TSSU-60-16D-2
TSSU-60-16D-4
TSSU-60-16D-4-LP
TSSU-60-18M-B
TSSU-60-21M
TSSU-60-24M
TSSU-60-24M-B
TSSU-60-24M-B-DS-ST
TSSU-60-24M-B-ST
TSSU-60-24M-DS
TSSU-60-24MB-DS
TSSU-60-24MB-DS-LP
TSSU-60-24MB-LP
TSSU-72-08
TSSU-72-10
TSSU-72-12
TSSU-72-12D-4
TSSU-72-12M-B
TSSU-72-15M-B
TSSU-72-16
TSSU-72-18
TSSU-72-18-ST
TSSU-72-18D-2
TSSU-72-18D-4
TSSU-72-18M-B
TSSU-72-24M-B-ST
TSSU-72-30M
TSSU-72-30M-B-D-2
TSSU-72-30M-B-DS-ST
TSSU-72-30M-B-ST
TSSU-72-30MB
TSSU-72-30MB-DS
TSSU-72-30MB-ST-D2
TUC-119
TUC-119D-2
TUC-119D-4
TUC-119D-6
TUC-119D-8
TUC-27
TUC-27-LP
TUC-27D-2
TUC-27D-2-LP
TUC-27F
TUC-27F-D-2
TUC-27F-LP
TUC-27G
TUC-27G-LP
TUC-36
TUC-36-LP
TUC-44
TUC-44D-2
TUC-44F
TUC-44F-HD
TUC-44HD
TUC-48
TUC-48-LP
TUC-48D-2
TUC-48D-2-LP
TUC-48D-4
TUC-48D-4-LP
TUC-48F
TUC-48F-LP
TUC-48G
TUC-48G-LP
TUC-60
TUC-60-32
TUC-60-32D-2
TUC-60-32F
TUC-60-32F-HD
TUC-60-32HD
TUC-60-LP
TUC-60D-2
TUC-60D-2-LP
TUC-60D-4
TUC-60D-4-LP
TUC-60F-LP
TUC-60G
TUC-60G-LP
TUC-67
TUC-67D-2
TUC-67D-4
TUC-67F
TUC-67F-HD
TUC-67HD
TUC-72
TUC-93
TUC-93D-2
TUC-93D-4
TUC-93D-6
TUC-93F
TUC-93F-HD
TUC-93HD
TVM-400
TWT-119
TWT-119D-2
TWT-119D-4
TWT-119D-6
TWT-119D-8
TWT-27
TWT-27D-2
TWT-27D-2-LP
TWT-27F
TWT-27F-D2
TWT-27G
TWT-27LP
TWT-36
TWT-36LP
TWT-44
TWT-44D-2
TWT-44F
TWT-44F-HD
TWT-44HD
TWT-48
TWT-48-LP
TWT-48D-2
TWT-48D-4
TWT-48D-4-LP
TWT-48F
TWT-48G
TWT-60
TWT-60-32
TWT-60-32D-2
TWT-60-32F
TWT-60-32F-HD
TWT-60-32HD
TWT-60D-2
TWT-60D-2-LP
TWT-60D-4
TWT-60D-4-LP
TWT-60G
TWT-60LP
TWT-67
TWT-67D-2
TWT-67D-4
TWT-67F
TWT-67F-HD
TWT-67HD
TWT-72
TWT-93
TWT-93D-2
TWT-93D-4
TWT-93D-6
TWT-93F
TWT-93F-HD
TWT-93HD
Customer Reviews