Meat & Seafood Processing Equipment
Browse our selection of commercial meat processing equipment & seafood processing equipment below!
Helpful Resources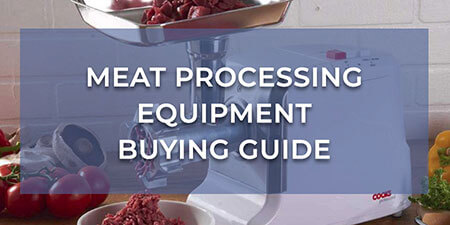 Meat Processing Equipment Buying Guide
Browse GoFoodservice's extensive collection of meat and seafood processing equipment, and make sure your commercial kitchen is stocked with the highest-quality tools. Our broad range of products includes cooking equipment, cutting tools, food dehydrators, mixers, and more. We specialize in kitchen equipment that's built to last and easy to operate so that your cooks and prep workers can perform their jobs efficiently. Raise the caliber of your commercial or industrial kitchen with top-of-the-line machines and tools at GoFoodservice.
We offer highly specialized, well-made tools to handle a variety of food, including chicken slicers, sausage stuffers, and deli slicers. Easily prepare meat with our line of meat tenderizers, meat marinators, and meat saws, then prepare your own burgers, sausage, jerky, and more with our top-quality presses, genders, and dehydrators. All products are manufactured to the highest standards of food-safe performance, with innovative designs and wear-resistant materials that help your kitchen best serve your customers.
Shop GoFoodservice today and get everything you need for a well-equipped commercial kitchen. We even offer specialty appliances and tools for seafood, as well as industrial-grade mixers and jerky shooters so that you can offer premium sausage and jerky products. Ensure that your kitchen workers can prepare and cook food efficiently and safely with our highly efficient, commercial-grade products, meant to withstand high volumes and daily use. GoFoodservice is here to provide you with all the specialty meat and seafood processing equipment you need for a fully functioning kitchen.