Meat Processing Equipment Buying Guide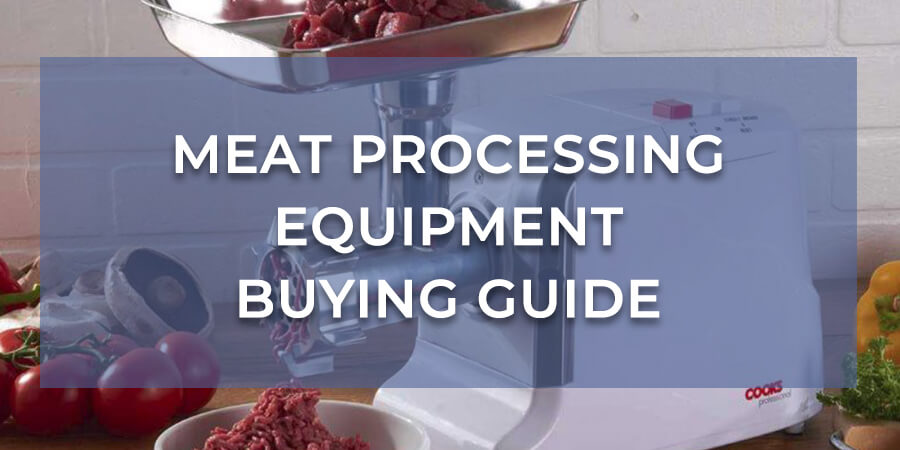 When it comes to meat and meat processing in a restaurant, you just can't afford anything to go wrong – the meat must be in perfect condition before and during its processing.
Naturally, if the meat is properly kept and processed, then the product that results from processing is sure to be good. However, there is one more thing you should pay attention to be sure that everything is going good in your restaurant.
Properly processed food means having proper meat processing equipment – the latter can make the difference between good and bad meat and, of course, determines how fast meat is processed and then cooked.
Therefore, in today's article, we will be talking about buying a variety of meat processing machines – mostly the ones that almost every restaurant or such needs. This general buying guide will tell you everything you need to know about a certain piece of equipment so that you don't buy a bad one.
Meat Saws
In terms of meat saws, you really have only two options – an electric or a manual meat saw. First of all, you need a meat saw in your establishment and you can't just go with a wood saw, for example, because the meat has to be sliced perfectly.
Why's that? Because, if the meat is properly sliced then it will properly cook as well. For example, when it's being cooked in a pan, the sides of the meat slice have to be even in order to be in full contact with the surface that's heating and cooking it.
If the sides are not even, you might be faced with underdone or charred portions of the meat slices. Moreover, if the sides are not even, then the heat won't be conducted in an even way. This will result in a meat that is dry and tough.
Electric Meat Saw
Both the electric and the manual meat saw basically do their job. However, when buying one of them, there are certain things you have to consider. When it comes to an electric meat saw, the main advantage is the fact that it is way faster than the manual saw.
Still, you have to keep in mind the amount and type of meat that you want to process. Small amounts of turkey and chicken wouldn't usually require an electric saw; on the other hand, large carcasses such as buffalo, elk, mule deer or such, just can't be processed without an electric saw.
Obviously, the electric meat saw is more precise as well – in order to find one that satisfies all your needs, you should consider one that is able to operate at different speeds. Then, you must make sure that the machine can be cleaned well and in an efficient matter without having to waste too much time on it.
Manual Meat Saw
The manual meat saw is the slower, un-automated version of the electric meat saw and is usually used for smaller amounts of meat. If you got your hands on a good chef, then you won't have to worry about the quality of the sliced meat and about the slices being even.
There's not much to say about this one – but, you do have to make sure that the one you get is made for cutting meat. Basically, the meat saw blades will almost always come with large acutely-angled teeth, which help the person that's using the saw to properly cut the meat without too much effort.
Meat Grinders
In terms of meat grinders, there are two options for you to choose from – the manual and the electric meat grinders. Naturally, given the circumstances, we recommend the electric meat grinder for your business, as it is able to process more meat than the manual ones.
Moreover, a manual meat grinder is meant and made to be used from time to time and not at a commercial level. Therefore, if you decide to go with a manual meat grinder, you will most probably have to replace the item after a much shorter period than in the case of electric meat grinders.
Electric Meat Grinders
The electric meat grinders come in a variety of shapes and sizes – from those small countertop machines and up to larger units that are mounted on the floor and can process a lot of meat in an hour.
Power
The first thing you should look into when buying an electric meat grinder is its power – basically, you have to know how many pounds of meat it can process per minute. Obviously, as you already know your restaurant's output requirements, choosing the properly powered piece of equipment won't be a hard thing to do.
Materials
Then, you'll have to check out the materials the product is made of. The piece of equipment will have to be washed every single night before closing time and, therefore, it needs to be made of something that can be easily washed and resists corrosion as well. Naturally, stainless steel is the best choice in this case.
You could also go for an item made of metal and plastic as well as this is a quite common combination – the frame is plastic while the front panels and the mouth of the grinder are metal.
Size
Depending on the amount of meat your business usually grinds in a day, you'll have to consult the following chart and see which grinder size and outlet diameter fit you the best. The size of such a product is based on the outlet opening, grinding plate, and on the diameter of the neck.
You will see most meat grinders labeled with a # sign, which indicated their size, as follows.
| | |
| --- | --- |
| Grinder Size | Outlet Diameter |
| #5 | 2 1/8 Inches |
| #8 | 2 1/2 Inches |
| #10 & #12 | 2 3/4 Inches |
| #20 & #22 | 3 1/4 Inches |
| #32 | 3 7/8 Inches |
Naturally, a big-sized grinder will be more beneficial when it comes to restaurants and such – especially in those where most of the menu has meat in it. It is always best to be prepared to grind a lot of meat rather than make your customers wait for their dishes.
Grinder Plates
Obviously, different dishes require a different kind of ground meat – that's why all of them usually come equipped with a variety of grinder plates. Of course, when it comes to a restaurant or such, the two or three grinder plates that a grinder usually has won't be enough for the many types of dishes/ ground meat.
Therefore, you'll have to purchase additional grinder plates – moreover, these also need to be replaced periodically as they do get dull after a certain period. Also, it is recommended that you replace the cutting knife and the plates of the grinder at the same time so that you get the same performance out of the machine.
| | |
| --- | --- |
| Hole Size | Types of Sausage and Meat Products Used For |
| 3/32" & 1/8" | Fine Grind – Forcemeats, Franks, Beef Jerky, Hamburger, Bologna |
| 5/32" & 3/16" | Medium-Fine Grind – Hamburger, Breakfast Sausage, Italian and Polish Sausage |
| 1/4" | Medium-Coarse Grind – Summer Sausage, Bratwurst, Pepperoni, Salami |
| 3/8" | Coarse Grind – Chili Meat, First Grind, Chorizo |
| 1/2" | Very Coarse Grind – Stew Meat, Chili Meat, Vegetables, First Grind |
| 3/4" | Very Coarse Grind – Chunking Meat, First Grind |
In the end, it is worth mentioning that an electric meat grinder can also be used to stuff sausage – the electric motor takes care of the grinding rate, making it even. Therefore, the sausage casings will be stuffed evenly.
Of course, you could also go for a Sausage Stuffer, depending on your business' requirements.
Sausage Stuffers
As mentioned earlier, you could use your meat grinder to stuff sausages as well – but if your restaurant or such is usually faced with large batches of sausage, then you might want to rely on a sausage stuffer, as it works faster and is easier to control too.
There are three types of sausage stuffers – let's see their characteristics, as well as their differences.
Horn Sausage Stuffers
This type comes available only in manual models – therefore, it might not be a good choice for your restaurant, as you may never know exactly how many sausages you have to roll out. Its capacities range between 3 – 5 lbs.
The horn sausage stuffers are usually made of cast iron that's then plated with chrome or tin – naturally, there is a variety of stainless-steel models available now. As mentioned, this type of sausage stuffer is mostly for smaller batches of sausages.
Horizontal Sausage Stuffers
The horizontal sausage stuffers are available in both manual and electric models. These have a large cylinder that resembles a piston that holds the horizontally-mounted seasoned ground meat.
When the crank is turned on or when the electric motor is turned on, the sausage stuffer will extrude the meat from the stuffing tube that's at the end of the piston-like cylinder. An electric model is usually recommended, as a manual one has to be mounted on the edge of a table, in order for the operator to have enough space available to turn the crank.
The capacities of a horizontal sausage stuffer range from 5 and up to 20 lbs.
Vertical Sausage Stuffer
Again, this type of sausage stuffer is available in both manual and electric models – however, the electric models are known to have a much larger capacity and are branded as commercial grade units.
These work just in the same way as the horizontal sausage stuffers – the only difference being the way the piston-like cylinder is mounted inside the machine. In terms of capacity, the vertical sausage stuffer can make from 5 up to 15 lbs. of stuffed sausage.
Meat Slicers
Just as in the case of the meat saws, you have to know a lot about the meat that's going to be processed with such a machine. Therefore, you have to determine exactly what you want and need a meat slicer to slice and how much of that you want to be sliced.
Meat slicers out there are categorized as light, medium, or heavy-duty. As there are a couple of things that can go wrong with a meat slicer – motor burnout due to too low size, for example – in the following paragraphs, we'll tell you everything you need to know before buying such a product.
The Grade of the Meat Slicer
Before considering the price of a meat slicer, you have to make sure that it fits your restaurant's requirements, as you don't want to slice more than you need or buy an extra meat slicer. So, for example, a light duty meat slicer is able to slice meat only up to two hours per day.
Let's see the differences between the light, medium, and heavy-duty meat slicers.
Light Duty Slicers
This one is not that recommended for businesses. First of all, it is a manual type of meat slicer and is able to slice only up to two hours per day. This type of product usually comes with a 9 to 10 inches blade – which may not be suitable for all types of meat – and can't cut cheese or frozen products.
You want your meat slicer to be able to cut cheese or frozen products as this avoids an investment in another kind of product.
Medium Duty Slicer
Some of the medium duty meat slicers out there are automatic, but most models are manual and are able to slice meat for around two to three hours per day. They come equipped with a 10 to 12 inches blade and they can slice cheese as well.
When it comes to slicing cheese, they can do so but up to 1 or 2 hours a day – on the other hand, a medium duty slicer is not recommended for frozen products.
Heavy Duty Slicer
If your business requires a large amount of meat to be sliced, then a heavy-duty slicer is probably the best choice for you. This type of product comes equipped with a 12 to 14 inches blade that can slice meat for more than three hours per day.
Moreover, all heavy-duty meat slicers out there are completely automatic – therefore, they don't require an operator. Also, as expected, they are able to slice frozen products and cheese in any amount and for as long as they need to.
Manual or Automatic Meat Slicer?
As mentioned before, this type of choice is based on the requirements of your business/ restaurant – a manual meat slicer requires an operator to push its tray back and forth in order to get the product/meat through the slicing blade.
Some manual slicers also come equipped with a gravity-fed tray that automatically pushes the products towards the slicing tray. A manual slicer is recommended for when you don't have to slice meat all day long – the operator will use the machine only when needed.
On the other hand, if the restaurant/ business is in constant need of sliced meat, then the best choice would be an automatic meat slicer – this type comes with an electric pusher that always keeps the meat under the slicer, without requiring any operators or manual intervention.
Gear or Belt: Their Reliability
In terms of motor design, meat slicers can use gear or a belt in order to function – and these are very different when it comes to the reliability and maintenance of the meat slicer.
For example, a gear-driven slicer is much more reliable than a belt-driven one – it doesn't require cleaning or any extra maintenance; it will just slice meat until its time comes.
On the other hand, a belt-driven meat slicer can't just go on without you having to pay attention to it. So, in order to increase its life and maintain its performance, the belt and the components around it require regular cleaning as well as a spot of oil from time to time.
Safety Features
It's only natural that we would look into safety as well, especially when we are talking about a piece of equipment that slices things. Therefore, when it comes to meat slicers, they should usually come equipped with a knife guard – this component covers the slicer's blade and minimizes the cutting risk.
The knife guard is mostly present in manual meat slicers.
There are also the models that come equipped with a gauge plate interlock – this component makes it impossible for the carrier tray to be removed unless the gauge plate is at zero. This makes it harder for any operators to come in contact with the meat slicer's exposed blade.
The Bottom Line
These were some of the meat processing pieces of equipment you might need for your business or restaurant. Just as your customers, your meat comes with different requirements and must be treated accordingly if you want it to be in top shape, so to say.
Comments
Wow man this is awesome buying guide. Thanks for sharing this awesome article.

I am throwing a little dinner next Monday night and thought of getting butchering meat saw to make it easier to cut the meat for the dinner. I did some research online and I stumbled on your brilliant article. My favorite point has to be where you pointed out that a manual slicer is recommended for when you don't have to slice meat all day long. A great point here, where I'm sure those like me will be glad to have learned of. Thanks!
Share This!