Commercial Blending Equipment
Browse our selection of commercial blending equipment below!
Helpful Resources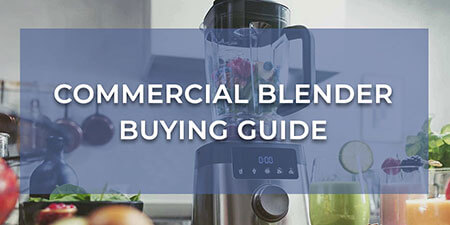 Commercial Blender Buying Guide
Blenders and commercial blending equipment are necessary parts of any working kitchen. Blenders might bring to mind beverages such as smoothies, shakes, and juices, but you can use these tools for a variety of other applications as well. Food blending equipment can be used to craft silky smooth soups, marinades, sauces, and more. GoFoodservice offers industry-leading blenders to meet any purpose. Expand your menu, delight your customers, and keep your kitchen running at its most efficient with our commercial blenders and parts.
Explore dependable, top-quality commercial blenders, immersion blenders, hand mixers, and milkshake machines at GoFoodservice. We also offer a range of blender parts and accessories to help you get the most out of your equipment.
Almost every kitchen needs drink blending equipment. Whether your menu includes smoothies, trendy coffee concoctions, or exquisite fine dining options, a blender is your secret weapon for delivering even texture and perfectly melded flavors. GoFoodservice carries a wide range of professional-grade blenders by Blendtec, Waring, KitchenAid Commercial, and more, so you can count on a reliable product every time.
Your blender is a vital piece of kitchen gear, but you should also explore other kinds of restaurant blending equipment for a versatile operation. Immersion blenders and hand mixers expand your options and allow you to offer a wider range of foods. Handheld mixers are ideal for preparing baked goods such as muffins, cakes, pancakes, waffle cones, and other batters. Mixers give a much faster, consistent result than stirring by hand. These tools are simple to use and very effective, so you can mix up large amounts of batter and dough every day. GoFoodservice carries high-quality brands that offer reliable performance, such as KitchenAid and Sammic. Your kitchen will be ready for early-bird pancakes, late-night dessert courses, and everything in between.
If your menu includes creamy soups, rich sauces, and other thick blended preparations, turn to commercial blending equipment such as immersion blenders. Sometimes called stick blenders, these handheld tools let you blend food in any container. Immersion blenders can be used in large stock pots and mixing bowls, saving you the hassle and risk of transferring large batches of food into a standard blender. Extended arm models reach the bottom of even your deepest pots and pans. You can safely maintain food temperature and have fewer dirty pots when you use an immersion blender for all your soups and sauces. Explore GoFoodservice's full range of immersion blenders by Robot Coupe, Sammic, KitchenAid, and more.
Milkshakes are a dessert menu mainstay. These frosty treats are at home at classic diners, ice cream shops, burger restaurants, and more. Everyone loves a milkshake, especially children. If you have a kid's menu, you need a milkshake machine! However, these appliances are more versatile than their name implies. Consider offering malts, blended coffees, and even simple protein shakes after you add a milkshake machine to your kitchen. Save counter space and serve multiple customers at once with double and triple models. We offer only the finest milkshake machines by Hamilton Beach, Waring, and Skyfood.
Don't forget the accessories. Maximize your appliances with additional blender containers, whisks, jars, lids, blades, and more. If your blenders will be used in the front of the house, you can add sound shields and wall mounts to optimize the experience for both customers and staff.
GoFoodservice is proud to offer the finest blenders, mixers, and milkshake machines. Explore all our options to find something that fits your needs. We love talking about blenders, so please get in touch with any questions!