Restaurant Cleaning 101: Everything Needed to Keep a Restaurant Clean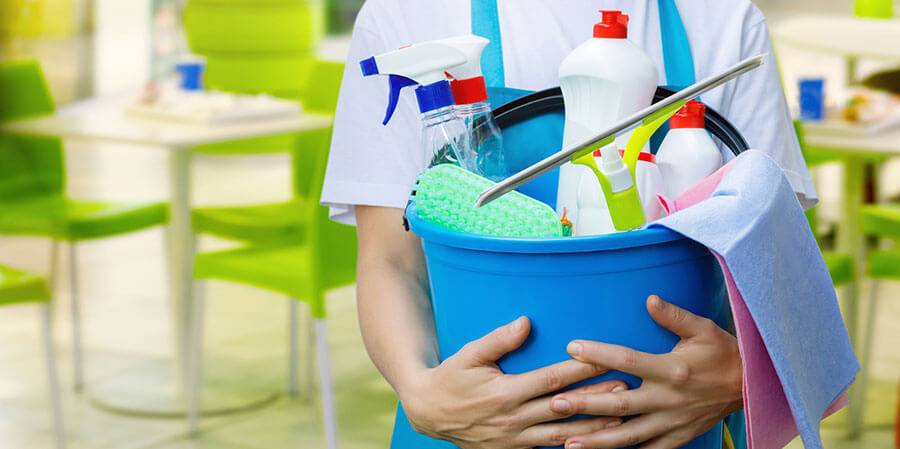 Adequate restaurant cleaning is an imperative part of owning any restaurant. The cleanliness of the entrance, dining room, bathrooms, and kitchen will be the determining factor for patrons to decide if they want to eat at your restaurant or not. According to research, 93% of U.S. adults would avoid a restaurant with facility flaws.
Even more important, if your restaurant is not up to cleanliness standards, you could have a visit by the local health inspection, receive a critical violation, and possibly get shut down.
The problem is, having a busy restaurant can make it difficult to keep up with the cleanliness standards of proper restaurant cleaning. So how can you ensure you are cleaning up to standards while running your restaurant at the same time?
Thankfully, we've created this article to help you set up a restaurant cleaning schedule to help you and your staff keep your entire restaurant spick-and-span! Keep on reading to create your restaurant cleaning checklist.
Restaurant Cleaning Supplies Needed
First things first, you need to have the right supplies to keep your restaurant clean enough up to health and safety standards. Follow this equipment checklist to ensure you have the right cleaning tools necessary:
Sanitizing solution
Bathroom cleaning products such as bleach, toilet bowl cleaner, and scrubber, etc
An adequate supply of cleaning gloves
safety goggles for dealing with cleaning chemicals
Paper supplies including paper towels, toilet paper
Having the right supplies on hand will not only make it easier for you to clean, but it will also ensure that a health inspector will approve of your cleaning protocols.
Daily Restaurant Cleaning Checklist
Some cleaning protocols only need to be done every week or month, and others that must be followed daily. This daily checklist will help you keep the dining area up to standards, as well as making sure your kitchen is following "food-safe" standards.
Multiple Times Per Day
Periodically check the bathrooms for cleanliness. This includes checking the floor for garbage such as toilet paper, cleaning the toilets, flushing the toilets in case a patron neglects to flush it, wiping down the counters and sinks, and refilling paper towel and toilet paper.

Disinfect and wipe down all traffic areas including doorknobs, light switches, handrails, menus, tables, and chairs after each use, bathroom doors, ketchup bottles, and salt and pepper shakers.
Clean any glass surfaces that look smudgy or dirty.
Clean the food preparation counters to remove food buildup and bacteria.
Brush the grills in between cooking fish, poultry, and meat.
Change up the cleaning rags throughout the day to reduce bacteria build-up.
Empty the garbage cans in the bathrooms, kitchen, and anywhere else.
End Of Shift
The end of the night is the perfect opportunity to deep clean any areas that may have been missed throughout the day. This includes spraying down and wiping every menu, tabletops, and chairs, countertops, and high traffic areas. Also sweeping and mopping the floors.
The bathrooms will need a more thorough cleaning once the restaurant is closed. This includes mopping the floors with disinfectant, wiping down each stall door, deep cleaning the toilets, sinks, and countertops.
The kitchen will need to be deep cleaned, including the deep fryers, the grills, sanitize all preparation tables, slicers, cutting boards, microwaves, utensils, and walk-in fridges. Cover all food in the fridge and freezer with plastic wrap and a written date. Sweep then mop the kitchen floor and floor mats last to ensure cleanliness.
Throw all laundry including chefs aprons, cleaning rags, and dirty laundry in a linen bag to be picked up by a linen cleaning company.
If applicable, clean the barista machine to remove the coffee ground buildup and other areas that may have bacteria.
Once a Week Cleaning Checklist
Some parts of your restaurant do not need to be cleaned every single day, especially if your employees are mindful of their daily cleaning tasks. The best rule of thumb is that the busier your restaurant is, the more frequent cleaning you will need to do.
Once a week, do a deep cleaning of your commercial walk-in refrigerator to remove any food scraps or buildup of mold and bacteria. Followed by cleaning all the industrial ovens by following the instructions on their manuals.
You may also want to add some draining solution to the floor drains to prevent any backlogging of your drainage system.
Once a Month Cleaning Checklist
Last but not least, some restaurant cleaning tasks need to be done every month. This is also a safety checklist to ensure your staff is safe from slips and falls, sharp objects, and faulty cooking equipment.
Perform a deep clean of your commercial freezer, then perform a deep cleaning of your ice machine to remove any growth of bacteria. Clean any filtration systems, and deep clean every spout and water tap.
Perform a safety walk-through checking the quality of your floor mats and any other tripping/slipping hazards. Make sure all ovens and cooking equipment has been calibrated up to code and functioning properly, and sharpen all knives in the kitchen. Double-check that all the material safety data sheets are up to date and in the appropriate folder.
Check your first aid kit supplies and replace anything that is running low, including bandages, eye-washing solutions, burn gels, burn kits, ice packs, gauze, tensor bandages, and more. Then finally, check the fire extinguishers to ensure they are up to date and not damaged.
Learn More About Proper Restaurant Cleaning
There you have it! By following this thorough restaurant cleaning checklist, you are not only protecting your patrons and staff, but you are also ensuring you are following proper health and safety protocols.
You never know when you will receive a surprise visit from a health inspector, so this restaurant cleaning guide will help you to prevent any legal problems.
To learn more restaurant cleaning tips and find the best cleaning supplies for your restaurant, check out our janitorial supplies for more information.
Share This!