Finding the Best Commercial Microwave: Your Complete Buying Guide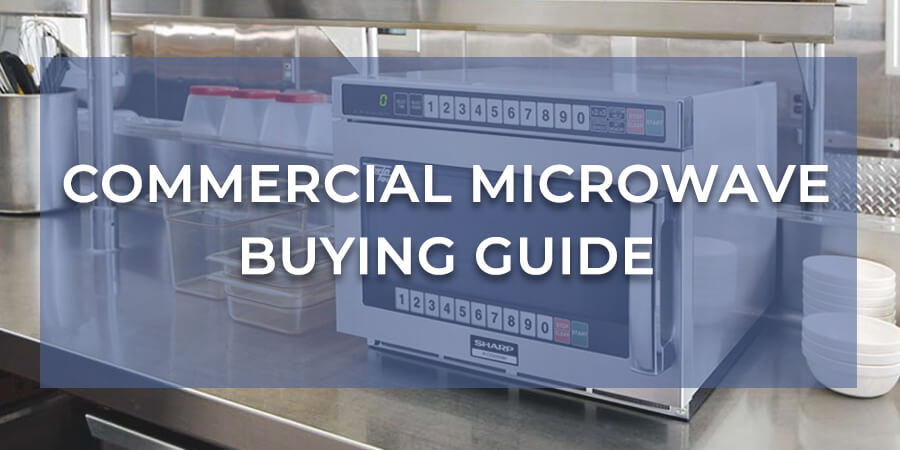 Nowadays, the microwave is something no modern home or commercial restaurant can do without. Who even has the patience to turn on the stove and heat up the whole thing anymore when you can simply put a portion into a bowl and get it heated through within only 30 seconds?
A typical commercial microwave was built to be fast, efficient for infrequent use, durable in the long run, and built to be heavy-duty (compared to most residential models). It's the perfect appliance to have around in a society where time is money – especially if you have a lot to cook in very little time.
So whether the brand you are looking for is an Amana, Sharp, Panasonic, or any other well-known commercial microwave brand, make sure to look into the specs of what you are purchasing because you might find yourself later regretting not doing the research. To aid in your search, we present the ultimate commercial microwave oven buying guide so you can find the best appliance for your needs.
1. Types of Commercial Microwave Ovens
The types of commercial microwave ovens are generally determined by their watts and cooking power. The microwave oven wattage is specifically designed for particular kinds of recipes or foods, and it typically falls into the following categories:
Light-Duty Commercial Microwave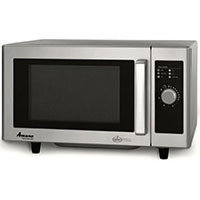 Commercial microwave ovens that have been labeled as "light duty" will offer you 1,000 watts. It's more powerful than your typical microwave, but it's the weakest when it comes to "commercial" appliances.
Such a microwave is great for businesses where you'll have to use the device around fifty times per day – and only to warm up things like drinks, pastries, or other small items that require heating or light microwaving.
One example is the Amana RMS10DSA made by Amana Commercial Microwaves. It's very efficient when it comes to defrosting and reheating, and it can reheat both smaller and larger portions. These lighter-duty models are also generally easier when it comes to the seller shipping them to you because rather than arriving by a freight truck, they generally arrive by packages rather than LTL.
Medium-Duty Commercial Microwave Ovens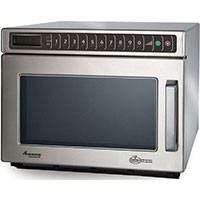 These commercial microwave ovens come with a power range between 1,200 and 2,000 watts, and they're perfect for warming up foods such as appetizers or sauces. They are more durable and much faster than your regular light-duty microwave, and they can safely be used to microwave foods up to 150 times per day.
A good example of the medium-duty commercial microwave oven category would be the Amana HDC182 model, with its 1,800-watt power. The cooking power is extremely efficient, and it allows reheating without affecting the taste of the dish. It also has a cooking time that reaches 60:00 compared to most commercial microwave ovens that only go up to 35:00.
Heavy-Duty Commercial Microwave Ovens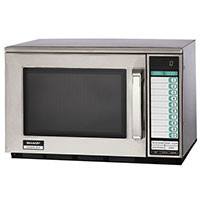 If you have a business that needs you to heat food more than 150 times a day, you may want to go for a heavy-duty commercial microwave. These can offer between 2,000 watts - 3,000 watts, and they can cook even faster than the average medium-duty microwave. Plus, they are even more durable, and they are perfect for restaurants that have fast turnovers.
The Sharp R-25JTF made by Sharp Commercial Microwaves is appropriate for such an environment since it offers expert defrost and superior cooking power that won't affect the taste of the food. Plus, this model has ten programmable touch keys and 20 memories. Thus, using the appliance is a lot more time-efficient.
High Speed & Rapid Cook Microwave Ovens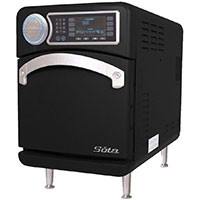 If you need a commercial microwave oven that amazes your customers with how fast you cooked their food while making it taste delicious all at the same time, then you should check out the rapid cooking oven models. Even though these models usually have a higher price tag, they definitely are well worth it since they usually not only incorporate microwave technology but have other heating sources included in the all-in-one units to give your customers an unforgettable experience.
Keep in mind, when ordering one of these larger models, the shipping could cost a little more since it'll most likely be delivered by LTL. You'll also want to make sure to take the time to give a full inspection of your order before signing for it. It's always suggested to give your shipment a full look-over to ensure everything arrived in great condition.
2. What to Look for When Buying a Microwave for Commercial Use
The cooking power is just one thing that you have to consider when buying commercial microwave ovens. There are several other things that you need to keep in mind when microwave shopping for your business or restaurant:
Food Types
Why do you need this microwave? Do you need it just to heat some pastries, or do you want it to reheat large steaks? If you need it for the former, then something light-duty such as the Sharp R-21LCFS may be more than enough for you. It has a 6-minute light-up dial timer and lettered increments for various foods that you can set by yourself.
If you need it, however, for the latter purpose, then a larger heavy-duty commercial microwave might be a more fitting option.
Size
Depending on the size of the food that you intend to cook, you have to make sure that your dishes will fit into the microwave. It needs to be large enough to make sure that your steak won't be sticking out, but small enough so that it doesn't take up the entire counter and then some.
Since most commercial kitchens are already packed with various kitchen appliances, you have to be sure that the microwave is not more trouble than it's worth. Space is something that no busy business can really afford. You can find different types of microwaves with different dimensions depending on your needs.
Countertop vs Built-in Microwaves
For commercial use, a countertop microwave offers the most flexibility for your kitchen. While many homeowners prefer built-in models because they save space and can look nicer, they are more complicated to install and service. With countertop microwaves, you have the option to move them around your kitchen as needed.
Use Frequency
When you are looking for commercial microwaves, you are looking for something that will withstand the test of time – and not something that will break down simply because you decided to use it two times more than its recommended frequency.
If you have a busy business, perhaps investing in a heavy-duty commercial microwave is the smarter choice – even if you have to spend a couple of extra bucks on it.
Cooking Time
Technically speaking, the higher the wattage, the faster it will cook. If your business goes at a fast pace, you should start looking for commercial microwave ovens. On the other hand, if you work in an environment where speed is not an issue, a light-duty microwave may prove to be a sound choice for you.
Ease of Use
When you are buying a commercial microwave, you need to make sure that it won't be slowing you down in the kitchen. A device with many buttons that takes a lot of time to figure out is not going to help you if you have a fast-paced business.
3. Residential vs Commercial Microwaves
When you operate a commercial kitchen, a residential microwave simply won't cut it. As previously stated, commercial microwaves are designed to heat food quickly throughout the day. While your microwave at home may be used a couple of times a day, a commercial microwave should be able to heat hundreds of plates per day depending on your needs.
Another major difference between commercial and residential microwaves is that the former is built for efficiency. Commercial models have a high wattage and include microwave features such as convenient "Grab & Go" door handles and programmable memory pads that are necessary for a fast-paced kitchen.
Of course, there's also the cost to consider. Industrial microwaves cost far more than your average residential unit. That's because they're durable and specially designed to heat food quickly and safely. When you purchase a commercial microwave, it's built to last and be an essential part of your industrial kitchen.
Final Thoughts
There are many things that you need to consider when it comes to finding the best commercial microwaves, as you could see above. It's not as easy as picking the cheapest microwaves, the most expensive microwaves, the smallest, or the cutest. If you want the food to be good – and the microwave oven to last – you'll have to consider various factors and make the smart choice.
If you're not sure what brands to start with, we suggest the following brands that make an excellent commercial microwave oven for your establishment: Amana Commercial, Sharp Commercial, Panasonic Commercial, Radiance, & Midea Commercial.
Ultimately, it all boils down to power. Depending on the food or the pace of your business, you will have to choose an appropriate microwave oven. Now that you know what to look for in a microwave for commercial use, it's time to equip your kitchen with the best.
Share This!