Midea Commercial Microwaves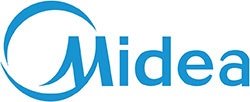 Midea was established in 1968 and is now a Fortune 500 company that offers one of the most comprehensive ranges in the home appliance and commercial appliance industry. With an array of specialized products for air treatment, refrigeration, laundry, cooking equipment, and kitchen appliances, Midea products can be found anywhere from your home all the way to commercial kitchens of the foodservice industry. Midea has won many design awards for its products from different global design shows across the world and is one of the world's #1 brand of kettles, rice cookers, and other kitchen appliances!
Our Midea Products and Availability
GoFoodservice proudly offers a wide selection of Midea's commercial microwave ovens. Come browse through our full line-up of best-in-class Midea products, including commercial microwave ovens to suit your space and needs. We are confident our top-quality Midea products will meet your unique business needs, whether you're operating a bar, a restaurant, a hotel, or any other hospitality establishment. If you have any questions about these products or their availability, contact us today!
GoFoodservice's Featured Midea Products
Time is of the essence when it comes to running a successful commercial kitchen, restaurant, or any other hospitality business. Our Midea commercial ovens are ideally suited for handing all of your microwaving needs, saving you valuable production time. These dependable microwave ovens are built for function and durability, so you can be sure you're investing in essential tools that will outperform the competition. GoFoodservice offers a wide range of Midea microwave ovens in various sizes and cooking powers to accommodate your unique workspace and needs.
More About Midea – Make Yourself At Home
Midea creates products that provide user-friendly solutions for your everyday kitchen tasks. With plentiful accolades across various industries, Midea has proudly become an official sponsoring partner of FINA – the World's Swimming Federation. Today, Midea stands as the number one brand of air treatment products, air-coolers, and small kitchen appliances. The company continues on the trajectory of bringing world-class services and products consistent with its highly dynamic enterprise.
If you're interested in learning more about how our Midea products can fit your commercial kitchen operations, don't hesitate to contact us.
Midea Best Sellers
Midea Categories