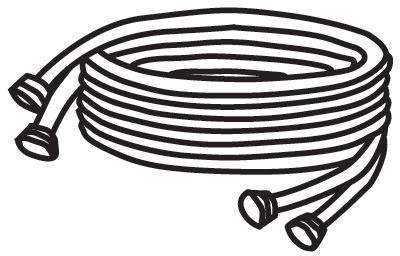 Hoshizaki R404-3546-2, 35' Pre-Charged Tubing Kit Line Set for URC-5F Ice Machine Condenser
Hoshizaki R404-3546-2 Overview
Line Set for Hoshizaki Ice Machine Details:
New matches new so make sure that you are giving all of your tools the proper kind of new. Confused? All we're saying is that your warranty is important, so when you get your condenser for your ice cube machine, make sure that you always put together the right kind of matching package and pick up your professional line sets too.
These Hoshizaki R404-3546-2 remote condenser line sets for your ice makers are going to be what make sure that refrigerant gets from Point A to B and back again, so this kit will need to be installed properly so that you can move your way to quality as quickly as possible. To get the best, you need to choose the best. That's why you can rest assure that this Hoshizaki ice maker line set is what you're looking for.
Note: Hoshizaki recommends that all new remote installations should include a new condenser and line set. The use of existing condensers is not recommended/allowed as they may not provide for optimum performance and could affect the refrigeration system warranty coverage.

WARNING: This product can expose you to chemicals known to the state of California to cause cancer, birth defects or other reproductive harm. For more information go to – www.P65Warnings.ca.gov
Product Brand
R404-3546-2 Resources
Hoshizaki R404-3546-2 Specifications
Details
Frequently bought together
Customer Q&A
Customer Reviews
Be the first to review this item!