Donper XC16, Single 1.6 Gallon Frozen Slushy & Granita Beverage Machine
Free Shipping
From $52/month with
Prequalify Now!

Donper XC16 Overview
Frozen Beverage Machine Details:
The Donper XC16 is the smallest and lightest frozen drink machine in the world, and its compact size and lightweight structure make it perfect for residential and or light volume applications. This frozen drink machine offers a mirror stainless finish with gloss black trim that accents any placement. The XC16 uses a modern and energy-efficient refrigeration system that runs on a standard 115-volt outlet and includes an adjustable consistency control for easy operation and the perfect flush every time.
Features:
A compact machine with impressive performance and capacity
Variable consistency control to accommodate different mixes and slush consistencies
Dual augers for perfect product mixing and consistency
Dishwasher-safe components for easy cleanup
Attractive mirror stainless finish for easy cleaning
1.6-gallon bowl capacity
Removable drip tray for easy cleaning and draining
Product Dimensions:
Width:

10

Inches
Depth:

12.5

Inches
Height:

20

Inches
Donper Warranty:
3 Year Limited
Note: Some locations may incur additional shipping charges (eg NYC). Please contact our customer service team for details.
Product Brand
Certifications

XC16 Resources
Donper XC16 Specifications
Dimensions
Width
10 Inches
Depth
12.5 Inches
Height
20 Inches
Details
CE Certified
Yes
Capacity
1.6 Gallons
Capacity Per Compartment
1.6 Gallons
Compartments
1
Exterior Color
Black
HP
1/5
Phase
Single
Placement
Countertop
Style
Standard Pourover
Type
Granita / Slushy Machines
Volts
115 Volts
Weight
39.5 Pounds
Product Condition
New
Warranty
Manufacturer Warranty
3 Year Limited
Frequently bought together




Customer Q&A
Does this machine crush the ice also or do you have to add crushed ice?
The Donper XC16 uses a refrigeration system to provide low enough temperatures to create slush without adding ice. If you did want to add ice, it would be best to add it in at the beginning of the process to ensure the unit is not overfilled once other ingredients are added. Ultimately, it's suggested not to add ice though because that ice will most likely not break down and you could end up with chunks of ice in your drink. It's best to let it work its magic and turn your products into slush. Adding ice might slightly speed up the freezing process but not by much.
– GoFoodservice
How long can you leave it running?
The manufacturer suggests that you will only want to run the Donper XC16 for the time it is going to be used. This unit does not have a holding mode, so it's not recommended to store product overnight as it isn't designed to run for long periods of time without use. At the same time, there is nothing wrong with the machine running all day long, so long as there is demand and product is being added to it throughout the day. Feel free to contact us for more information!
– GoFoodservice
How well will this work outside in the shade? Are there exterior temperature requirements?
The Donper XC16, like most slushy machines, is generally recommended to be used indoors. When used outside, even in the shade, it's suggested that the ambient temperature be around 78 degrees or lower. If higher, you will most likely have a longer freeze time and will also have more ice accumulation around the bowl.
– GoFoodservice
Customer Reviews
3.9 out of 5 stars from 10 reviews
Sharon W. - Nov 21, 2022
When we first turned it on it made a terrible clacking noise. My husband was able to find it a piece if soldering that got stuck near the fan blade. He removed it and the machine runs quiet as a mouse! Perfect home size and makes awesome margaritas and frozen whisky sours! Freezes fast! Easy to clean.
RJ COLEMAN J. - Sep 15, 2020
Really cool little machine. However, the dispenser pin broke the first time i used it. The company did mail me a replacement part. The design of the dispenser (spring, wing handle, etc) makes a little hard for a young child to use since it does requires a bit of finger strength. Perhaps after multiple uses the spring may loosen a bit. To that end, for the price, I would definitely recommend this machine to my friends/family.
Lou M. - Aug 24, 2020
Bowl is very difficult to remove for cleaning. Easy to operate.
GoFoodservice Customer Support
We certainly want to address any issue you may be having with this product. And we want to make sure that the cleaning process is as easy as advertised. Most often, if the bowl is sticking and difficult to remove, it is due to drink product possibly getting in the crease of the O ring that seals the bowl to the main unit. Usually, if you run warm water over the crease and run a soapy rag through it, the debris should clear along with any sticky residue, which will free up the bowl. If this does not help the issue, please let us know so that we can further assist you. We would like to know any details to ensure that the product is working as designed. Thank you!
Timothy O. - Aug 21, 2020
Not perfect, but it's not a commercial unit at 2x or 3x the cost. Hard pressed to find anything else for the price that is a legit slush machine and not an ice shaver. Pros: it makes slushies fast. Great for get togethers, kids love it. Relatively small footprint. Parts that will inevitably wear out are relatively cheap and readily available directly from the manufacturer. You can put almost anything in it with or without alcohol, juice, slush mix, your favorite prepackaged alcoholic beverage, just pour in, turn on and wait 30-45 minutes. Cons: it almost works too well. Leaving it run, even on low, it freezes too much unless it's completely full, making it difficult to pour. A higher sugar and/or alcohol content will help slow this but then it can get too strong or too sweet. Also when the unit is low, when pouring it will tend to pull forward and want to come off the base and leak. You have to hold the back of the reservoir to keep it from tipping. Taking the lid off an pushing the contents forward with a spatula helps. It does make some noise, it's not silent, it's running a refrigeration unit in the base. Would have preferred to see it with a corkscrew type stirring unit rather than. The two circular stirring units. The back stirrer doesn't do a great job pushing the contents to the front once it freezes to a certain point so it just creates a bowl and the front freezes more than the back. Over all a nice unit, would have preferred a better stirring mechanism and better temperature regulation but at half the cost of most other units it's still acceptable.
nick d. - Aug 9, 2020
works great for the house and small get togethers.
erika r. - Jun 16, 2020
Tried making margaritas and it never froze. Tried slushies and it took about 4-5 hrs to freeze although it's very compact it takes a very long time to make
Ashley M. - Nov 14, 2018
Picked out this machine when I was looking to offer something different in my bar and have to say it's been working out well. It is small so it may not make enough for bigger places but it has been able to keep up for us. Shipping was also much faster than I expected since it shipped out the same day I ordered it.
Ben G. - Nov 13, 2018
This machine is a great space saver. I didn't have much room behind the counter so I'm glad I was able to find something to fit in the space I had. The machine has been working just fine so far too and while the container isn't that big it's enough to keep up my little shop.
janis - Nov 6, 2018
spout leaked 1st time i used it - thin steady stream; cleaned after use; 2nd time same thing; was told to replace "O" rings; did that; still leaked; now they are sending a new spout. For $800 - a lot of trouble right off the bat. Not a happy customer :(
GoFoodservice Customer Support
Hi Janis, We hate to hear you had such a bad experience with your unit and we never want unhappy customers. We are however happy to hear they are replacing the new spout for you at no cost. If there continues to be issues with your unit, please let us know so we can work with the manufacturer to get you taken care of. Thanks
Tony R. - Oct 9, 2018
Works great , easy to clean , built good and strong , came with extra seals , and a great parts list just in case I would need it
Product Guides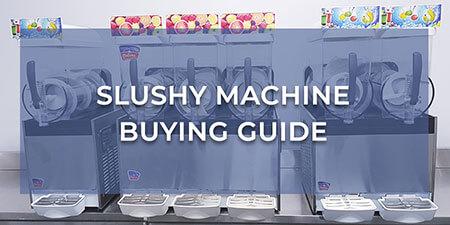 Your Guide to the Best Commercial Slushy Machines