Disposable Utensil Pouches
Keep flatware sanitary and safe for customers with our selection of silverware pouches, flatware pouches, & utensil pouches!
Width (Inches - Front to Back)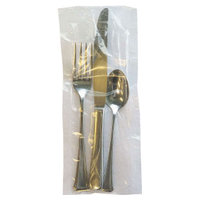 Improve your restaurant's hygiene and efficiency with disposable utensil pouches available at GoFoodservice. Our selection of easy-to-use PanSaver flatware pouches makes it a breeze to put out place settings and keep all silverware clean and safe! Incorporate utensil bags into your restaurant's processes. Your customers will appreciate your efforts to provide them with sanitary flatware.
Plus, your waitstaff will find it easier to prepare tables for serving. All silverware pouches are designed for convenience while minimizing the spread of germs. Ensure that every place setting gets freshly clean, spotless utensils so that customers can enjoy a classy, safe dining experience. Shop Goodservice's collection of disposable utensil pouches and elevate your dining establishment's cleanliness and efficiency.