Commercial Steamers
Browse through our selection of commercial steamers & restaurant steamers!
Helpful Resources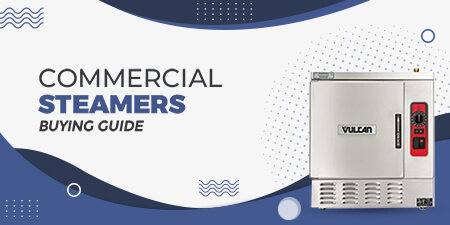 Commercial Steamers Buying Guide
Prepare generous portions of delicious and healthy food!
Food steamers can help make cooking for health-conscious customers at restaurants, hotels, hospitals, banquet halls, caterers, cafés, and cafeterias a piece of cake! Well, perhaps fruit cake to keep everyone healthy! No matter the occasion, our collection of commercial food steamers in a range of electric steamers, gas steamers, direct-steam steamers, and steam-coil steamers will make cooking those veggies an absolute breeze!
GoFoodservice knows that you look out for only the best in your kitchen. That's why we think you'll love these commercial steamers from some of your favorite brands like Crown, Market Forge, Cleveland Range, AccuTemp, and Vulcan. With the expertise in your kitchen, these food steamers are sure to absolutely shine!
As you look through all the options, we know choosing your perfect commercial food steamers may feel a little overwhelming. After all, since commercial steamers offer so much flexibility and specifications, you may not be entirely sure exactly which one you should be choosing. That's why we are so proud to provide stellar customer service to help determine the perfect restaurant steamers for you!
Why do kitchens need restaurant steamers?
Kitchens use soft serve restaurant steamers to offer unparalleled steamed foods and veggies to customers and guests. These commercial steamers help take cooking for your health-conscious guests to the next level with a range of cooking capacities.
How does a customer decide which commercial food steamers to choose?
Decide which commercial food steamers to choose by first considering the size of the area you have for the steamer. Then, consider the number of compartments and capacity you wish to have for the steamer. This will help speak to the capability and capacity of your food steamers.