Commercial Steamers Buying Guide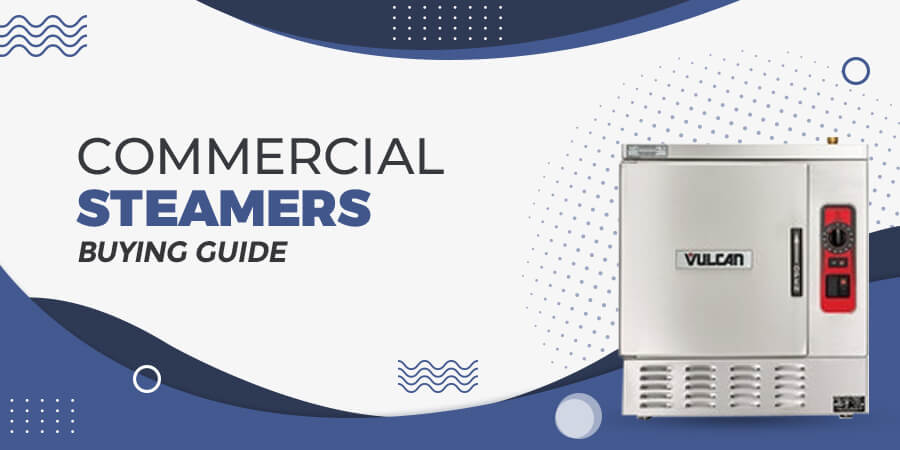 If you want to make a huge impact on your commercial kitchen, consider investing in a commercial steamer. Steamers allow operators and chefs to introduce different cooking styles into their menu options while providing unique and nutritious food options.
Over the last decade, steamers have made a massive comeback in commercial kitchens – primarily due to the advancements in the technology used to power these multi-purpose units. From compact countertop models to high-efficiency floor models, steamers are more powerful than ever before.
Types of Commercial Steamers
Below you will find a brief list of the core types of commercial steamers and where they might be best used. This quick and simple guide can help you decide which steamer best fits your operation.
Boilerless Steamers
Boilerless steamers are one of the most popular types of steamers. This style features a reservoir in the bottom of the cavity that heats up by concealed elements to create steam. Boilerless steamers are great for smaller, low volume operations. No water filtration or deliming is required. These steamers offer manual fill and have a manual drain. Some manufacturers offer an auto-fill version.
Connectionless Steamers
Unlike the more comprehensive generator-based steamer, a connectionless steamer does not have a water or drain line. This style of steamer calls for manual loading of water to power the steam, allowing this unit to truly stand alone in any area of your kitchen. Because they require manual loading, connectionless steamers can help staff avoid maintenance planning or issues that can commonly arise in traditional steamers. Often compact in size, connectionless steamers allow your kitchen to easily find or make space for the unit.
Countertop Steamers
Countertop steamer units are often the most common and can greatly impact the quality and efficiency of cooking in your kitchen without taking up much space.
Generator-Based Steamers
Generator-based steamers are commonly used in high-output kitchens because they combine both steam cooking and heating options into one appliance, allowing larger kitchens to have more versatility in their space.
While they may be one of the most common styles of commercial steamers, they are not the best fit for every kitchen. Smaller, more compact kitchens have a hard time adding these units to their space and some kitchens do not have a water connection and drain available which can deter them from reaping all the amazing benefits they can bring to the table.
They also allow for a la carte cooking. Some foods that work well as a la carte options include:
Frozen/Fresh Vegetables
Frozen/Fresh Seafood
Rice
Eggs
Pasta

Combi Steamers
One of the newest, most advanced models of commercial steamers is the combi oven. Combi ovens combine the properties of steam and convection heating to cook food faster while retaining essential juices for flavor. For the past decade, this style of commercial steamer has become increasingly popular in the restaurant world. This multi-purpose cooking unit gives commercial kitchens of all sizes the ability to book in whichever style is best for their needs without having to invest in multiple pieces of equipment.
Which Commercial Steamer Is Right for Your Business?
Commercial steamers can be a great addition to any kitchen. They allow for a fresh, quick, and natural cooking process that can greatly impact the efficiency of your kitchen and the quality of your food. If you are still struggling to find the best commercial steamer for your space, reach out to our team. Our team will take the time to get to know your business and the needs of your kitchen to accurately assess and recommend the perfect steamer for your needs. Create a more efficient kitchen today with help from one of our advanced steamers.
Share This!