Best Products to Keep Your Dishes Clean and Sanitized at Your Restaurant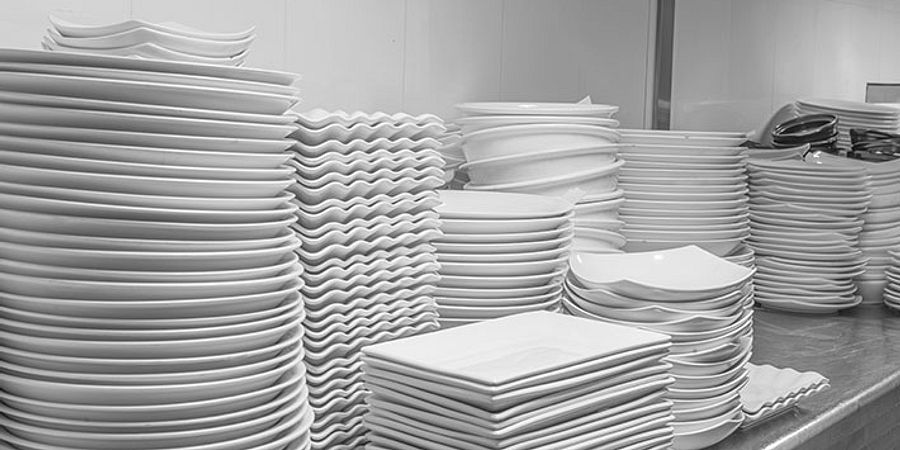 When customers visit your restaurant they expect to experience a good meal, but they also expect your business to be up to their cleanliness standards. Cleaning and sanitation in the food industry should always be a top priority and having the right kitchen equipment is equally important. Implementing a good system to sanitize your dishes is easy and will help meet food safety concerns and also create a benchmark for cleanliness in your restaurant on a day-to-day basis. Let's look at the commercial dishwashers and accessories that can help you sanitize dishes properly.
Commercial Dishwashers for Cleaning and Sanitation in the Food Industry
Commercial dishwashers are your best way to get dishes clean, especially when cleaning your dishes by hand requires high temperatures of up to 140 to 145 degrees to really sanitize them thoroughly. This means that you need to have a commercial dishwasher that can handle your restaurant's typical dish load efficiently and quickly. There are several different sizes and options for commercial dishwashers that can fit the needs of both small and large kitchen spaces. First, look at how your restaurant is set up, and how much traffic goes into your kitchen, and then observe its flow; this will help you decide what type of dishwasher you need.
Undercounter Dishwashers If you have limited space in your kitchen, but still need a commercial dishwasher, this option lets you have the dishwashing power you need without sacrificing space.
Glasswasher Dishwasher Glasses are hard to keep clean, especially if washed by hand, and you probably need to put out a new round of fresh glasses nearly every hour. A glasswasher will let you clean your glasses quickly either with high-temperature water or a sanitizing solution.
Conveyor Dishwasher Able to wash a high amount of dishes in quick time, a conveyor dishwasher is a completely automatic appliance. The dishes are moved through on a conveyor belt to wash and rinse the contents. These types of dishwashers are common in nursing homes, cafeterias, and academic institutions, as well as restaurants.
Door-Type Dishwashers The door-type dishwasher is available in both a single and double rack configuration, and lets you wash up to 80 racks per hour depending on the size of the appliance. Most commonly constructed with stainless steel, these commercial dishwashers let you load in dishes quickly and have them washed in no time.
Each dishwasher type has its own size specifications and features, so research carefully to make sure you buy the right one for your needs.
Dish and Dishwasher Accessories
Your commercial dishwasher can probably get the job done, but sometimes you need the right accessories to help make the process easier. Dish and dishwasher accessories will let you heat up your water, organize dishes, and more.
Booster Heater These dishwasher accessories are used to heat up water when your water can't reach the temperature needed by a commercial dishwasher. It's an ideal alternative to installing a new water line in your restaurant.
Racks and Trays If you need to get your dishes organized and all in one place for washing, a dish dolly, dish rack, or dish tray cart will let you stack dishes quickly, and move them over to the dishwashing area. Cutlery, dish racks, and glass washing racks can be set inside your dishwasher to increase dish cleaning production.
Remember that your customers may love your food, but they also expect it to be served with sparkling dishes and utensils. Any cleanliness issues may detract them from visiting your restaurant, and you don't want to make a bad first impression. Cleaning and sanitation in the food industry should always be your top priority both for the health and satisfaction of your customers.
Share This!