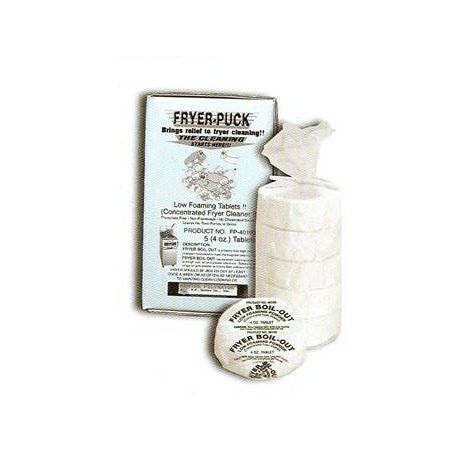 RF Hunter FP40100, Fryer Filter Puck
RF Hunter FP40100 Overview
Fryer Oil Filter Powder Details:
When the time comes for you to boil out your fryer, you may find that the right product is difficult to get right. That is, until you take a look at this set of RF Hunter FP40100 commercial oil fryer filter pucks. Individually packaged to make sure that you won't need to worry about portioning or measuring, these pucks can simply be dropped in and you'll get the gleaming results in no time to make this worthwhile.
Also, this set of pucks are going to be given to you with all sorts of perks including freedom from phosphates, chlorinated solvents, toxic fumes and odors as well as an non-flammable design that is going to keep you from using anything messy or confusing. For an easy cleaning experience that is going to make the difference you want and crave, this is the cleaner to do it. These fryer-pucks are pre-portioned, accurate, and easy way to boil out fryers. There is nothing to measure, and they are a heavy duty, cost-effective way to achieve perfect results.
Features:
Phosphate Free
No Chlorinated Solvents
Non-Flammable
No Toxic Fumes of Orders
No Messy Powders
Product Brand
RF Hunter FP40100 Specifications
Details
Application
Fryers
Category
Fryer Oil Filter Powder & Pucks
Chemical Form
Solid
Size
4 oz
Weight
8 Pounds
Product Condition
New
Customer Reviews
Be the first to review this item!