Commercial Fryer Oil Filtration Buying Guide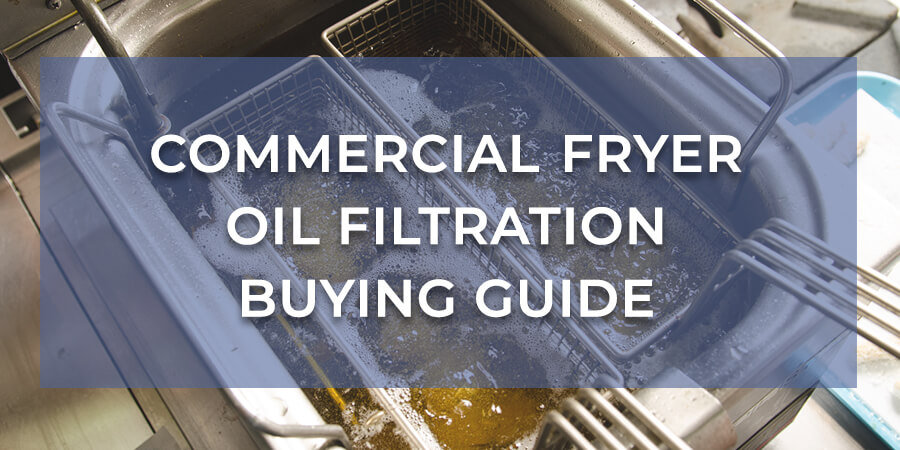 Who doesn't love fried food? In fact, in line with statistics, the average American spends approximately $1,200 on fast food yearly. Although fried foods can be found literally everywhere, not only in fast foods, one thing is clear: everyone loves them.
By providing your customers with the favorite meals they cannot get at home, you can be sure that you'll have happy and satisfied clients!
Apart from having a commercial fryer, an oil filtration system is also an important investment. In fact, each restaurateur knows that it is an indispensable piece of equipment. Why is that?
An appropriate oil filtration system ensures that the food you serve is delicious and of the highest quality, while decreasing oil costs and increasing your profits. That means everyone is happy!
1. Why Should You Use a Fryer Oil Filter?
If you're still unsure if you should invest in a fryer oil filtration system or not, you must get acquainted with three primary benefits linked to this decision:
For starters, you want to offer the best quality to your clients. On that note, you have to choose healthy oils. Healthy frying oils are known to break down quicker than non-healthy ones. Apart from that, healthy oils are pricier; yet, they make the food taste delicious, which is the key to your success. If you want to enhance the quality of the food you're serving, yet keep the costs under control, a fryer oil filtration system can help you.
Unfiltered oil affects the flavor of the food. However, filtered oil makes the food taste excellent.
And lastly, changing the fryer oil on a regular basis can be a messy and time-consuming process. However, by using a filter, you replace the oil less frequently, which saves time. Apart from that, such a system ensures the safety of your employees. In comparison with traditional cone filtering methods, a machine will keep your employees safe and your kitchen clean, which are two unmatched benefits.
2. Types of Fryer Oil Filters
40-80 Pounds Capacity Fryer Oil Filters
You should choose a fryer oil filter machine whose capacity is suitable for your restaurant's needs. This is the main consideration when you're on the lookout for a piece of equipment.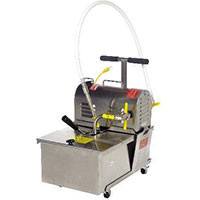 In this respect, a viable option would be the RF Hunter ECCO One made by RF Hunter Oil Filtration. Its 65 lbs. capacity makes it an optimal alternative for small premises. This particular item is meant to be used with drain type fryers. An advantageous aspect could be the compact design, which makes it an investment for small kitchens in which space could be a concern.
Regarding its construction and design, the metal parts are made of nickel-plated or stainless steel, which maximizes the item's durability. What is more, the hose, pump, and motor are specifically designed to handle high temperatures. Customers also get a 1-year limited warranty by purchasing this item.
Another decent alternative could be the Pitco P14 portable filter system made by Pitco Commercial Fryers & Oil Filtration, which is effortless to use. The extra-wide filter has a 55 lbs. capacity due to its low-profile design. So, it can easily fit under most fryer drains.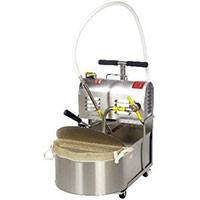 Similar to the other product, this one also features sturdy, durable construction, which means you can depend on it for years to come. Moreover, assembling the filter pan and media is easy and time-effective, which facilitates easy cleaning and maintenance. Additional features include the four swivels for easy mobility, a scoop for sediment cleanout, and a hose assembly.
If your capacity needs exceed 65 lbs., the RF Hunter HF 80 might address your specifications, as it has an 80 lbs. capacity. It features a 1/2 HP motor equipped with thermal and torque overload protection. The manufacturer utilized first-class quality stainless and nickel-plated steel. The pumps are specially created for high temperatures to ensure the safety of the procedure.
130-210 Pounds Capacity Fryer Oil Filters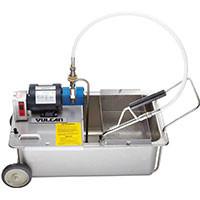 Our first recommendation for this category of fryer oil filter machines is the RF Hunter HF 130. As its name already outlines, its maximum frying capacity reaches 130 lbs. The power unit and container are combined into a high-quality, portable machine that occupies little counter space. One can use the 15.5'' x 15.5'' screen with both a paper envelope in the case of light sediment conditions and with a cloth filter for heavy sediment conditions. In other words, the manufacturer has thought about meeting various needs.
Without a doubt, if the size of your premises is larger, you'll need a fryer oil filter machine that addresses your requirements. A recommendation in this respect would be the RF Hunter HF 165, whose capacity is 165 lbs.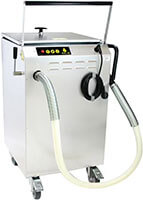 What is more, the practical, low-profile design makes it easy to accommodate. In other words, in spite of its large frying capacity, it doesn't occupy much space, which is a good thing. Another nice feature is the integrated filter screen that aims at eliminating clogging.
If you want to get the maximum frying capacity, you could depend on the Vito Fryfilter VITO XL 102876. This product is meant to provide you with optimal convenience and flexibility with 219 lbs of capacity!
Considering that getting this machine is a noteworthy investment, you want to depend on it for the years to come. A good thing about the device is that its important parts are constructed of durable stainless steel. The 1/3 HP heavy-duty motor and pump assembly ensure the durability of the item, as well. The non-heating handle is added for a boost of safety.
3. The Bottom Line on Oil Filtration
As you can see, the market features plenty of decent alternatives to fryer oil filter machines, so that you can provide your customers with the best quality while keeping the costs under control.
If you want to get a unit for your business, rest assured, GoFoodservice provides you with an extensive range of devices, so that you can select the one you need at the right rate for your budget.
Share This!