Restaurant Menu Design: The Ultimate Guide for Better Menus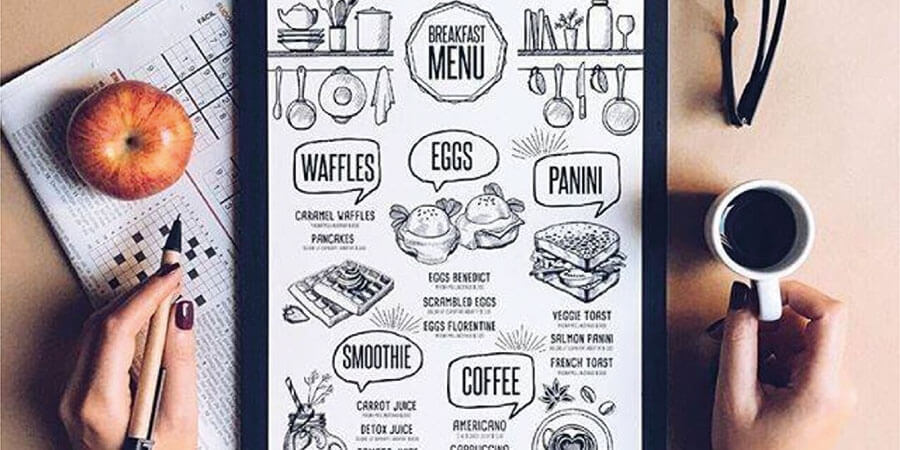 A menu is one of the first impressions that your customers get for your business. You want it to be a good one, don't you? Unlike other forms of advertising, which may not be viewed by all of your guests, the menu is guaranteed to be read by all of your customers. As a marketing tool, it communicates essential information to your customers, like your specialties and selections. Menu design is not only important aesthetically, but it acts as a business card for your restaurant. It informs your customers of what you do, communicates your branding, and lets them see your personality.
What Should You Keep in Mind for Your Menu?
Restaurant Branding and Personality
What message do you want to convey with your menu design? Do you want to show that you're a restaurant that is sleek and modern with exquisite cuisine, or do you want to let customers know that you're a relaxing and welcoming place to meet with friends for happy hour? The best way to show who you are is through your menu. You want to keep your branding consistent with the rest of your restaurant. If you are a restaurant that is known as a good place for families, you want a comfortable and relaxed look to your menu. This style would be radically different when compared to an upscale steakhouse's menu, which should convey sophistication.
Font Style, Text and Details
Many businesses don't consider how important font choices are to their overall marketing appeal. The fonts present in your menu need to be clear, readable, and reflect your restaurant's style. Having a "fun" font like Comic Sans doesn't go well with a restaurant that features elegant dishes of $15 and up, because it's a disconnect from the marketing. Keep in mind these concerns when it comes to your menu's text:
Size – Is your text easy to read? Is too large?
Appearance – Is the text cluttered in large blocks, or is there a lot of white space? You want to strive for the perfect balance.
Design – Have you picked a text that works with the background color of your menu? Choose a set of contrasting colors that are appealing to the eyes, so the menu is easy to read.
Details – How much detail do you give for the dishes? Do you list the ingredients or do you just describe the dish? You want to give your customers enough information that they're just dying to try the food.
Typos – Is the text free of errors? Nothing can make a bad impression like a typo in your menu. Customers can think that you don't take your menu's dishes seriously, because you've not bothered to present them well.
Paper Quality and Photography
You may not realize it, but the type of paper used for restaurant menus menu can differ widely from restaurant to restaurant. Think about the restaurants you've visited in the last month and their menu styles. Many fast-casual dining places opt for a casual brochure style, while eco-conscious spots use "upcycled" materials such as record sleeves or book covers as a backing for their menu. The type of paper you choose for your restaurant's menu design helps reinforce your branding and style. Have you chosen paper that is a good match to your restaurant?
Will you be including photographs of your menu items? You should take care to choose photographs that feature appealing food your customer can't wait to eat. You should focus on only on including images that entice diners to order certain dishes. You may consider photographing your more expensive dishes, so you demonstrate why they are must-haves. Presentation is everything!
Menu Categories and Item Descriptions
Once you've narrowed down how your menu will look, it's time to decide what it will include. How will you separate your offerings so they are easy to understand? Will you stick with the traditional categories such as Starters/Appetizers, Entrees, Salads, Pastas, etc? Not every restaurant has to follow this model. Restaurants that feature more "comfort" foods, like macaroni and cheese, meatloaf, and other meals, might want to create their own labels. It's also good to consider whether you want a separate menu for desserts. You can opt to include photographs of your delicacies, and use romantic language that evokes an emotion, with words like "decadent" or "rich." This allows the customer to focus solely on the "dessert experience."
If you have a large selection of vegetarian options, you might want to give these a separate category, rather than indicating them with a small icon or picture. To designate foods that are gluten-free, dairy-free, etc, you may try developing a key to identify what icons stand for which dietary concern. This will also cut down on your staff having to answer questions about special dietary needs.
Currency Symbols
Many fine dining restaurants don't include currency symbols on their menus. Have you ever wondered why? It's not a design choice, but a marketing method. Cornell University conducted a study at the Culinary Institute of America and found that guests spend more when they have a menu without currency symbols. Therefore numeral prices, i.e. 15, encourage customers to spend more than "$15." Researchers believe that the currency symbol like the word "dollars," reminds customers of the purchase they're about to make, and they may subconsciously try to keep the price down by ordering cheaper selections. With this in mind, consider whether you'd like to use currency symbols or not in your item descriptions.
Once you've got a customer through your door, your menu is going to be the marketing tool that helps them see why you're a restaurant worth visiting. By following these guidelines, you will be sure you communicate who you are and what you offer in the strongest way possible.
Menu Examples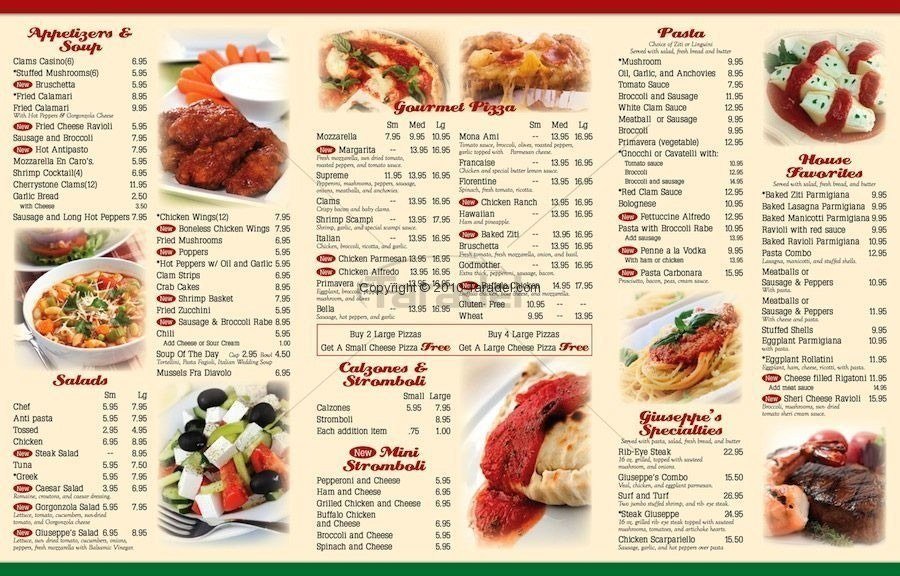 If you offer a variety of options on your menu make sure to break them up with clear headings for easy viewing.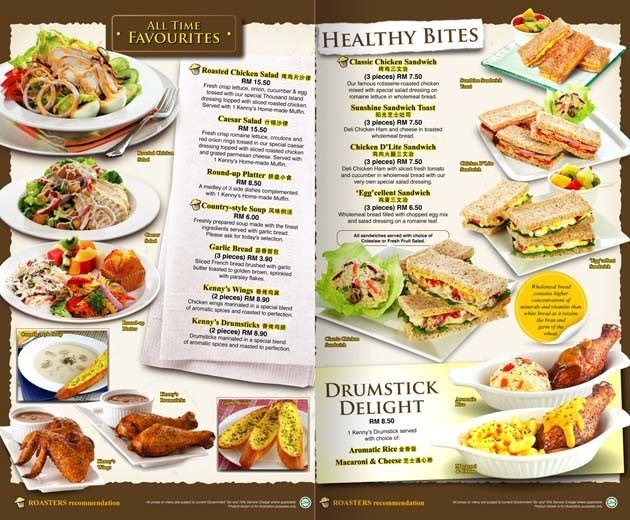 Provide plenty of pictures in your menu to showcase all of your delicious food!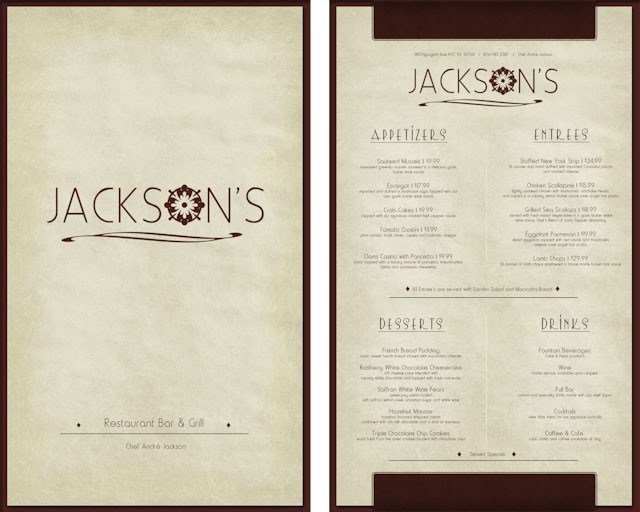 If you going for a more elegant look for your restaurant, try simplifying the look of your menu with a more elegant font and heavier paper.
Further Reading
The 11 Untold Secrets Of Menu Design
The Science Of Menu Design: How Restaurants Can Make You Choose A Salad Over A Cheeseburger
Share This!