Catering Menu Ideas: How to Build a Catering Menu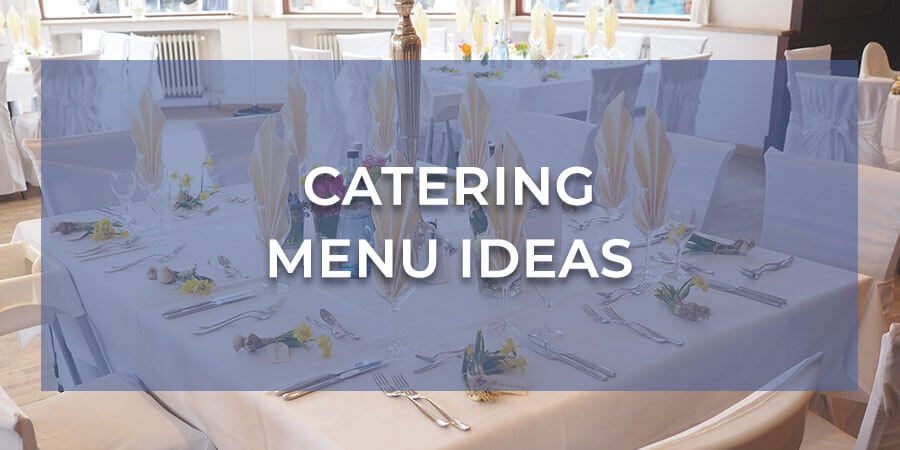 The food industry has gone so far from the past few years. People often spend their weekends enjoying their favorite food from their favorite restaurant. Or, they can order online food with the growing online businesses. With the increasing numbers of restaurants, the trend for catering business is also becoming popular. People nowadays are hiring good catering companies or agencies that can provide complete food services for their parties. You might have heard that many people hosting a birthday celebration or any other party directly contact a person who offers catering services; these people arrange everything from the food menu to decoration, utensils, plates, raw material, and so on. So have to inform them about your brunch, lunch, or dinner planning, what food menu you want for your party, and the number of guests. These service providers arrange everything according to your choice and try to present delicious food to your guests.
Not only individual families but now the corporate world has also become a fan of catering services. Whenever a company hosts an annual meeting, gathering, or any other corporate party, they hire a catering agency that can offer them a corporate catering menu. These catering agencies design a menu according to the company's party preference.
How to build a catering menu?
Creating a catering menu is the foremost and the most challenging task. Whether you possess a restaurant or run a catering business, the tough job is to decide on the menu. Building a client's event menu is one of the most crucial tasks for caterers. As you develop a catering menu, you need to remember that the menu needs to be small but not too small. However, a streamlined menu is suitable for your bottom line. The catering events industry is about creating a custom, one-of-a-kind experience to make the client's dream come true. Everything from the music to décor to the food must reflect their vision for the big occasion. For caterers, helping make the big event perfect starts with assisting clients in creating an excellent menu that will leave their guests fuming for months. Below we have listed some of the primary concerns on building a profitable catering menu.
Research for your competitors
Before deciding on your menu, first, you have to check out the services offered by your competitors. You need to check if they offer food delivery or just pick-ups? Are their prices low? Do they offer a better or varied menu? After finding out these things, you can efficiently work on deciding on your menu.
Limit your catering-menu lineup
Do not offer your full menu because it's too challenging to manage and potentially harm your brand. A complex menu can slow down the kitchen and break the food. Instead, it would help if you tightened up your catering menu. A smaller menu makes it easier to deliver tasty food to numerous people, particularly when clients order a catering a la carte. A small menu also cuts down on inventory costs and menu. To create a small menu, select at least ten mains menus using these guidelines-
What are your best sellers?
Which dishes travel well?
Using the above guidelines, select any five or six appetizers, side dishes, and desserts for your catering menu.
Offer bundle meals to increase margins
Clients usually love bundled meals because they are easy to order, especially for online and business meetings. Moreover, people also view them as a good value for money. Bundled meals are beneficial as bundling encourages customers to spend more money than they generally would, creating a perception of value in the client's mind. The pricing strategy of bundled meals works as long as you use the correct parameters to stay profitable. Price your bundled meal rightly, and they can be good menu items.
Tips for creating a custom catering menu:
Ask the correct questions
Deciding on the catering menu for your client all starts with the initial consultation. It's not enough to understand their food preferences and dietary restrictions, but it is also necessary to understand their full vision for the event. What is your client's theme for the event? What are the things that they like or dislike? Do they have ideas for displaying food in a specific way? Moreover, knowing the budget is also a vital role in the discussion. Many caterers also ask these questions that help them to better connect with the clients on a personal level and see what their food personalities are like.
Develop your proposal quickly
After the initial consultation, the next step you will want to have is a proposal to the clients in less than a day. This will show them that you are serious about their event and reinforce the idea that you will be consistently reliable throughout the planning and execution of the event. However, the proposal should include the initial custom menu and a projected cost and contract that the potential client could sign to book immediately.
Go beyond
An actual custom experience means that you are always going above and beyond a client's expectations. This can mean doing something tiny that may not seem like a big deal, but it will stay in the client's memory for a long time. However, the best ways to ensure that you are going beyond their expectations have little to do with the menu and more with your team members interacting with the guests and the client. You should always hire a team whose personalities help create a great environment and enhance the experience.
Conclusion:
Running a catering business is not an easy job, especially when people are mad about trying out new dishes. Moreover, the task becomes more difficult when you have to customize your menu according to the client's needs and requirements. In the above article, we have discussed how one can create a menu for general and for specific purposes.
Comments
This is very nice blog on Catering Menu Ideas: How to Build a Catering Menu! Keep Sharing.

Going through this article makes me feel even more excited about my boss' retirement party next week which I'm in charge of. Thanks for showcasing how we can always request a personalized food menu to suit the theme of our event. I'll try to keep this tip in mind once I find the right catering company to collaborate with.
Share This!