Commercial Juicer Buying Guide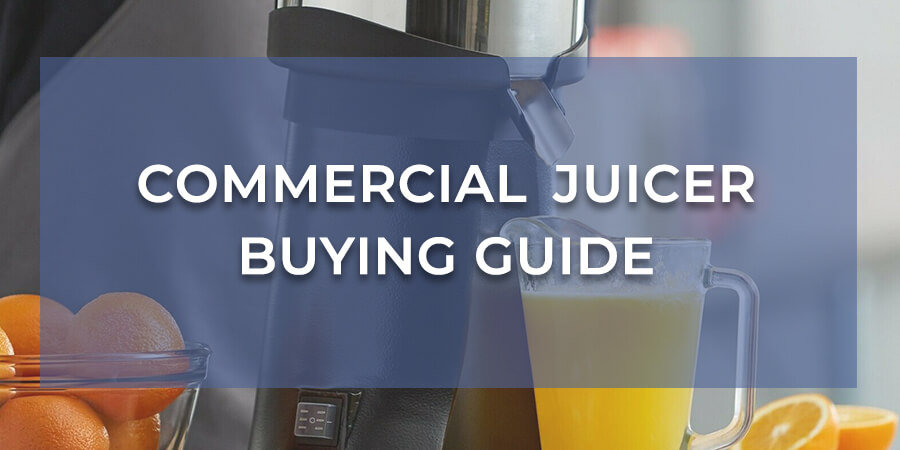 A day out with friends couldn't be complete without some delicious and fresh juice. Thus, when you have so many clients entering the doors of your bar/pub/restaurant, you want to do your best to please them, so they end up coming back. As such, it is essential to offer them a wide range of options to choose from when it comes to drinks.
At one point, maybe some clients will look for more choices, opting for something different and healthier than the usual juices on the menu. A commercial juicer can do the trick because not only it adds some diversity to the table, but it also provides them with a healthier option.
But how to choose the right commercial juicer? The sheer number of options you have makes it hard to choose. Therefore, our guide was written to help you escape your overthinking and make it easier for you to choose the commercial juicer that will be the light of your business. So, let's get started!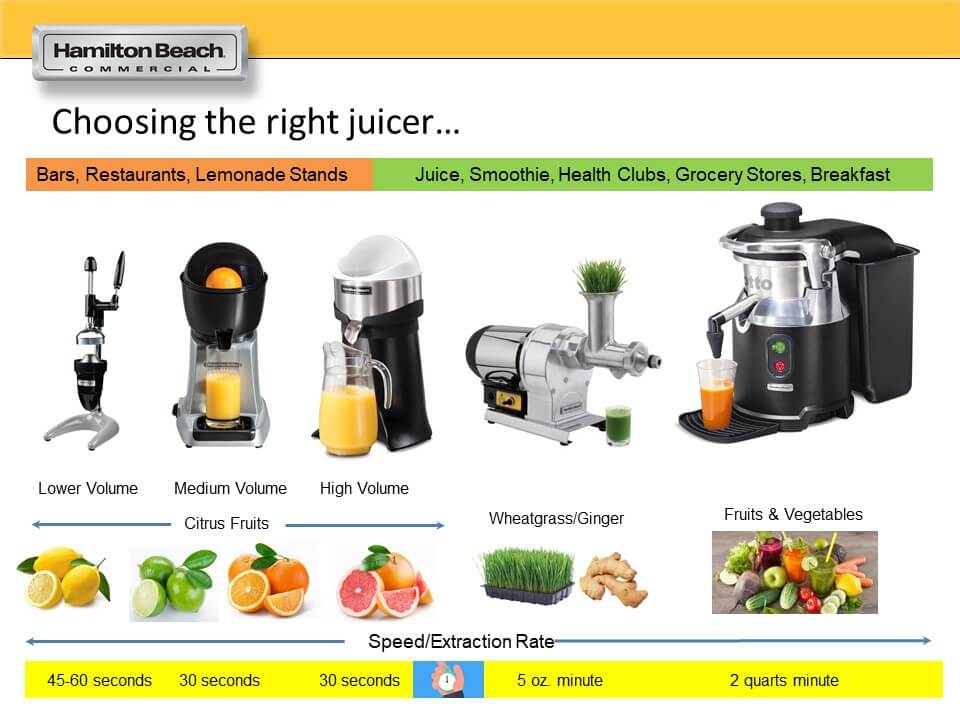 Important Juicing Machine Factors:
Speed
The last thing a client wants is to grow a beard and white hairs until you give them the order they asked for. If a trivial drink is served with the speed of a snail, a customer may leave and never enter through that door again. So, you need a commercial juicer that is able to do the magic in no time.
A good commercial juicer has to be fast enough to produce enough liquid in order to fill a glass in seconds. Therefore, the juicer must not be a small one. Moreover, it should have a feeding chute that is large enough to take whole vegetables and fruits, without you having to manually cut them first. As a result, you will have one satisfied customer.
Ease of Use
Do you need a commercial juicer that doesn't throw you in the confusion abyss when looking at its controls? Of course you do! After all, a juicing machine with complicated controls will only result in your customers having to wait even more to receive their drinks.
Controls need to be easy enough, so you know what to do by just looking at the unit. Basically, most workers in a restaurant or bar are already busy and stressed enough, and the last thing they want is something that slows them down. On that note, if the juicer is too complicated, you will have employees who may be inefficient in using it.
The easiness of the controls is one vital factor to consider upon purchasing a commercial juicer.
The Build
Another critical consideration when browsing for a commercial juicer is the build. "How solid is it?" and "Is it going to last?" are two crucial questions to ask before you make the big decision.
Commercial juicers cannot be made of plastic, because they will break in no time. Typically, these machines are made from metal, such as die-cast aluminum and stainless steel. Due to the roughness that is involved in the juice-making process, a solid build is essential, because some units are used several times during the day. In addition, because the workers in a local are usually in the speed mode, they will use the machine in a hurry.
As such, a solid build is needed so it doesn't end up dying in the middle of the juice-making process.
Price
A commercial juicer with a solid build and quality operation is not going to be the cheapest thing you'll ever see, thus you need to be ready to make quite an investment. If you want a high-end unit, you can't just settle for the first option that arises, so the ones that provide the best quality will be priced accordingly.
Depending on your business and the number of clients entering your facility on a daily basis, you may find something that is cheaper. If your business is a smaller one where people wouldn't be so interested in natural juices, you can settle for a cheaper unit. After all, why would you invest in something that is not going to give you any profit?
However, if you don't have a small business where people barely ask for natural juicers, you may have to spend some money.
Reliability
What else should you consider on your journey to find the best commercial juicer? Of course, reliability is also another factor to be taken into account. A good machine that lasts you years could save you the trouble of having to purchase a new one every few months.
A reliable commercial juicer is the one that is able to work continuously, for many hours daily, and for months without breaking down. More than that, it should have a service option that is reliable, so that any breakdowns can be promptly fixed. Its parts should also be reliable and affordable if you need to change them.
Type
Is it a surprise that commercial juicers are of more types? Of course it isn't. In fact, there are three types of commercial juicers that could give your place the glory you desire. Knowing about each one of them could offer some guidance when choosing a model to purchase, which is why information is so valuable. There are two categories of commercial juicers.
Commercial Manual Juicer Machines:
One type of commercial juicer is the manual juicer. It can be freely used in restaurants and bars, and it is a less expensive alternative to electric juicer models. To that end, it doesn't require any power source except a little exertion on the part of the operator.
This type of juicer has a body that includes a crank, lever or press that is used to – you guessed it – extract the liquid from the vegetables or fruits. It can exert as much as 2,000 pounds of pressure, and then force the juice into a container. It is a great addition if you own a bar that serves cocktails or mixed drinks.
Commercial Electric Juicer Machines:
One type of commercial electric juicer is the masticating juicer. It operates by first grating the product, then masticating or chewing the pulp that further breaks it down. Afterward, it squeezes the pulp in order to obtain the juice. As such, while the vegetables and fruits have their juice extracted, some of the fiber is retained too. They are able to produce high-quality juices by being able to juice most vegetables and fruits, but their operation is also slower, so you need to think well before buying one of them.
Moving on, centrifugal juicers are the faster option when it comes to juice-making, and they are some of the oldest juicer designs. They use a shredder disc or blades that are similar to a grater, and they spin around at high speeds. Concurrently, they route the pulp out the back of the juicer into a waste container while quickly extracting the juice.
Usually, the blade is covered by an enclosure with a hole, which feeds vegetables and fruits through. Nevertheless, centrifugal juicers are not good friends with leafy greens, as they are better suited for whole fruits and vegetables. They create a juice that has no fiber content and is light and tasty.
Warranty
What happens if the unit breaks down too early, and you need to spend a fortune to repair it? You should go for a juicer that can keep the commercial juicer covered for long because replacing the parts or having it repaired will make you pull your hairs out. At the sight of the price, you will realize why a good warranty period is important.
Motor
Furthermore, a powerful motor is another essential thing a commercial juicer should have. Basically, this is the heart of the juicer, and it will allow you to juice larger chunks without clogging. Specifically in the case of masticating juicers, this could be very helpful, as they tend to get clogged. Still, the price may go up with the more horsepower or wattage the motor comes with, which is why powerful juicers can be so expensive.
At the same time, powerful motors are also able to juice much faster, even though the speed depends on the type of juicer. As you're already aware of, centrifugal juicers operate faster than masticating juicers. While you're trying to compare commercial juicers, check the rotations per minute, so you can determine the juicing speeds.
Pros and Cons
Type of Juicer
Pros
Cons
Centrifugal Juicers
- Has a quick operation, so you'll be able to serve your clients in no time.
- Easy to clean.
- Easy to use.
- Generally not as expensive.
- Can cause a lot of noise.
- The high RPM results in heat that oxidizes the juice much faster.
- Yields less compared to masticating juicers.
- Can't juice everything, as there are problems when it comes to leafy greens.
Masticating Juicer
- Doesn't produce heat.
- Able to work with most produce, even berries, and wheatgrass.
- There are more nutrients preserved compared to a centrifugal juicer.
The juice-making process takes longer.
- Heavier compared to centrifugal and manual counterparts.
- Produce needs to be cut and prepared to fit the chute.
- Generally more expensive.
Manual Juicer
- Not too expensive.
- No power source is needed.
- Great for bars and pubs that serve cocktails and mixed drinks.
- Can be time-consuming.
- Produces a smaller quantity of juice as compared to its counterparts.
Considerations Regarding the Design
Although the speed at which they operate, and their functions are the most important things to consider, you shouldn't overlook the design. How will it look in your kitchen? Will it fit, or will it only be in the way of the employees? Essentially, the size and shape of the commercial juicer have to do with the design of the unit, so you should consider your kitchen and the use of the machine.
Maintenance of the Commercial Juicers
When your business has a commercial juicer, it's just normal that it requires proper cleaning and maintenance, as it can get dirty due to the excessive produce use.
As such, you should have a cleaning plan that you follow every day, and not let the dirty juicer sit there for ages until someone decides to clean it. In between drinks, you can run some water through the juicer to keep it clean or break it down to rinse the bowel and basket, and any other parts that require cleaning. Remove any fruit part that is stuck as well and let the parts dry once they're clean.
Make sure that, before you use fruits and vegetables to produce the juice, they are clean. Wash them properly, because bacteria can live on them, and you don't want your customers to get sick. Washing them will ensure that you only serve healthy juice, thus maintaining your business, as well as the machine.
Safety
Another vital consideration when buying a commercial juicer is safety. Does the juicer have safety features? A juicer needs to be safe and not dangerous in any way. On that note, you should look whether it has an automatic shutoff if the juicer top is opened, thus preventing the gears or blades from being exposed during operation.
Moreover, it should also have an overheating shutoff, so the motor doesn't burn out and affect the durability of the juicer.
Wrap Up
Now that this commercial juicer buying guide has come to an end, we hope it did well in answering all of your questions. You should know the important things to look for before buying such a machine, so it's safe, durable and properly serves your clients.
To that end, once you decide on the type of juicer you need, the number of clients that come to the local and the features you'd want in the unit, you will be able to make a decision.
Share This!