Top 10 Man Cave Kitchens
The "man cave" in homes is the place where a man can get away from it all, relaxing and watching television. When the idea of man caves first came about in interior design, you could see the concept mentioned on shows like House Hunters, but now man cave ideas have even translated to the kitchen. Here we'll share the top 10 man cave kitchens to inspire your own man cave designs.
1. Rustic Man Cave Kitchen in Metro Area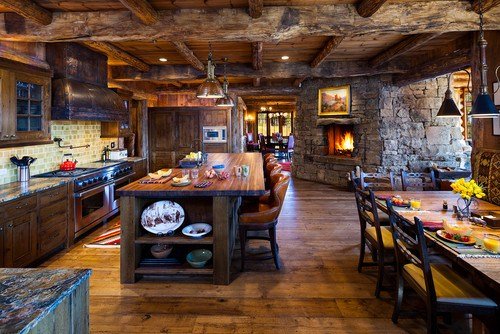 Rustic Kitchen by Bozeman Photographers Karl Neumann Photography
A rustic man cave is one of the best ways to describe this kitchen. It has all of the comforts of home and plenty of counter space and looks like it's literally in a cave. The stone walls and the dark woods create the atmosphere, while the fire makes it welcoming. This is definitely a man cave kitchen and includes commercial appliances, including a double oven.
2. Manly Traditional Kitchen in Grand Rapids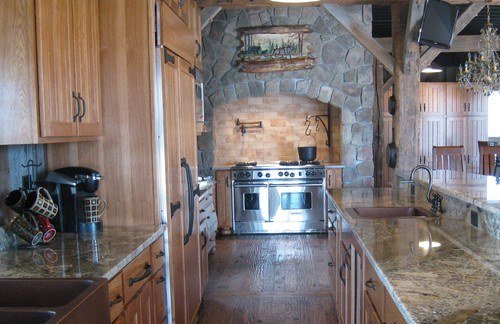 Traditional Kitchen by Richland Design-Build Firms Hickory Builders, Inc.
The designer of this kitchen mixed a manly element, stone, with the traditional to create a good style for a man's space. The appliances appear to be hidden from view and crafted to blend in with the cabinetry, so their steel doesn't detract from the cabinet's rich wood tones. A commercial stove stands, tucked away in a hearth-like nook, waiting for the man of the house to cook a great meal. This is the perfect kitchen for a luxury cabin.
3. Home Theater in Canada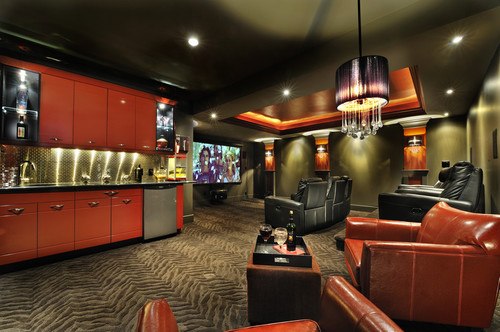 Contemporary Home Theater by Vernon Kitchen & Bath Designers Greystokes Millwork Ltd.
Here we have a man cave with a kitchen. The kitchen here is more for preparing mixed drinks, but they have included a dishwasher. It's got a rugged appeal with the metallic backsplash and the orange cabinets. A few comfortable leather chairs and a popcorn machine give this man cave everything it needs for a night of watching a game or a movie. You'll probably also like to find a mancave fridge behind one of those cabinet doors.
4. Portland Industrial Kitchen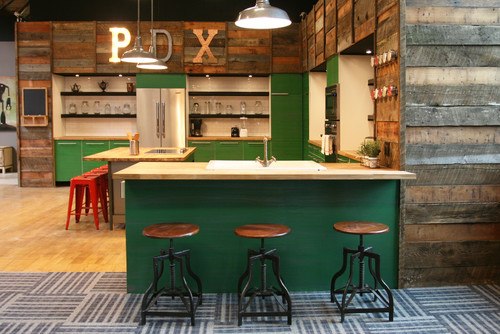 Industrial Kitchen by New York Interior Designers & Decorators Jen Chu Design
The rugged yet modern look of this man cave kitchen makes it a good man cave design. The interior designer used wooden elements to contrast with shiny green cabinets to create an earthy tone in the space. The use of butcher block countertops and industrial kitchen appliances gives any man a place to whip up some of the best steaks, seafood, and other hearty dishes.
5. Posh Man Cave in Minneapolis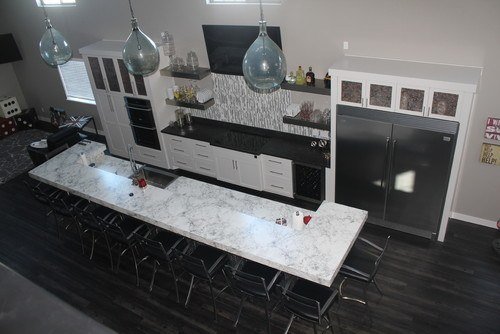 Modern Garage And Shed by Saint Cloud Cabinets & Cabinetry ALPINE CABINETRY LLC
Completely modern, this man cave kitchen uses palettes of white, gray, and black for a clean look. It's rugged without features of the outdoors, and is ready for entertaining, judging from all of the chairs you see. Double ovens, a large refrigerator, and a hidden stovetop make it functional and stylish. With man caves, you don't often see this use of marble and stone pictured here, and it's done well.
6. Southwestern kitchen in Phoenix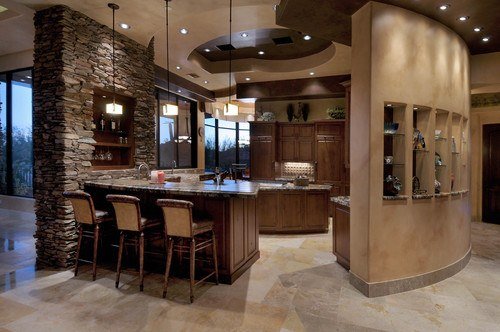 Southwestern Kitchen by Tucson General Contractors Process Design Build, L.L.C.
This kitchen is closed-off from the rest of the house, which makes it a good man cave. There's plenty of room for scotch and wine, and you can stare out the window all day long in this kitchen. Sleek stone design married with dark wood above, and light wood below definitely features a manly touch, and there are even several faucets so you can always get your cooking done.
7. Contemporary Kitchen in Dallas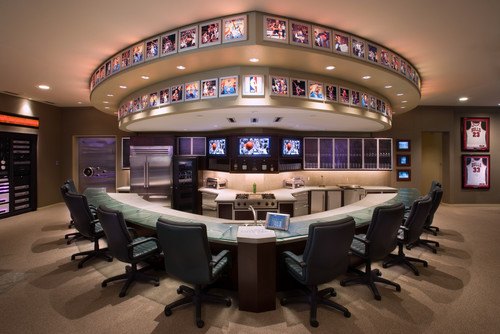 Contemporary Kitchen by Grapevine Architects & Building Designers Van Trease Constructors
This appears to be the home of a pro basketball player as evidenced by the photographs lining the ceiling and the jerseys. It's also a serious man cave kitchen. Plush seats for dining and a suite of televisions are just the tip of the iceberg here. There's also a commercial oven, oversized refrigerator, and multiple ovens – we've counted four. A serious man cave for a serious cook, for sure.
8. Camp Cabin in Big Sky, Montana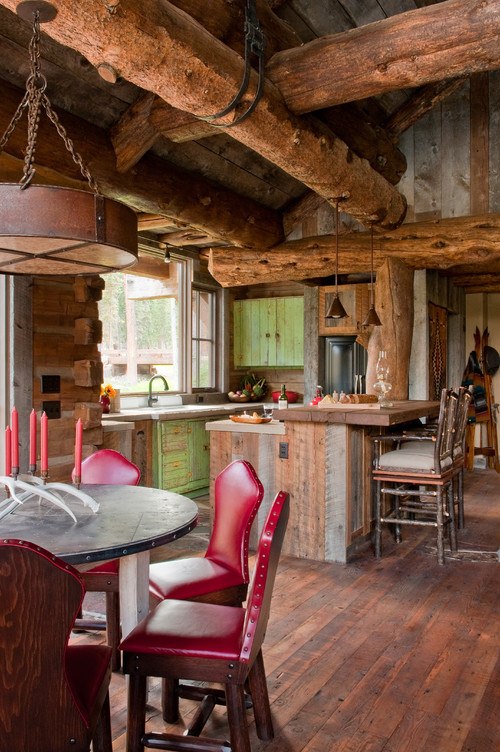 Rustic Kitchen by Big Sky Architects & Building Designers Dan Joseph Architects
Most of this kitchen features wood everywhere, from the walls to the ceilings to the floors. It's this design aesthetic that makes it a definite man cave kitchen. There are a few elements of green in the kitchen, but really it's a room of brown tones and wood textures. Even the barstools look like wooden sticks affixed together.
9. Modern Rustic Kitchen of San Francisco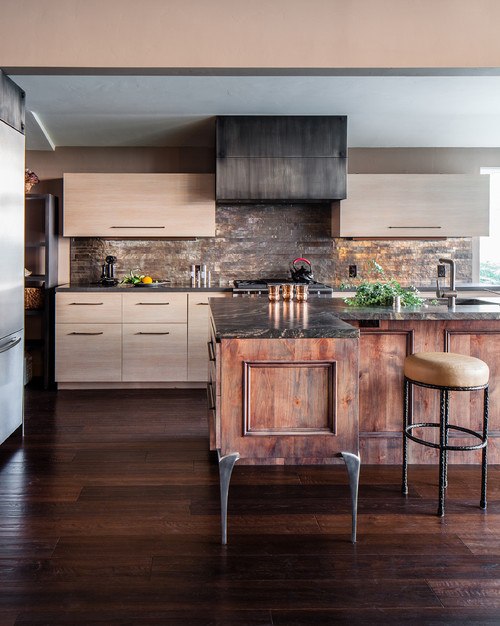 Contemporary Kitchen by San Francisco Interior Designers & Decorators Applegate Tran Interiors
It isn't often you can blend modern with a rustic look, but this handsome kitchen did just that. The rustic metal-wood bar is topped with a dark gray marble which makes it more manly. The stone element is repeated in the backsplash and provides a nice contrast to the light cabinets. An industrial kitchen stove with gas burners, double faucets, and these thick upholstered barstools make it homey.
10. Spanish Colonial Contemporary Man Cave/Garage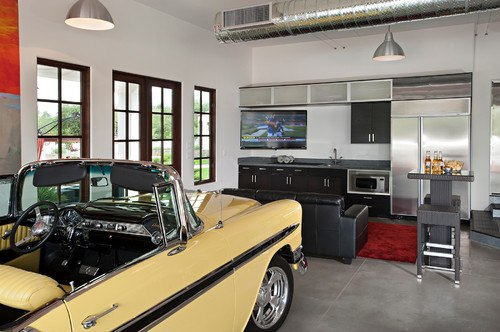 Contemporary Garage And Shed by Scottsdale Architects & Building Designers Matthew Thomas Architecture, LLC
Who says a man cave has to be in the home? This man's space is in the garage, but it's dank and dreary. Not only does he have his beautiful vintage car and flat-screen television, but he also has a top-notch kitchen. There's a microwave, large refrigerator, and faucet, plus plenty of cabinet space. All this designer cared about was making it a comfortable place to have a beer, and we'd say mission accomplished, right?
When you hear the words "man cave," you probably think of sports plaque and deer antlers on the wall, but the image of the man cave is changing. Now you can see a man cave in any design style, and that includes kitchens. Whether it's a traditional style with a wood aesthetic or a classic clean yet rugged modern look, building your dream man cave means not skimping on the kitchen or other details.
Share This!