8 Products You Need to Start Your Own Bakery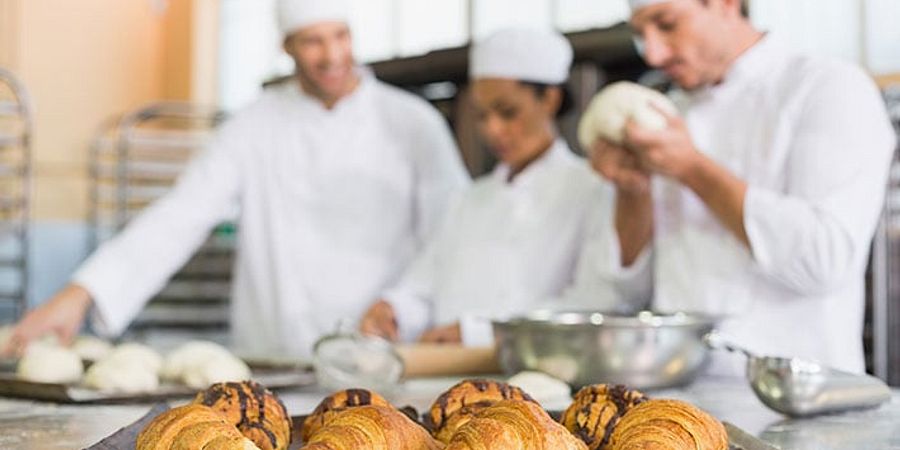 Have you ever dreamed of opening your own bakery? You may have prize-winning pies and delicious cookies, and everyone tells you that you should sell your baked goods at a real bakery. Do you know where to start? It's not enough to use the appliances in your home's kitchen if you'd like to expand into a real retail business. You should start with these 8 products for your new bakery.
Mobile Tray Racks: Store it Smart
If you're going to bake a large supply of goods each day, you shouldn't let yourself be constantly emptying and reusing less than five racks. A good mobile tray rack will let you roll goods right into the refrigerator, or store them safely and securely in the kitchen. Racks are an affordable way to expand storage and keep your baked goods intact even in a smaller-size kitchen.
Mixers: Stir it Up
The ordinary mixer you may use to make cakes and other goods won't be up to the task of handling the heavy amounts of orders you may receive. You may purchase an immersion blender or stand mixer, each of which has its benefits and drawbacks. A hand mixer is great for whipping, beating, and mashing, while a stand mixer is faster than a home mixer and is great for doughs. If you're working with dough consistently, you should also invest in a quality dough hook that affixes to the mixer to assist in kneading the dough. (See one of our previous articles for more information: Hand Mixers vs. Stand Mixers)
Ovens: A Baker's Best Friend
What's a bakery without an oven? You need a way to bake, and you should invest in a commercial oven, and not rely on a traditional oven suited for a home kitchen. You can purchase a convection oven, which will accommodate more than four sheet pans, or go for a double convection oven, to get even more pans and bake at more than one temperature at the same time. These oven types are more favored by bread and cake makers. Convection ovens come in gas and electric models, so you can find an option for your commercial retail space's utilities. Whatever oven you decide to purchase, don't forget a few extra racks!
Shelving: Keep Everything Within Reach
Baking requires a lot of supplies, and you need to keep them at hand easily, which is why shelving is a common-sense purchase for any bakery. Without shelving, you won't have your flour, dyes, and other supplies at hand for every project. You'll also need to store all of your bowls, utensils, and other items, so investing in a commercial shelving unit is recommended to keep maximum organization in your new bakery.
Work Tables
Once you have batters, doughs, and mixes prepared in your commercial bakery, you need somewhere to work with them. A stainless steel table is necessary for working with any dough, cakes, cookies, or brownies. A work table adds more surface space in your kitchen and lets you also get a bit of extra storage since you can store mixing bowls and other supplies on the bottom shelf.
Baker/Balance Scales: Measure it Right
Great cakes and other desserts begin with the right ingredients, and having a commercial scale ensures you use the right amounts of everything. Small yet useful, a baker scale will help you measure out each scoop perfectly every time you bake. Counterweights of multiple sizes will give you a good balance, and you can also purchase a scale that's capable of holding from 4lb to 16 lbs.
Refrigerators: Sleek and Cool
Refrigeration is a must-have in any kitchen, and the same goes for a commercial bakery. You will likely need to keep many of your ingredients, like milk or eggs, cold & all at a safe temperature. There's a wide variety of refrigeration options on the market, including undercounter, dual temperature, and milk coolers, and more. Each will keep contents cool but will differ in features, so you should read the specifications of each model to make sure you get the best use of the appliance you purchase.
Bakery Cases: Show off Your Creations
Once you've got all of the equipment to make your baked goods, it's time to show them off!
A good bakery case is a standard for any bakery owner, because it shows customers what delectable delights you offer, and presents them in a way that looks appealing. No one wants to buy cookies that are individually saran-wrapped and plopped on a plate, so a commercial bakery case is the first choice you need to make. There's a variety of bakery cases for sale, with plenty of options in size, capacity, and design. Some bakery cases for cookies, pies, and other desserts feature refrigeration, while others on the market are "dry," meaning they aren't cooled. These are more suited for cookies and other baked items that don't necessarily need refrigeration. Think about what you're going to sell often, so you get the bakery case that keeps your products fresh and makes them look good.
Creating a bakery with the right tools lets you develop a standard process, so your business is able to run smoothly. The more efficient you are, the more time you're able to devote to baking, decorating, and other tasks related to a bakery. Let this list of eight products guide you toward bakery business success.
Comments
i am in love with this blog. Thanks alot for sharing love.

Sophia, we love that you love our blog. After checking out your company, I've decided to go ahead and add you to our blog. Cheers!
Share This!