6 Ways to Market Your Restaurant for Christmas this Holiday Season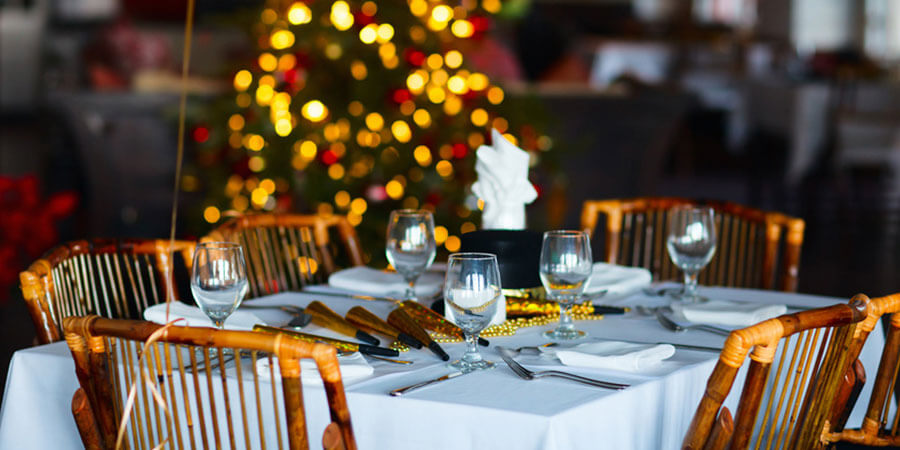 Stores are packed during the holidays, but the same isn't always true for restaurants. ABC News reports that most stores get 40% of their annual revenue from Christmas shoppers, whereas restaurants often see a slowdown in business. A 2014 survey from Thanx Inc. showed that restaurant revenue declined 22% to 45% over the holidays. This is why marketing your restaurant is essential during this season.
But how can you increase business and get diners into your restaurant this holiday season? We've collected 6 surefire ways to bring those hungry holiday-shoppers in your door for a sit-down meal.
1. Offer a Return Incentive
Your battle isn't won just by getting your customers in the door, you also want to find a way to make them return. Try running a holiday special that gives customers a "Mystery Envelope" they can bring back after the holidays. The envelope could contain offers like $2 off an entree, a free $5 gift certificate, or anything else, but may only be opened next time the customer dines at your restaurant. The key is to make sure every envelope holds a discount that will entice your diners to return for the chance to use it. Don't forget to decorate your restaurant to boost the Christmas spirit for your customers and staff alike with some of our restaurant tabletop decorations.
2. Host a Special Event
Offer a holiday-themed special event, such as a Midnight Brunch, a Breakfast with Santa, or a one-time three-course meal at your restaurant. You can even have wine, music, and dancing for New Year's Eve or on select nights during the month of December. Ensuring your customers have a jolly good time will make them want to spend more time at your restaurant! Make sure you put your best foot forward and invest in some updated restaurant furniture for the holidays if you need it.
3. Give Back to Your Community
Consider offering a marketing promotion that benefits your community. If your area has a local food bank, you can try offering discounted entrees or an appetizer when customers bring canned foods or non-perishable food items for the food bank to your restaurant. You can also organize a charity dinner for a local non-profit, letting a percentage of the proceeds go to the charity. Prepare for the holiday traffic from busy, and hungry, Christmas shoppers by making sure your restaurant runs on top of the line restaurant equipment.
4. Collaborate with Local Businesses
Consumers are often encouraged to shop locally during the holiday season. Take advantage of this by joining up with local businesses and offer a discount to both establishments. If you have a local theater, consider approaching them with a collaboration where you offer moviegoers a free dessert when they show a ticket stub at your restaurant or find a store willing to offer a discount for your shoppers when they show a dining receipt.
5. Offer Holiday Gift Cards
With the wave of minimalism that has swept the nation in the last few years, gift cards for the holidays are more popular than ever. It's an easy gift to give the person who has everything, and it can be used at any time. Make your gift cards more attractive this year by offering a $10 bonus when a customer buys $50 in gift cards. The buyer may keep the $10 bonus and give away the gift card, and you'll have two diners visiting from one gift card sale. Package gift cards in decorative boxes or envelopes to make them look more festive.
6. Create a Limited-time Holiday Menu
One way to get even your regulars visiting your restaurant more during the holidays is to offer a special holiday menu. Add dishes that incorporate classic holiday favorites and evoke fond memories, such as gingerbread, pumpkin, and apple cider flavors. Bring every happy holiday memory alive in your diners by offering dishes like apple cider-glazed pork chops or a special holiday style peppermint hot cocoa. Announce your limited-time menu on social media and watch your followers stop by for a break from their shopping. Stock up on restaurant smallwares to make sure your kitchen staff has everything they need as they create your new holiday dishes.
Making it Work
The key to effective holiday marketing is all about tapping into that holiday spirit! Give your customers experiences that are enjoyable and worthwhile, and they'll keep coming back for more. You want them to rave about their visit, whether it's bringing their children to your Breakfast with Santa, or the chance to support their favorite charity while dining at your restaurant. Focus on offers that make you stand out, and establish your restaurant as a memorable part of your customers' holiday season.
Want more helpful hints about marketing your restaurant? Keep reading here:
5 Ways to Improve the Design of Your Local Marketing Flyers
Best Marketing Strategies & Tools for Restaurant Owners
Restaurant Marketers Share Their Best Advice for Opening a New Restaurant
Share This!