5 Ways to Improve the Design of Your Local Marketing Flyers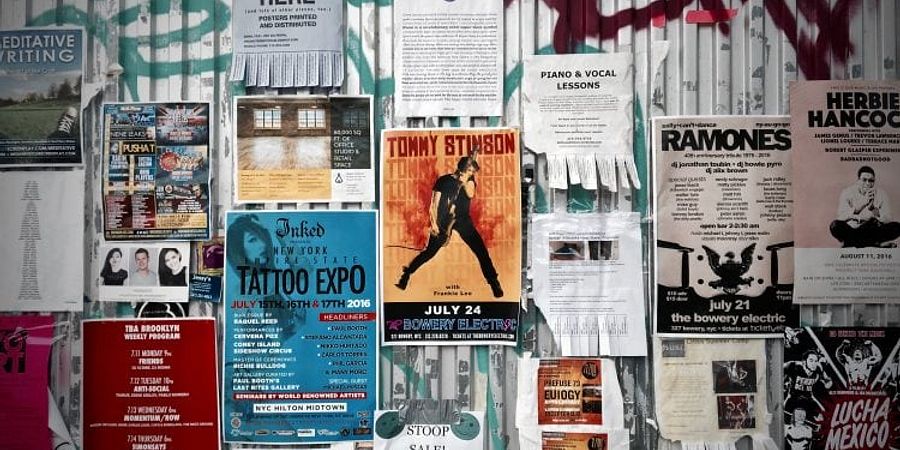 Marketing flyers are simple, traditional and effective for local restaurants. They also provide you with an opportunity to physically engage your potential customer, which can create a lasting impression, according to a FedEx Office survey. In their survey, 85 percent of consumers said they would most likely shop with a small business that has custom or professionally printed materials, such as business cards, signs, banners, or flyers.
Boring, old, or poorly-designed flyers won't do much for you, however. Make the most of this community marketing tool with these tips to improve your local flyers.
Format Images Correctly
As a restaurant, you may include images of your best dishes or seasonal drinks, but the photos need to be formatted correctly to pack a punch. Use this simple formatting and sizing tip from How to Choose the Best Images for Your Flyer Design to avoid poorly printed images:
"For an image to be a printed physical size of 8" x 10," this means your image pixel dimensions should be at least 2400x3000. Selecting an image with more pixels will ensure your graphics are sharper and do not blur when printing. Note, however, that printed image resolution is expressed as DPI, not PPI."
The best way to avoid blurry images is to do a print test. Ask your printer if they include this in the cost of their services so you can make sure everything looks right before printing a large batch.
Understand Your Target Audience
Before designing your flyer, research and understand your target audience. This will help guide your design and keep your message clear. Figuring this out can be as simple as asking yourself: who do we hope will convert from this flyer? Get specific: Male or female? What age are they? Do they have kids or a family? Do they live at home or alone?
Slowly, you'll develop a persona for your flyer that will then dictate the design. What stands out to a mom of four kids may be different than what stands out to a 25-year old millennial. Keep this in mind, in addition to your own brand, when developing the tone and messaging as well. Is it catchy and enticing or does it draw on emotions and personal connections with your local community?
Create a Focal Point
Arranging a focal point on your flyer will draw in your customer, allowing you to ensure they see the most important information first. The focal point can be anything from an image to text, but should contain your CTA or strongest brand message.
To get this important element right, use these tips from Shutterstock:
Know the message you want to convey. Turn to your marketing or campaign goals to determine this.
Select the right photo. "Look for an image that leaves room for copy with negative space and minimalist composition," explains Shutterstock.
Stick to Minimalist Content
When creating a marketing flyer, the saying "less is more," applies. You don't have long to catch a potential customer's attention, so you need to pack a punch quickly. As such, straight-to-the-point messaging that drives them to your call to action is best.
Use the following guidelines to stay on message and make every word count:
Use a stand-out headline or title.
Make action words the base of your messaging. Avoid using a passive voice
Create Balance
The layout is just as important as the font and images you choose. An overcrowded flyer can lose the customer's attention and interest. To get your layout right, use the Rule of Thirds. Design experts at Design Pickle explain how this works:
"Divide the images into thirds horizontally and vertically to find the intersection of thirds, and place the focal point of the image at one of the intersections. The human eye finds the intersection of thirds to be the most interesting and balanced focal point. Using the Rule of Thirds can also help create space for title text or support copy."
This design technique will keep your flyer less cluttered and more balanced. It will also help to ensure that important images are seen and displayed prominently, allowing you to make the most of every inch of your flyer.
Improve Your Local Marketing Flyers
Your flyer needs to have a clear, concise message and impressive design to drive new customers into your restaurant. Having too many photos or too little personality means it will blend into the background, rendering it useless. Make your marketing flyers most effective with a strategic design that appeals to your audience.
Jessica Thiefels is founder and CEO of Jessica Thiefels Consulting, an organic content marketing agency. She's been writing for more than 10 years and has been featured in top publications like Forbes, Entrepreneur and Fast Company. She also regularly contributes to Virgin, Business Insider, Glassdoor, Score.org and more. Follow her on Twitter @JThiefels and connect on LinkedIn.
Share This!