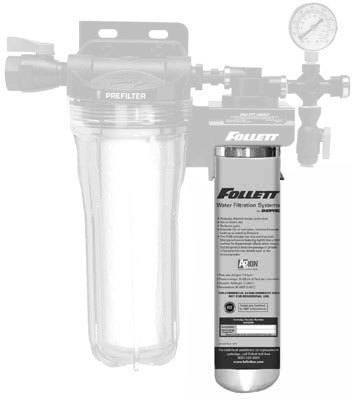 Cartridge Only Included
Follett 00978973
6 Pack Replacement Cartridge for Follett 00978957 Water Filter System
Product Overview
Water Filter Replacement Cartridge Details:

Don't settle for anything less than the best, and this Follett 00978973 replacement water filter cartridges is going to give you exactly what you're looking for. This package of 6 cartridge replacements will provide you with the comfort and reliability that you're looking for in terms of the overall benefits of it. Also, this is a wonderful and memorable filter kit that is going to make the difference when you're looking at putting together the proper finishing touches to get the protection that you need. All that's left is to take a look at what it's going to give.
You'll get mechanical filtration, a reduction in cysts, turbidity, and bacteria amongst other common contaminants in water. This is what you need and want in your commercial world, so go and grab it for yourself with this pack of replacements.
Features:
Standard No. 42: Aesthetic Effects

Chemical reduction - taste & odor and chlorine reduction

Mechanical filtration - particulate reduction, class 1: 99.9% reduction of particles 0.5 micron and larger in size
Standard No. 53: Health Effects
Product Brand

View more from Follett
Resources
Specifications
Details
Water Capacity
15,000 Gallons
Flow Rate
0.5 GPM
Micron Rating
0.5
Filter Type
Chlorine
Filter Type
Taste
Filter Type
Bacteria / Viruses
Filter Type
Sediment
Water Filter Application
Ice Machines
Product Condition
New
Compatible Products
Models numbers shown are for reference only, may not be listed, may vary by serial number and subject to change without notice. Please contact us to confirm the proper item to be used with your model.
Product Guides
Customer Reviews