Jackson Dishwasher Buying Guide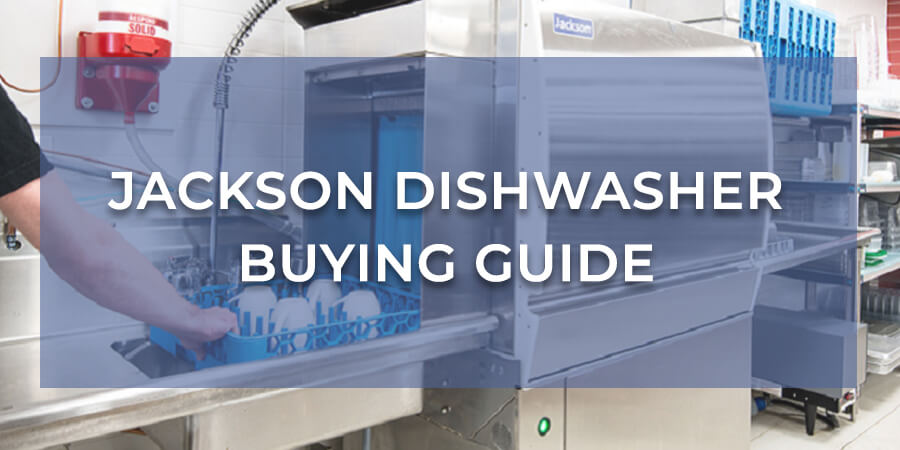 Looking for a good dishwasher, but can't differentiate between a good model and a bad one? You might as well check its reviews and features. For example, Jackson dishwashers are highly acclaimed among users that dislike spending hours in front of the sink – but still want to eat from squeaky-clean dishes.
No matter if you are looking for an under-counter dishwasher or a flight-type washing machine, Jackson has always been able to offer quality. There are several models for you to choose from, all having various uses and different features. Making your choice is definitely not going to be easy, which is why we made this guide to help you out. This way, you'll be able to figure out yourself which one is most suitable for your home.
1. Selecting the Right Features
When it comes to choosing a dishwasher, there are a few features that you might want to be particularly mindful of.
Drying: You may want to know whether your dishwasher functions on drying or air-drying options. The first option will use electricity (and therefore will be less cost efficient), while the latter will use evaporation.
Size and Type: There are basically four types of dishwashers that you may choose from portable, built-in, compact or full-size. You might want to consider the dimensions of the place where you want to keep it. If you live in a spacious home, there should be no problem with purchasing a full-sized, built-in dishwasher. On the other hand, if you are tight on space, you might want to go for the compact, portable option.
Drawers: The more drawers a dishwasher has, the more flexibility you will have with the programs. For instance, one drawer could be used for dinnerware while the others may accommodate pots and pans. It will make things more organized for you, and you'll also be able to finish the job in a jiffy.
Noise Level: Wouldn't it be awkward to try to have a conversation in the kitchen when you can barely hear yourself over the noise of the dishwasher? In this aspect, you may want to choose a model with a quiet motor or with insulating materials that absorb vibration.
Energy: Look for dishwashers with short cycle settings. The higher the cycle, the more energy and hot water you'll use. For dishes that are not that dirty, you may want to consider a dishwasher that doesn't function only on long cycles.
Before purchasing a dishwasher, you may want to do your homework. Browse the Jackson website and read some consumer reviews to see which option is more appropriate for your house.
2. Types of Jackson Dishwashers
When it comes to dishwashers, no matter if they are residential or commercial, there are two categories to go for when it comes to temperature: high temperature and low temperature. Jackson provides both types; all you'll need to do is figure out which one is more convenient for you.
High Temperature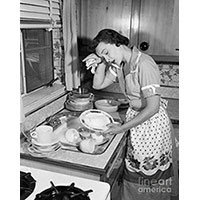 High-temperature machines are generally the preferred option when it comes to cost efficiency. Most high-temp Jackson washing machines have shorter wash cycles, larger rack capacities and use less water per cycle. They are also more efficient when it comes to cleaning the dishes since hot water is more efficient at breaking down heavy oils, grease, and resistant residue.
The only disadvantage to high-temp Jackson dishwashers is that they are more expensive than low-temp dishwashers. They will, however, save you money in the long run – more so if you combine them with booster heaters.
Low Temperature
One of the reasons why people buy low-temperature dishwashers is that they have a very low initial cost. However, you may want to keep in mind that not all chemical agents are compatible with cold water, which may compromise your dishware. Furthermore, it has higher operating costs than a high-temperature washing machine, making it a less convenient method in the long run. You'll have to use more chemical agents, longer wash cycles, and more water per cycle.
While the low-temperature Jackson dishwashers may not be as cost-effective in the long run as their high-temp counterpart, they still manage to do a good job cleaning the dishes.
3. Most Popular Types of Jackson Dishwashers
Whether you need a single rack dishwasher, a double racked one, or an under-counter option, you can find all of them in Jackson's portfolio. Here are the types that you may find here and that will definitely be helpful in every home.
Undercounter Dishwashers
An under-counter dishwasher is a perfect choice for kitchens that are low in space. These dishwashers will let you clean as you go, but at a fairly slow pace (since they can't hold too many dishes during the same cycle). An under-counter dishwasher can accommodate twenty to thirty racks of dishes and glasses at the same, making it perfect for the average home at the end of the day.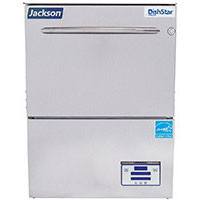 No matter if they are used for commercial or residential purposes, under-counter dishwashers will use single doors placed in the front. Depending on the model that you choose, they may also incorporate a generous number of displays and controls to make your kitchen experience much more pleasant.
The DishStar HT-E dishwasher, for instance, works on automatic push-button start with a universal timer and a digital LED control panel. Everything will be right at the tip of your fingers so that you won't have too much trouble multitasking in the kitchen.
The simple DishStar HT model does not have this LED option, but it does have the labyrinth type door design. It's also fairly compact, making it perfect for small kitchens.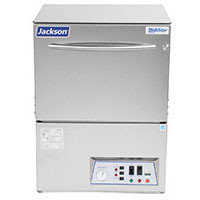 This machine may be small, but it can rack up as much as 27 dishes in its "normal," one hour cycle. If you have solid wares to clean, you can go for the heavy and extra heavy cycles. The DishStar LT, on the other hand, can only handle 24 racks per hour, but it also takes less space under the counter than the HT-E.
All of these Jackson under-counter dishwashers can be found in low and high-temperature styles. Furthermore, since they are compact, you may place them anywhere you want and they won't interfere with the overall design of your kitchen.
Even the dirtiest of dishes can't handle the "wrath" of the Jackson dishwasher. It offers high-grade cleaning at just the right temperature, while the pumps allow you to distribute the cleaning agents evenly.
Conveyor Dishwashers
Conveyor dishwashers are big, cumbersome, but powerful enough to handle on average 350 to 1000 racks per day. Most of these dishwashers are made of stainless steel since they were designed to handle heavy-duty use. The conveyor dishwashers by Jackson are perfect for cafeteria use, hospitals, and other places that operate at high-volume.
A lot of these dishwashers come with special features such as a microprocessor that will automatically allow you to set the washing cycles. They also use the Energy Star systems that will help cut down on the electricity consumption.
When it comes to Jackson dishwashers, you may go for electric, gas, or steam tanks – depending on your own preferences and household energy mode. The AJ-86CE, for instance, is completely electro-mechanical, and it uses no solid state controls. It has an automatic fill, and it can stack up to 287 racks per hour (if you are determined enough). Be mindful that you will have to manually adjust the conveyor's speed in order to suit the capacity of the rack. Exclusive "Energy Guard" controls system energizes prewash, wash, recirculating rinse, and final rinse sections only when a rack is in place.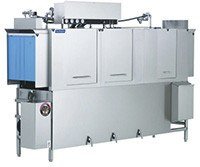 The AJ-100CJP, on the other hand, is fueled by gas, but it has pretty much the same features as the 86CE. It features an incoming water pressure regulator as well, to ensure that even the most fragile of dishes are safe during the washing process. Don't let this gentle giant fool you as it is built with heavy gauge construction for extra ruggedness and durability. Standard 25" clearance allows you the ability to wash large utensils, trays, and bun pans.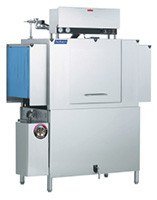 For those who want neither electric or gas dishwashers, you may opt for a model such as the Jackson AJX-54CS that runs on a steam tank. They're less popular than the electric ones, but more popular than the ones running on gas. They're certainly one of the most affordable options. Plus, like the other models, it features "Energy Guard" controls that will allow you to save on the power bill, which is a very important feature.
Glass Washer Machines
If you have more glassware to wash than regular dishes, then you may want to consider investing in a glass washer instead of a dishwasher. Yes, there is a difference between the two. A glasswasher comes with a quick wash speed that is perfect for glassware, and they are priceless when it comes to cleaning large stacks of such items.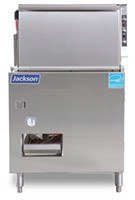 Jackson glasswashers are very efficient when it comes to cleaning and sanitizing significant amounts of glassware per hour. The brand basically creates two types of glasswashers: the door-type Delta 5-E machine and the carousel Delta 1200 machine. The Delta 5-E (pictured) functions as both a glass- washer and a dishwasher with enough power to clean up to 40 racks or 1,440 glasses an hour. The push button start and a 3 way dispensing system for detergent and other cleaners / sanitizers make operating this machine a breeze.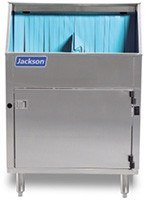 The former has also been certified as a dishwasher, so you can get the best out of both worlds while the latter has an alternative in the Delta 115. Each model, however, is made from stainless steel in order to withstand heavy duty use and also come with adjustable bullet feet so you may install it properly even if the floor is not level. Simplified, front access to all controls and chemical settings along with a rotating washing arm and fixed jets on the top of the unit gives you a better cleaning experience while being small enough to fit compactly underbar.
Single Rack and Double Rack Dishwasher
A rack dishwasher – also known as a door-type dishwasher – is a smaller version of a conveyor that needs to connect to clean dirty dishes. The idea is that you fill a rack with dishes, push it inside the machine, shut the door, and run the cleaning cycle. In just a few minutes, the cycle will be done.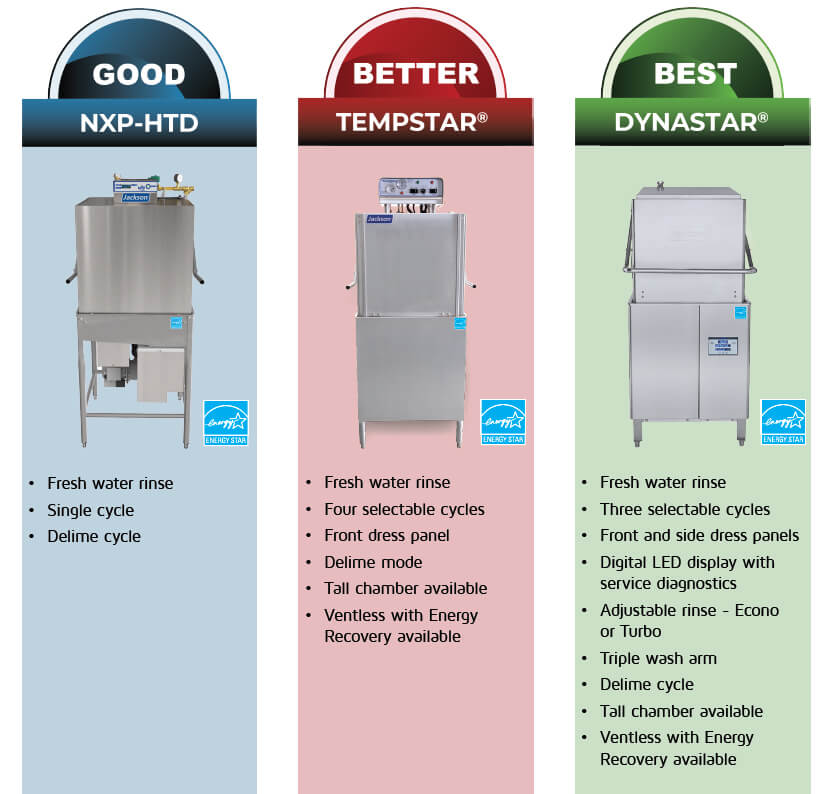 Since they are reduced in size, they can be fitted in the corner of the room. The Jackson Dynastar, for instance, is very compact and can wash a generous number of trays and dishes. Plus, the machine works on energy-efficient heating so that you can save on the power bill. The Triple Wash Arm and specially designed stainless steel nozzles provide superior cleaning while the unit's self-diagnosing capability will take the guesswork out of maintenance and repair issues, saving you time and money.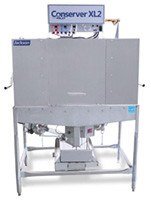 For those with bigger daily loads of dishes, you may want to go for a double rack dishwasher that allows you to clean more stacks of dishes at the same time. The Conserver XL2C, for instance, can handle 74 racks per hour, which is fairly convenient for a highly-frequented cafeteria. It has a dual-point drain connection that enables a versatile installation. The two racks will be accommodated side by side, and they can run automatic cycles of 90 seconds, 3 minutes, and 5 minutes, depending on how dirty the dishes are.
The Jackson rack dishwashers, no matter if they are single or dual, can be found in both high and low temperatures. Depending on their system, they are most likely to have the green seal of energy efficiency as well.
4. Jackson Dishwasher Parts
Sometimes, you may not need to buy the entire dishwashing machine. All you may need are a couple of parts to fix your current Jackson dishwasher. Every item will eventually need some maintenance done, so you may want to do regular checks on pieces such as the solenoid valve, timer, heater, strainer, thermometer, and so on. Jackson provides all these. So, if your dishwasher doesn't need replacing, but is in need of maintenance, you may check their line of products.
5. The Bottom Line
Investing in a proper dishwasher may make the difference between long hours lost in front of the sink and enjoying your free time to the fullest – just like you were supposed to. If you go for a quality model provided by an established manufacturer such as Jackson, you are bound to have a long, relaxing life away from the terror of dishwashing. Don't we all want this?
Older models are fairly good, but you may want to invest in a newer item if you have a business to run. If you're purchasing it for residential use, then an older, cheaper version might do the trick. Newer models, on the other hand, were made to withstand heavy duty use – in line with today's workload.
Are you interested in purchasing a Jackson dishwasher? Talk with one of our representatives today, and choose the one that fits your tastes – both quality and price-wise.
Share This!