Crepe Machine Buying Guide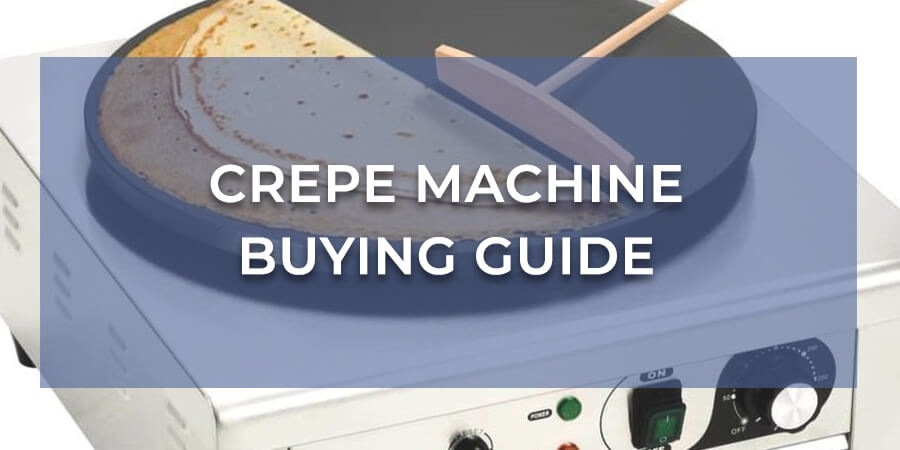 If you want your crepes to evoke the authentic flavor of Paris, then getting the right equipment is as important as having the perfect recipe. Happily, the diversity of crepe machines on the market allows you to choose exactly the right machine for your café or bakery. At the same time, the extensive diversity can be an impediment – in the sense that it might make the shopping process more difficult.
This is where our guide comes in – so, we'd like to outline the main elements you should factor in during your search.
1. Critical Considerations
Types of Crepe Machines: Gas vs. Electric
Supposedly, the first decision you have to make is to pick the type of crepe machine that will address your business' needs. Evidently, both types come with their benefits and potential drawbacks. It's up to you to analyze each of them and make a decision.
Type
Advantages
Disadvantages
Gas Crepe Machines

- It heats up much faster, increasing your productivity and profitability.

- It isn't portable.

- It requires a liquid propane source or a gas line for operation.

Electric Crepe Machine

- In the long run, it is more energy efficient.

- Portability.

- It doesn't operate as time-efficiently as its counterpart.
Temperature Range
Moving on, another aspect that is worthy of your attention is the temperature range of the crepe machine. As a rule of thumb, commercial crepe makers have an approximate temperature range between 120 and 575 degrees Fahrenheit. This is primarily because each recipe has its specific cooking requirements.
More specifically, if the temperature range is wider, this will allow you to serve a diverse array of crepe recipes.
Construction
It goes without saying that an appliance's construction is inevitably associated with its durability. And if you're looking to invest in a crepe machine for a café or bakery, then this means it should withstand heavy-duty use. To that end, the machine should have a sturdy, durable construction. Preferably, it should be made from stainless steel – which is the case for most units.
Not only that this is important for durability purposes, but it also makes the crepe machine easy to clean – which is a factor to keep in mind.
On the other hand, if you want to choose a unit for light duty use, then you might want to go for a different item. As you can see, it's all about assessing your specifications. In general, though, crepe makers feature a cast iron griddle plate that will resist the test of time. When it comes to light duty models, you might get an additional non-stick coated griddle plate, though.
Cooking Surface
Typically, commercial crepe makers have a specific characteristic in common – namely the cast iron griddle. Why the preference for cast iron – you might ask. In comparison with aluminum alloy or stainless steel, cast iron is known to heat evenly and consistently. This is what makes it ideal for cooking the perfect Parisian crepes.
At the same time, after you season the cooking surface, it is basically non-stick. With proper care, it can stay that way for a long time, which is obviously a highlight. Nevertheless, it's important to season the crepe machine's griddle plate accordingly to ensure its longevity.
Another option is that of non-stick griddle plates. These diminish the need for seasoning while facilitating the ease of maneuvering the crepes. As a rule of thumb, a non-stick cooking surface is highly recommended for light duty applications, when you don't want to worry about seasoning the cooking surface beforehand.
Still, for high-volume commercial applications, we would advise you to pick a cast iron griddle. That's because it is made to withstand significant utilization, allowing you to save time and money.
Single vs. Dual Crepe Machine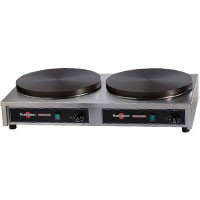 How many crepes are you expecting to serve within a given timeframe? The answer to this question is essential when looking for a crepe machine. With that in mind, if you plan on producing notable volumes of crepes and you have enough counter space at your disposal, then investing in a dual crepe machine might be the right option for you.
Nevertheless, if you simply want to diversify your menu by adding crepes, a single unit will most likely do the job just fine. At the same time, if you have limited counter space, a single crepe machine will allow you to maximize that space you have at your disposal.
Type of Frame
In terms of functionality, the type of frame doesn't play a crucial role, but there are other factors worth noting.
Type
Advantages
Disadvantages

Square-Frame Models

- Easy to clean and maintain.

- Compact; perfect for crowded spaces.

- Pricier than their counterparts.

Round-Frame Models

- Easy to clean and maintain.
- Practical.
- They occupy more space.
2. Choosing the Right Accessories
Depending on the results you want to obtain, you should carefully select the right crepe maker accessories. To that end, if you want to serve authentic crepes, then it is mandatory to invest in a batter spreader. The batter spreader ensures that the mix is correctly spread on the cooking surface, to obtain the thinnest crepes.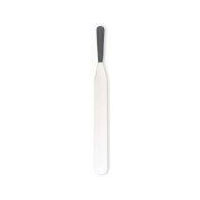 Moving on, a suitable crepe machine spatula is just as important. In general, you might get a specialized spatula with your purchase of a commercial crepe machine. The spatula makes it easier to turn the crepe and serve it accordingly. Still, that isn't a rule – some units might come with these accessories while others might not.
When it comes to the crepe mix, you can choose to use a pre-made one or perfect your own recipe. Evidently, this decision is entirely up to you. A pre-made crepe mix will allow you to produce the same authentic French crepes, time after time, eliminating potential errors. At the same time, it enables your staff to save time and be more productive.
Nonetheless, when looking for the perfect crepe mix, make sure you choose one that produces tasty, authentic crepes. You might consider tasting a few alternatives before choosing one, to ensure that you've made the right choice for your business.
3. Manual vs. Thermostatic Control
You will also have to choose between manual and thermostatic controls. Most businesses opt for the manual frame control, as they assume it is more dependable than its counterpart. Caterers, in particular, might choose the manual control – that's because the accuracy of the thermostatic control might be affected in adverse weather conditions.
Nevertheless, if you want to invest in a commercial unit for a bakery or a café, then this shouldn't be a major concern to you. The thermostatic control will regulate the perfect temperature for producing excellent crepes.
In time, you will notice that different temperature ranges provide different results.
4. Analyzing the Size and Power of the Crepe Machine
Evidently, when you pick a crepe machine, you should consider its size in relation to the setup of your kitchen. Usually, the size of a unit and its power are connected.
Moving on, if you're considering an electric crepe machine, check its amp rating. You might be required to hire a qualified electrician to replace a wall socket in your kitchen, granted that it doesn't support a unit with a high amp rating. If this sounds too complicated, then you should choose a machine that is compatible with your electrical setup, to avoid these scenarios.
5. Maintaining a Crepe Machine
After using the crepe machine for a while, you will notice that a crust has formed on the plate. This might seem as if the metal is actually flaking off. In fact, that is merely the crust of the crepe batter. This must be removed with a metal spatula and rough sandpaper. You don't have to worry about scratching the metal.
After having cleaned the plate, you have to season it once again. It is highly recommended to scrape off part of the crust every now and then to prevent it from thickening. You should always utilize the special abrasive stone and clean it with circular movements.
Essentially, after years of heavy-duty use, the crust might not be as easy to remove. At this point, you might need to opt for professional sandblasting (pressurized cleaning). This process will make the plate look as good as new.
6. Final Thoughts
So, as you can see, crepe machines aren't made equal. As a matter of fact, the market overflows with a diverse range of products that are made to address the needs of different audiences. When it comes to commercial crepe machines, it is critical for the unit to withstand heavy-duty utilization – especially if you want to serve a wide assortment of crepes.
At the same time, the construction of the unit will imminently affect its durability and the way in which it resists over the course of time. On a different note, maintaining the crepe machine is of great importance for its durability – so, make sure you don't overlook this aspect.
As long as you factor in these essential guidelines, you'll be able to make a sensible investment for your business.
Share This!