Commercial Heat Lamp & Strip Warmer Buying Guide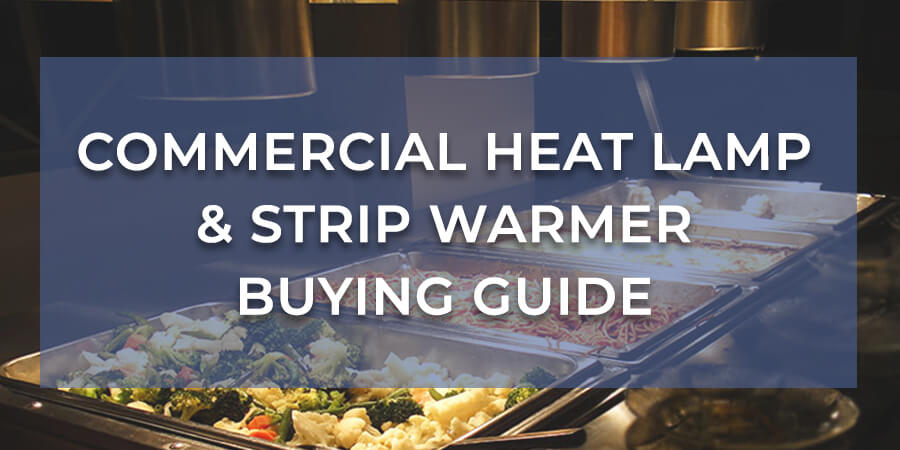 Those owning a food service company also know the struggles of keeping the food warm long enough for it to reach the customer in perfect condition. This is particularly helpful if you operate a buffet or a restaurant where the food is always kept at hand and always in large quantities.
In this aspect, commercial heat lamps may prove to be a very convenient purchase. It won't be hot enough to start cooking your food – but it will be warm enough to make sure that the food stays that way as well.
1. Benefits of a Heat Lamp
Ultimately, the reason why people buy heat lamps is that they can help keep the food warm for longer periods. When it comes to buffet-type food places, it's very easy for the food to go cold while waiting for the next customer. Keeping a heat lamp above said food would keep it warm and make it look like you just got it off from the stove.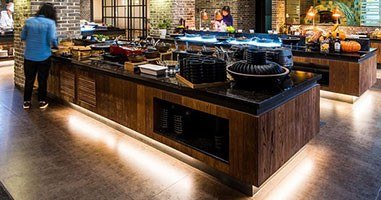 Heat lamps are also used for reasons other than those related to food. If you're raising baby chicks, for instance, you'll have to make sure they won't freeze to death. Such a lamp will make them feel warm – just like they would feel under the mother hen – without overheating the area. People with a terrarium may also benefit from using a heat lamp.
You may want to keep in mind that heat lamps are not suitable for long-term holding. Since they emit dry heat, it may rob the food of its original texture and taste if you leave it for too long.
Commercial heat lamps are also not recommended for very dense foods – for example, pans full of mashed potatoes or casseroles. Since heat won't be able to penetrate the surface effectively, you may want to invest in other food warmers (such as a holding cabinet or a drawer warmer).
2. Types of Heat Lamps
Heat lamps come in various shapes and sizes, but it all boils down to two types: bulb warmers and strip warmers. Both have their own benefits that you may use as you see fit.
1. Bulb Warmers
Bulb warmers are the economical choice when it comes to heat lamps, and they are appropriate for food places that are less frequented (for instance, a local restaurant that has a fairly relaxed paced). These commercial heat lamps produce a fairly small amount of heat, but if you need to give a little boost to a certain dish, this is certainly a very good appliance to have.
Unlike strip warmers, a bulb warmer works by being plugged into a regular outlet. This means that if you want to move the lamp from one place to another, you can easily do that.
The disadvantage of bulb warmers is that they are not as durable as a strip warmer. Due to the sensitivity of the bulb, they can easily break. You may find more durability if you opt for a shatter-resistant or Teflon-coated light bulb, but the only difference will be that the bulb won't fall all around when shattered. Nonetheless, it will still break.
Bulb warmers also fall into three categories:
Clamp On/Screw On Bulb Warmers
These types of bulb warmers may be mounted on a table using a clamp or a screw. These are the perfect option if you intend to create your own food carving station. Most of these food warmers come with a base that will allow the lamp to be screwed on.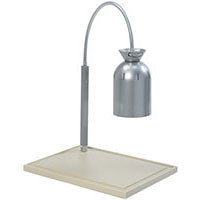 One such example is the model Nemco 6015-DP made by Nemco Food Equipment that comes with a sturdy polyethylene base. The lamp itself has a sturdy frame that finishes into an aluminum hood, to which the manufacturers added a very durable scratch-resistant finish. As a result, no matter how many times you drop it, the lamp's aspect won't be easily compromised.
The lamp is also equipped with a clear 250-watt infrared bulb that will keep the food warm as you are preparing it for your guests or your customers. Moreover, it can be unscrewed from its polyethylene base and placed wherever else you see fit.
Countertop Bulb Warmers & Heat Lamps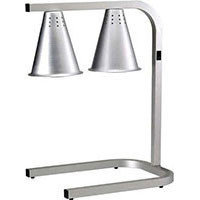 These bulb warmers are perfect for commercial overhead food warming of small proportions since it heats just as much food fits under a light bulb. These warmers are mounted on a stand to be given stability and are usually wide enough so that you can slide a pan of food under its light.
If you're looking for such commercial overhead food warmers, perhaps you may want to give the 6000A-2B Dual Heat Lamp made by Nemco a try. This lamp is very convenient because it has two 250-watt light bulbs instead of one, which will, in turn, let you keep a larger quantity of food warm.
This aluminum free standing heat lamp may be exactly what you need to keep your onion rings, French fries, or fried chicken in perfect condition to be served. Furthermore, the stand is adjustable, so you can control the heat that goes over your food. This feature is great when you want to prevent the food from over-drying.
If you need even more light bulbs, then commercial heat lamps such as the Nemco 6008-4 may be the better option for you. With four clear 250-watt infrared light bulbs and a sturdy steel frame, this bulb lamp promises durability as well as practicality. Measuring 41 inches from left to right and almost 19 inches high, this heat lamp will allow you to keep more food warm at the same time.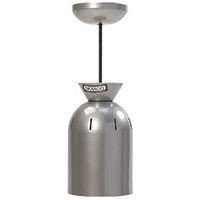 Suspended bulb commercial overhead food warmers are generally the preferred option at a buffet line such as a banquet hall or a cafeteria. They can either be just one overhead light bulb or more of them attached to a suspended bar. Unlike the other light bulb warmers, these cannot be moved from place to place as they have to be hardwired.
One example of such a heat lamp is the Nemco 6003 overhead bulb warmer with a ceiling mount. With its sturdy steel construction that received a durable, scratch resistant finish, this lamp was made to last. It works on 250-watt infrared bulbs that will keep your food warm – but will also be gentle enough as not to compromise the consistency or taste of your food.
2. Strip Warmers
Strip warmers have one or more rows of heating elements that have been packed into a long, metal housing. These models will usually also have reflectors that will enhance the heat, sending it down to the food below.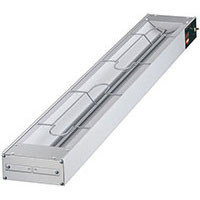 A strip warmer is generally used when you need to add more heat than you would with a regular bulb warmer. You may find them in several types of metal housing, such as aluminum or stainless steel. Some good options would be the Hatco GRAH-30 made by Hatco or the APW FD-24H-I made by APW Wyott, with their heavy duty aluminum housing and even heat distribution that can safely hold onto the temperature of the food without causing it to dry.
The reflectors of the strip warmers are coated, so they will not blacken. As a result, you will have a consistent heat pattern, with no cold spots – which furthermore can be pre-focused with the Hatco piece.
Another model that is appreciated by a lot of users is the Nemco 6150-24-D-208 electric food warmer. Measuring a total of 24 inches from left to right and 14 inches from front to back, this device can heat up a significant amount of food in one go. It has a toggle switch control, and its aluminized steel reflectors were made to penetrate even foods of a denser consistency. Furthermore, with its 1,000-watt warming power, the product was made to be durable and warm up your food even faster.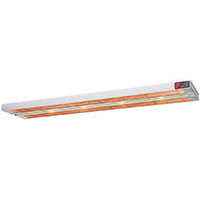 You may also choose between infrared and non-infrared strip warmers. Non-infrared units are the more economic version, but they work by sending warm air towards the food; nonetheless, they do a good job at preventing the food from getting cold.
On the other hand, infrared commercial overhead food warmers will transfer the warmth without surrounding the product with air. This will come to your advantage since it will keep your food tastier and better-looking.
3. Strip Warmer Element Types
These kinds of devices for commercial overhead food warming also come in several types that you may purchase according to your needs. Here's how you differentiate between them:
Calrod/Metal Sheath
These are the commercial heat lamps that you will most likely find in every appliance store. You do get quite a bit of power from one of these devices, but not quite the heat you would get, for instance, from a ceramic warmer. Since the heating power is not as strong, you may need to put it closer to the food than the average food warmer. The average would be 14 to 18 inches, but you may want to check the recommended mountain height that the manufacturer set.
Ceramic
A ceramic strip warmer will provide a higher wattage, cover a larger surface area and generate more heat than your average metal sheathed unit. As a result of this, a commercial overhead food warming device made from ceramic will have to be mounted higher above the food (at around 24 inches, depending on its power).
One great example of a ceramic overhead warmer would be the APW Wyott FDDC-60L. The model comes at several powers and intensities depending on the food types that you want to keep warm (pastries and easily heat-penetrated food will require a moderate intensity while foods such as steaks and others will need a higher intensity heater).
Furthermore, this device presents a sturdy stainless steel construction that is easy to keep clean and also has an attractive appearance. Another similar acquisition would be the Hatco UGAL-36, with its Ultra-Glo ceramic strip heaters and pre-focused heat patterns.
Halogen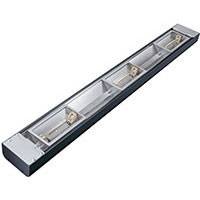 Halogen may be more expensive than both metal and ceramic elements, but they are also appliances that were meant to last. Furthermore, commercial overhead food warming devices based on halogen elements are also environmentally-friendly, since they can keep the food warm while making sure that the energy bill stays down.
An example of such a product would be the Hatco GRN4-18 line, with its halogen radiant heat source that can be turned on and off by a dimmer switch. The heat lamp also has a slim and elegant design that makes it perfect for use in environments where space is a great issue.
Quartz
Quartz is expensive, but if you are willing to pay a few extra bucks, you'll have a very efficient device that will last longer and keep warm EXACTLY what you need. Quartz elements can focus the heat directly on a concentrated area, and it possesses quick heat-up/cool-down proprieties. It's perfect if you are looking for efficient use.
4. Controls and Extras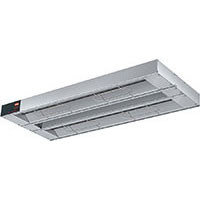 The operating temperature of commercial overhead food warmers is either managed by an infinitive control (with variable temperatures) or a toggle (on/off) switch. The switches can be either remote or attached to the device, depending on your preferences. The APW Wyott FDDC-18H, for instance, has an attached rocker switch within a side-mounted control box while the Hatco GRAM-108D3 has a remote control enclosure that allows you to activate it or turn it off from a distance.
You may also want to keep an eye out for any different accessories or mounting options. Some use mounting brackets, others use support chains, while some will simply use a leg stand. Each accessory is chosen depending on how much space you have available.
5. Final Thoughts
As you can see, you have many choices when it comes commercial overhead food warming devices. Food can easily lose its warmth and freshness, and it's never pleasant to deal with customers complaining that "my soup is cold," as this will bring you a bad rep.
It's best that you assess the space and activity in your unit as well as the foods that you want to sell, and invest in some commercial overhead food warmers. They will keep your food just the way that it should be so that your customers will always leave your unit with a smile on their face.
Share This!