Commercial Griddle Buying Guide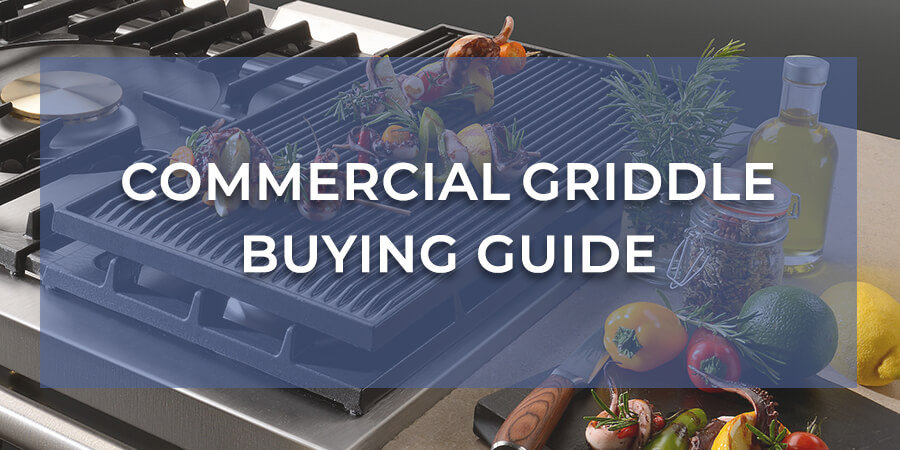 Griddles
Frying, Simmering, and Searing
By Definition: "a flat stone or metal surface on which food is baked or fried."
Griddles can be an affordable yet efficient way to add productive cooking and a larger menu to any establishment. Most establishments or venues will have the ability to house a griddle, and for this reason, most establishments can profit from doing so. Although, just like any other cooking equipment, griddles are designed for specific reasons. We'll address those reasons along with the makeup of the commercial griddle, in order to see if it is a necessity or accessory for your kitchen.
1. Why Choose a Griddle?
Griddles, come in the countertop variety. This will be covered later, although it should be noted that this option does not change a griddle from low output to high output, or standard duty to heavy-duty. In fact, since both standard and heavy-duty are available in countertop models, this adds to the power of the griddle. This griddle fact, along with the variety of foods that can be produced with a griddle, makes the classic griddle contend with specialty types of equipment. It's important that you choose the right type of griddle for your workspace. Do you need a countertop model or a built-in model?
2. Cooking Type
Griddles are characterized by their large, flat surfaces. There is a variety of grooved or "grilled" griddles on the market, but this is typically only true for residential griddles and they are, essentially, grills. Because of their flat surface, you can take virtually any product that you can imagine cooking on that surface and produce it in your kitchen.
While traditional griddle food is thought to be, in simple, "breakfast," this doesn't have to be the case. While the traditional pancake or fried egg is good for any time of the day (as seen by the addition of "all-day breakfast" in major chains within the last decade), burgers, hash, tortillas, and sandwiches are a few simple things to kick off the menu.
Also, some restaurants have expanded to using the griddle for… just about everything. Because, in fact, the griddle is a burner that is much easier to clean than a stovetop burner. If it doesn't require grill-lines, chances are it's a good fit for the griddle.
3. Placement
Griddles come in three types: attached to a range (such as a stove, oven, griddle combo), as part of a griddle/broiler combo (salamander), or as a stand-alone countertop model.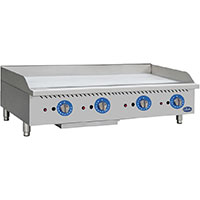 Countertop: Since we already touched on the countertop model, we'll start there. The countertop griddle can be a powerhouse of cooking in close quarters. Of course, the typical safety measures must be in place (such as ventilation); but the versatility in position means that establishments with minimal space for additions may still… add them to their lineup. Finding ways to increase production in tight kitchens is a nightmare that most kitchens eventually face and existing floor plans are rarely forgiving.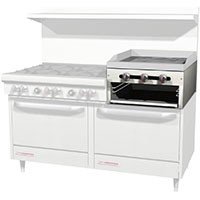 Griddle/Broiler: The "salamander," or griddle/broiler combo is one example of combination or mass production cooking. With the ability to brown soups in the broiler and griddle a sandwich simultaneously, there's not much that the griddle/broiler can't do. Combined with the modularity of being countertop, this equipment type is in a class of its own.
Please read here in order to learn more about salamanders.
Range Attachment: Just like the salamander, the griddle can come as a range accessory. They may be later attached to an existing range as a salamander or griddle upgrade, but most manufacturers have models with the griddle in place of burners. Before you install your new griddle, check the necessary voltage required to safely power it. If you can't get the correct power source for your griddle, make sure you find it before you install it. Check with your equipment manufacturer for this upgrade, and you can experience griddle production without the chef needing to leave his/her post.
4. Heat Source Types and Structure
The following information is true for each placement type of griddle:
High vs Standard Output: Any commercially rated griddle will outmatch and over-perform against its residential counterpart. But finding the right output is key in purchasing a griddle.
Standard output griddles give any venue a great addition. They also can increase production in terms of percentage, while coming with a lower price tag than high output griddles. Standard output griddles may also be best chosen for venues that have confined cooking times such as breakfast only, or dinner only. But perhaps the largest consideration may be the production cost, as they will be a little easier on the gas bill in comparison to high output griddles.
High Output griddles, in contrast, are great for continuous or "all-day" cooking. Since frying will be the main cooking method used with griddling, the food created shouldn't change much in comparison to standard output griddles. However, they will typically be more structurally sound (such as the plate thickness) and will use a far higher BTU rating. This means that more gas will be used and therefore a higher gas bill will be involved.
Electric griddles are also available on today's market. They are typically standard output but maybe a necessary choice for kitchens that are already equipped for gas connections, or for establishments attempting to balance their gas vs electric bill. They will require the same safety precautions as any other commercial griddle, but will also provide the same dish types.
The plate surface of a griddle will vary in thickness between high and standard outputs. While most high output griddles will have a thicker plate, some standard output pieces will also have a thicker surface plate in order to create longer-lasting equipment. If choosing a standard output griddle, be mindful to see if within those griddles there are thicker plate options than others in its class.
5. Thermostatic vs Non-Thermostatic
There is one more major difference between griddles. Some are thermostatic (adjustable temperature) and some are not. The griddles which are not thermostatic, operate by using a limit. Once the temperature reaches a certain degree, the unit will stop heating up. This helps in preventing over-cooked products but will require more attention.
Thermostatic griddles, on the other hand, allow you to fluctuate in food products. Egg-based dishes may require lower temperatures while searing steaks may require a quick scorching. Being able to switch dish types in a rapid way, is a large part of expanding the menu.
A non-thermostatic griddle will be best suited for a food product that is continuously cooked the same way (hashes), or for food singular food types (such as steaks). The non-thermostatic griddle may seem like the lesser of the two, however, it can actually be more efficient in terms of continuous productivity. As with all equipment types, it depends on the dish. Make sure to spend time researching what food cooks best on a thermostatic or non-thermostatic griddle before you buy one.
6. Safety
Safety means ventilation and safe connections. The first thing to consider when purchasing a griddle is finding the safest position to place it in the kitchen. While griddles may have a small footprint, they pack a mean punch and can produce large quantities of grease-laden particles in the air. This means that a commercial hood system is required. And gas-powered griddles will require gas connections that have safety shut-offs and secure lines. There are equipment manufacturers dedicated to producing these tools, such as "gas connection kits, so be sure and check them out.
Check with your local and federal jurisdictions for other regulations that may be in place.
7. Additional Info
Griddles are available in high-output, but if the product requires anything more than a very light-gauge metal you should look into the other range-style cooking equipment options mentioned in this guide. Albeit, if you are interested in seasoned, direct cooking, then look no further than a griddle.
References:
Share This!