Commercial Cookware Buying Guide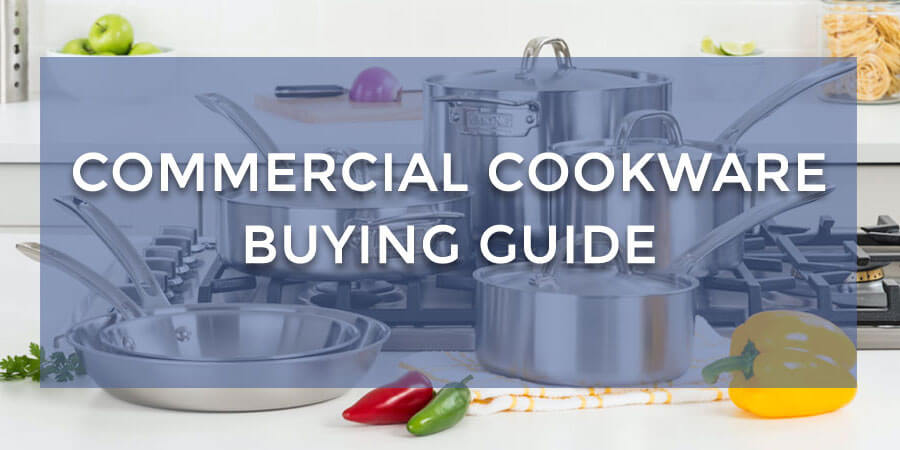 Restaurant owners are aware of the fact that the kitchen is the core of the whole business. Thus, they must invest wisely in the appliances and items that complete it. When you have a bunch of hungry customers entering the local on a daily basis, you want to make sure that they enjoy the best food and come back to you.
Cookware is one of the things contributing to a mouthwatering meal – but only if you have the right type. Not all cookware is the same and, obviously, certain types are better than others. They could either be enameled cast iron, nonstick, stainless steel, copper, aluminum, uncoated cast iron, and more.
Being faced with so many cookware types, brands and prices can be overwhelming, so it's essential to have the proper knowledge and end up choosing something that is high quality. This buying guide will give you a hand by presenting some things to consider when browsing the market for cookware, and what you should expect from them.
Vital Factors
Durability
One of the most important aspects is, of course, how long the said product will last, because if what you end up purchasing is of low quality, your business will have to suffer. You'd have to spend money on new cookware over and over again. So, why not just choose one that will last long enough to own it for a good while?
Depending on the type of cookware, some will last more compared to others. It is said that stainless steel is the best one in this field.
Type
The cookware type needs to be chosen according to what your restaurant cooks, as well as the cooking technique used. Different materials transmit heat differently, some types of foods need pans with long heating periods, and so on.
Nonstick cookware works amazingly with delicate foods because, as the name makes it obvious, the food doesn't stick to the surface and damage as a result. So, if you make pancakes, eggs, and such things for your clients, nonstick cookware can do the trick. Moreover, you need little or no oil whatsoever, making these items great for nonfat or low-fat dishes.
Uncoated cast iron cookware is amazing as an alternative to nonstick cooking surfaces. Furthermore, it is durable and can be preheated to certain temperatures that will help brown meat. If oven temperature was a concern for you, then you'd love to know that this item can resist at above safe temperatures.
Copper cookware is for when your customers are in a hurry, just wanting to fill their stomachs with something. The heat immediately and allow you to cook quickly as well.
Aluminum cookware is lightweight, but it's also a great heat conductor and has a good price generally. However, it can wear out over time, and there is the possibility of it staining and discoloring light-colored foods and sauces. Still, you can look out for anodized aluminum cookware that doesn't have such effects.
Enameled cast iron is great to have in the restaurant's kitchen for frying, browning, searing, and sautéing. It can be used on the stovetop or in the oven, and even on the dining table.
If you want something for braising and browning, you could look for stainless steel cookware. Often sold in sets, this is the durable kitchen ally that your restaurant needs. What's even better is that it works with most foods.
Size of Saucepan
Not all cookware has the same size and shape and depending on your needs as well as the clients' needs, you will require various shapes. Cookware pots are measured across the top and it will show their volume capacity. Therefore, if a saucepan has a 16cm rim diameter, it can store about 6.75 liters of water inside.
Some of the most common shapes when it comes to cookware are frying pan, saucepan, sautee pan, griddle, and stockpot.
The frying pan is a large flat-bottom pan that has low sides, and the shape was specially made to provide proper air circulation. It also allows you to easily turn and flip the food.
Stockpot cookware includes large saucepans that have a flat base and high sides. They work in multiple ways and are great for making sauces, large volumes of soup, and stews.
A griddle is a flat and broad pan that is meant to sit flat on a stovetop. It's just what you need to quickly provide your clients with the food they asked for. It works best for foods such as eggs, steaks, and pancakes.
A saucepan is a deep pan that has a flat lid and base. It has many sizes, and it is a great option when cooking grains, liquids, or any food with high volume.
Sautee pans are similar to frying pans, except that their vertical sides rise higher and are better when it comes to holding liquid. When you want to cook foods that require stirring and turning, as well as sweat vegetables, this is the way to go.
Price
It's obvious that cookware will have different pricing according to the type, material, and size. The price is one of the things that indicate the overall quality of the item, thus you shouldn't abstain from buying the best one you can afford. After all, you need to keep the business going.
Pros and Cons
Type
Pros
Cons
Nonstick
- Barely need any oil
- Easy to clean Works with delicate foods
- Most pieces are oven-safe
- Not all are dishwasher safe
- Food doesn't brown as well
- Not all can be used with metal utensils
Stainless Steel
- Often compatible with induction cooktops
- Easy to care for
- Very durable
- Resists to dishwasher, boiler, and oven
- Heating is uniform and rapid
- Harder to clean
Copper
- Gives a nice kitchen-to-table presentation
- Works with everything from simmering delicate sauces to sautéing, frying, and high-heat searing
- Models that are heavier with brass or iron handles are safe for ovens
- Can easily dent
- Doesn't work with induction cooktops
- It can only be hand washed
- Can cost a lot
- Can take a patina over time which requires removal with a copper cleaner
Uncoated Cast Iron
- It can keep food warm for a very long
- Very durable
- Hard to clean
- Doesn't resist in the dishwasher
- May rust in a damp environment
- May cook unevenly
Enameled Cast Iron
- It has a durable coating that doesn't react to acidic ingredients
- Heats slowly and can keep heat well
- Resistant to corrosion and dishwasher
- Can be used in the oven
- Enamel can chip
- If the handle is small, the transport from the stovetop to the oven can be harder
- Can be heavy and get heavier with food
Aluminum
- They are strong
- Easy to lift and move around
- Pretty cheap
- Can impact the taste of food
- May discolor
Maintenance
In order to have long-lasting and well-performing cookware in the restaurant's kitchen, you need to make sure it's well-cared for. As such, your employees need to know how to maintain it in good condition.
For instance, depending on the type of cookware, it can be either washed in the dishwasher or washed by hand, which is why you should pay attention to the cookware type.
If there is one important thing to keep in mind, that is cleaning the cookware after each use. This will prevent food remains from making the cleaning process harder, but it could also prevent the taste of future foods from altering. If food is left on the surface of the item, the cookware may also discolor when heated. Before you clean it, allow the product to cool down. Moreover, make sure not to use any abrasive cleaner and scouring pads, or cleaners that contain chlorine bleach.
For lasting beauty, it is recommended to use tools made of rubber, plastic, wood, or metal with smooth edges. Don't hit the tools against the cookware, and definitely, don't cut food on the stainless steel surface with any sharp-edged item.
Accessories
The tools you can use depend on the type of cookware the restaurant has, as well as the food you cook. For one, you may need nylon kitchen utensils, which won't scratch delicate surfaces and are safe for the dishwasher. However, they may melt in time.
Silicon utensils are preferred by many because they resist high heat and are safe for dishwashers. Moreover, they don't melt, thus they aren't harmful given the material doesn't reach the food. Nevertheless, the material is not sturdy enough to deal with heavier foods.
Wooden spoons are great when it comes to a comfortable grip, and they won't harm your pans either. However, they are not the best when it comes to durability, as they won't last you a lifetime.
Final Thoughts concerning Commercial Cookware
Business needs to be taken seriously, which is why you should pay attention to the items you purchase for the restaurant kitchen. Cookware doesn't only need to be durable, but it needs to work with the food your place specializes in. Moreover, it must be able to cook food without altering it.
Now that you've familiarized yourself with these useful items for your restaurant's kitchen, you should be ready to go hunt the best cookware on the market.
Share This!