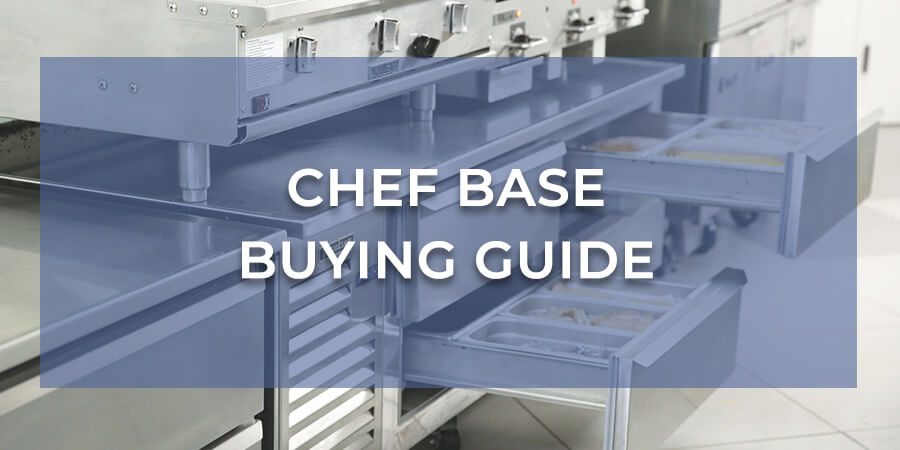 As a professional chef or simply a hobbyist, you have probably learned that space plays a very important role in your kitchen. Depending on the placement and the type of layout that you choose, your kitchen items may be helpful – or downright troublesome.
For that reason, you need to be very careful when choosing your chef base. Still, as a beginner in the culinary arts, you may not know exactly what to do with a chef base – until you use it for the first time and you start thinking "where has this been my entire life?"
No matter if you're new to chef bases or you are simply looking for something new to update your kitchen, this guide will give you some helpful input. If you're going to be a chef, you might just want to read it all the way through.
1. What Is a Chef Base?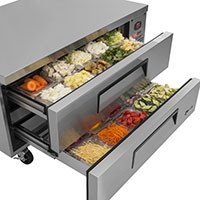 A chef base is a kitchen unit that will keep every ingredient fresh and prepared next to your cooking area. It is basically a fridge, a freezer, and a cooking table all in one.
Plus, a chef base allows you to place the cooking equipment (such as fryers or ovens) over the base. This way, everything is nice and compact, and you won't have to run from one place to another just to grab the ingredients.
If you are in charge of a catering business or a restaurant, a chef base is a great option for you. However, you may also want to consider it if you have a small kitchen.
Since most of these bases slide underneath tables, you can choose compact options that will not take as much space.
2. Why Would You Need a Chef Base?
So the question arises: is it worth it? Can I do with the traditional utensils, or will a chef base actually benefit me more? Well, here are some points that you may want to keep in mind:
It Will Save Space
Chef bases have a two-in-one design, featuring both a work top and a freezer/refrigerator. Since the refrigerating areas are practically drawers, you will be able to save a lot of space – since you most likely won't need a full-sized freezer.
With a chef base, you will maximize the cooking area, and you will only need a few inches off the ground. It's perfect for kitchens where space is an issue and where every inch is important.
It's Convenient and Efficient
Think about it this way: with the regular kitchen furniture, you have a lot of waltzing around to do. You need to walk from the counter to the freezer, then back to the refrigerator just to return to the counter. This may not sound like much – but when you are in a hurry to grab the ingredients, every minute is important.
On the other hand, a chef base will bring all of those ingredients directly at your convenience. All you will have to do is pull the drawer and grab them – and they'll be good to go.
It Keeps Things Fresh
Fresh ingredients are always the best ones you can use in any dish – and the more they stay in the refrigerator, the better it will be. However, in order to save time, many chefs choose to take out all the ingredients ahead of time and leave them on the counter.
However, this will compromise the freshness of the ingredients – and may sometimes cause them to lose their flavor. Some ingredients are better left in the refrigerator until the last moment – and the best way of doing that would be to keep the refrigerator with you.
Enter chef bases. This way, you will not have to take the ingredients out ahead of their time, and they will retain their freshness until the last moment.
3. Differences between Equipment Stand and Chef Base
A lot of chefs use equipment stands to maximize the space in their kitchen; however, a lot of them confuse the two. Indeed, an equipment stand is a good way to create a working station – but while it may be similar to a chef base, it's also different.
Confused enough? Let's clarify things for you!
An equipment stand will provide a working space as well as some under-table space where you can store pots and pans. It is usually made from stainless steel in order to maximize durability.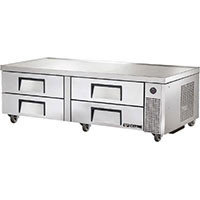 However, it does not hold your ingredients fresh like a chef base would. Chef bases come with a number of drawers that will hold a decent amount of food – and will basically act like a refrigerator.
The True TRCB-72-HC, for instance, features four drawers in which you can separately organize different types of food. Plus, it has a wide countertop that you can either use as a table or as a support for stoves (or other cooking tools).
An equipment stand is a cooking counter. A chef base is a cooking counter AND a refrigerator. With the latter, you'll be killing two birds with only one stone.
4. Features to Consider
Every chef base is different. So, depending on the features, a chef base can be either for commercial use or for residential kitchens. Do you need something heavy duty, or would you rather go for something compact that would not need to carry more than a couple of ingredients?
Before buying a chef base, here are some considerations that you should bear in mind.
Exhaust Hood Requirements and Ventilation
Like every refrigerator, these units will exhaust warm air. Therefore, make sure that you keep this into account when you calculate the CBM – which is cubic feet per minute. Make sure that the air flow will be enough and that you can account for safe efficiency.
Top Edge
Before making a purchase, think about the ingredients that you'll be cooking. For example, if you expect to deal with many drips and spills, you might want to consider purchasing something with a Marine Edge.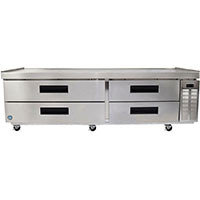 This kind of top base will have a higher edge that will prevent leaks from occurring – regardless if the floor is inclined or not.
The Hoshizaki CRES85, for instance, features this kind of table top, so the chances of leaks are very slim. Furthermore, because it is made from stainless steel, it is also very easy to clean. Since the leaks will be contained on the table, you won't have to clean the exterior as much – unless you spill on the chef base from the outside.
On the other hand, if you have larger equipment that may go over the top base, then you may want to consider a flat top option. This will literally be like a classic countertop, and you can easily go over the edge if your stove, for instance, is slightly larger than the table.
The Kool-It KCB-53-2M, for example, has a flat top that will allow you to place larger items on it. It does have an edge that will prevent most leaks, but at the same time, it's not significant enough to be a hindrance to other kitchen tools.
Furthermore, thanks to its compact form, it's perfect for residential kitchens with little space to spare. The wheels also make it highly portable, so it's a good option if you have to store it once your work is done.
You may also want to look into tops that have an extending option. This may be a fairly convenient feature if you will need more working space around you.
Weight Limit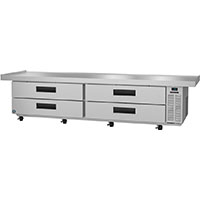 How much can the chef base hold? If you're only planning to chop or cook lightweight items above, then you do not need to look for something really heavy duty. On the other hand, if you want to place a lot of heavy items above, such as stoves or other heavy utensils, then you may want to go for something slightly larger, but with a bigger weight limit.
The Hoshizaki CR110A, for instance, features a capacity of 1500 pounds – which is more than you need for heavy cooking equipment. Furthermore, the 16 gauge stainless steel construction is resistant not only to shock but also to scratches and other types of damage.
Number of Drawers
How much food do you plan to store in those drawers? Do you need more than two shelves, or do you just need something to keep a few ingredients for a recipe?
The more drawers it has, the easier it will be for you to organize food types. For instance, if you are only dealing with meats and vegetables, you probably won't need more than two drawers.
On the other hand, if you work with meats, vegetables, fruits, and other kinds of ingredients, then you'll want to make sure the flavors don't mix. It would be very awkward if your chicken salad suddenly started to smell like fish.
The Atosa MGF8450GR, for example, only has two drawers. It is a good option for apartments or homes that lack the space but still need a chef base. It is also a good option for small cafes or businesses that make sandwiches or other quick meals that require prior refrigeration.
On the other hand, if you need more drawer space, then you may want to consider the Turbo Air TCBE-82SDR-N. Considering that it has four drawers, it's the perfect thing to add in a commercial kitchen. You can add a large number of ingredients in it, and you won't have to refill it as often even if you work in a high-traffic kitchen.
Furthermore, this one also features a self-cleaning condenser device that will brush the condenser daily and keep it clean. This will add to a longer life for the chef base since it will be preventing any future system failures.
Legs and/or Clearance
Every piece of cooking equipment has to be mounted on legs in order to offer proper clearance. The longer the legs, the better the airflow – and the safer the unit will be to operate.
Keep in mind that longer legs will also increase the size of the unit – so make sure that you have the space necessary to keep it. If you are running low on space, then a low-profile unit is going to be an appropriate choice – but also make sure that it does not require as much power or ventilation.
Construction
While a chef base is generally made from stainless steel, there are also those that have pieces made from ABS, aluminum, or plastic. The worktops, however, have to always be from stainless steel – since they will be used heavily for preparation of food.
Keep in mind that while full stainless steel chef bases are more expensive than aluminum ones, they are also more durable. They have a high corrosion resistance, and it's not likely for them to start rusting anytime soon.
Size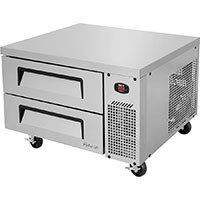 For some people, size is one of the most important aspects to consider. In that respect, you need to know exactly how much space you are willing to spare. If you are very low on space, a unit with two drawers should not measure more than 40 inches. The Turbo Air TCBE-36SDR-N6, for instance, measures 36 inches – so it's perfect even for smaller flats or venues.
On the other hand, if you can spare the space, you may easily go for something such as the Kool-It KCB-96-4M. At 96 inches, you have all the working space that you need, and you won't be cramped by small quarters.
5. Final Thoughts
A chef base may save you a lot of time and space in your kitchen since you will no longer have to go from the fridge and back countless times. Everything will be right in front of you. And all you have to do is pull on a drawer.
Keep all the above-mentioned factors in mind. Do you want a smaller model, or do you want a bigger one? Do you prefer a Marine Edge, or does a flat one work better for you? Hopefully, our guide helped you narrow down your options.
Share This!