Spoon Rests
Browse through our selection of spoon rests & utensil rests!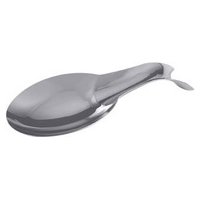 Keep your kitchen countertops clean and utensils at the ready with our selection of utensil rests. Here at GoFoodservice, we offer top brands such as Spring USA at competitive prices. Check out our selection and find the utensil rest that fits your kitchen needs today!
Keeping spoon rests and utensil rests within reach can help keep your busy kitchen stay neat and tidy. With their unique design, utensil rests stop excess sauces from dripping onto countertops and causing a mess that can quickly spread as kitchen staff continues their busy hustle and bustle. Spring USA has designed spoon rests and other utensil rests that can help you streamline your kitchen efficiency and reduce the number of dropped utensils which can create more work.
Being made of stainless steel, our utensil rests are incredibly easy to clean and they're dishwasher safe. Their small size and convenience enable chefs to reach for their tools in order to quickly stir, sauté, or serve. When seconds count, these products will help chefs ensure their food is cooked perfectly each and every time.
We invite you to take a look at our assortment of commercial spoon rests and see how they can get your kitchen one step closer to maximum efficiency.