Platform Trucks
Easily transport large or bulk items with our selection of flatbed carts, platform trucks, & platform dollies!
Capacity
Length
Width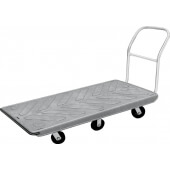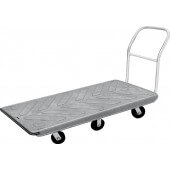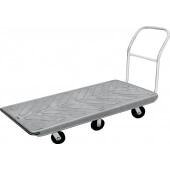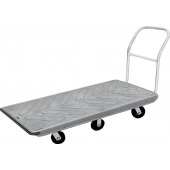 Whether you need to haul new appliances to your restaurant or move heavy equipment around your hotel or banquet hall, your foodservice business needs reliable flatbed carts. Here at GoFoodservice, we offer a selection of the industry's highest quality flatbed dollies.
If you use one of our platform dollies, you no longer have to waste time and manpower to move large appliances like refrigerators, ovens, or dishwashers. Flatbed carts are the ideal way to transport large equipment and machines efficiently. The job gets done faster and with fewer people, so your employees can focus on their main jobs. We know both you and your employees have more important tasks than lifting heavy equipment. So, use platform trucks to help your foodservice business run more smoothly.
Not only do platform dollies save time, but they also prevent injury. The last thing you want is to have one of your chefs throw out their back trying to carry a heavy load from a supply truck right before a dinner rush. Our flatbed carts keep all of your employees safe by lowering the risk of injury in the workplace.
Whether you need large or small platform dollies, we have something to fit your needs. Our selection of Winholt flatbed carts can please even the pickiest of customers. These reliable, safe, easy to operate platform trucks are made from strong polyethylene. This material is light because you don't need extra weight when you are trying to move large items. Yet, it is strong enough to handle large impacts.
Many of our flatbed dollies come with an impact-absorbing front bumper to protect you, the item you are moving, and the flatbed itself. They all have crossbar reinforced handles that are removable and provide extra support to the platform trucks. There is even a skid-resistance surface due to the honeycomb pattern etched into the bed. Even the heaviest of items can be easily moved with any of our trusted flatbed carts.
We also offer a selection of other foodservice transportation tools. Check out our hand trucks, utility carts, glass rack dollies, and more. No matter what you want to move, we can help you.
Make Go!Foodservice your one-stop-shop for all of your to-go equipment needs, such as platform trucks. Should you have any questions along the way, don't hesitate to contact us – we'll be happy to help you find the perfect item to suit your business needs!