Eurodib Crepe Machines
Browse through our selection of commercial crepe machines & crepe makers!
Brand
Volts
Wattage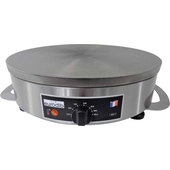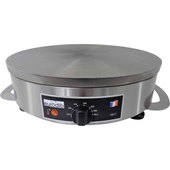 Eaten all across Europe, a type of super-thin pancake, crepes are delicious snacks and can be made into a variety of desserts. At GoFoodservice we offer commercial crepe machines in both electric and gas-powered variations. We only carry the highest quality brands at the most competitive prices available. Check out our selection of crepe machines or check out the crepe accessories today! Crepes are probably one of the most enjoyable items that you can serve, with people enjoying them for breakfast, lunch, and dinner. Not only that, but you will find that crepe machines go a long way to making sure that you can enjoy a much more harmonious experience, with easy creation of crepes meaning that you can up the ante and improve the quality of the crepes that you make on-site at the moment. One of the main reasons why people love our crepe machines so much is that they make it just a bit easier to get the correct consistency. Every business wants to have its own signature style, and this easily helps you to put your own stamp and style on the crepes that you make. Now, they always arrive with that perfect level of consistency which can make it much easier to make crepes a staple of all that you do.
We have top quality crepe machine brands to pick from, with major names like Krampouz, Eurodib, Waring, & Omcan USA waiting for you. This should make it increasingly easy for you to put together a high-quality range of crepe machines that really hit the right spot and work just as you would have intended. With both electric and gas options, too, you can make sure that you get crepe machines that fit perfectly with the way that your business operates. The long-term benefit, of course, is that you are left with crepes that look great, taste even better and always give customers that style and consistency that they expected. So, take a look at our numerous crepe machines and then decide from there which crepe machine you would like to use first. For more help and information, feel free to contact us today for any information you require.